Joy Socks-help spread some joy!!
Joy is found in the small moments. Something as simple as receiving a pair of fun socks can inject unexpected joy into someones  day and make a real difference.
We get even more joy when we give it away-that's what we  do with socks-Joy Socks!!  
These goofy coloured socks brighten the day of patients in hospitals,  people in shelters,  and under prive ledged children.  They're also reusable -people often wear them as a reminder  that they can keep moving forward on those tough days and to look at them always brings a smile  :). 
We'd love for you to join the Joy Sock movement  - you can be a part of it!!! 
Joy Socks are being donated to those those that are facing challenges and could use a smile. 
You can donate $$ and we will buy funky socks to distribute. (a $ 10 donation will buy 8 pairs of socks) 
If you own a business, we will issue you a tax deductable receipt and we will include your comany name on the donation letter that goes out with each box full of socks.
With your help we can create some happy feet, warm hearts and big smiles. :)
You can also host a 'box' at your workplace, school, any gathering that you're having and collect some socks.
We need your help.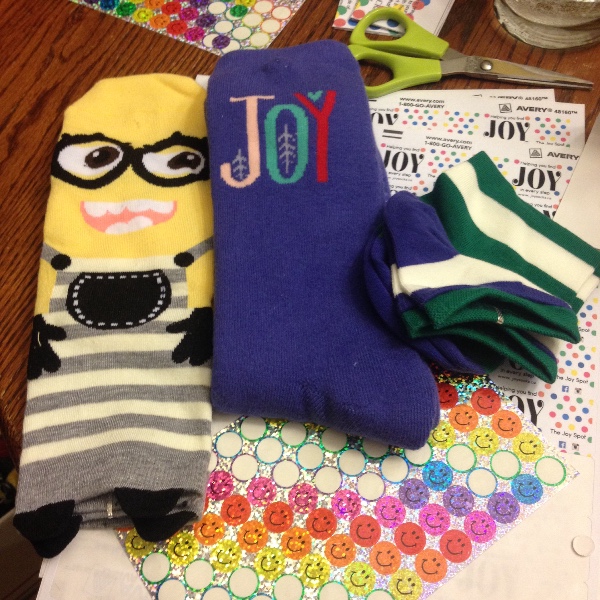 We'll make sure that the donated socks get to those people that could use a bit of joy.  
We've already donated  Joy Socks to local hospitals, Ronald McDonald Houses,  Operation Christmas Child, Boys and Girls clubs....we're just getting started! 
We would love for you to join our joy spreading movement!
Please join the  Joy Sock movement -lets spread some joy-one step at a time!!!
You can follow our progress at The Joy Spot on FB and Instagram (look for the pics of socks-that's us) 
www.joysocks.ca
‌