A Miracle for Josh and Chelsey
A Miracle for Josh and Chelsey
Romans 12:12 "Be joyful in hope; patient in affliction; faithful in prayer."
My friends Josh and Chelsey (Karr) Tyree refer to this verse often; it has become something like their motto.  After reading their story below, you'll see why…
Josh and Chelsey dated through college.  Chelsey graduated from Eastern Kentucky University with a Masters degree in Occupational Therapy and Josh from Eastern Kentucky also with a degree in pre-medical Biology.  After graduation, the beautiful couple was married in Chelsey's hometown of Williamsburg, KY surrounded by family and friends.  They looked forward to starting their lives together and discovering what the future had in store. 
Pursuing a life-long dream and calling to help others, Josh applied for and got accepted to the University of Pikeville School of Osteopathic Medicine.  Chelsey meanwhile worked as an occupational therapist in Eastern Kentucky.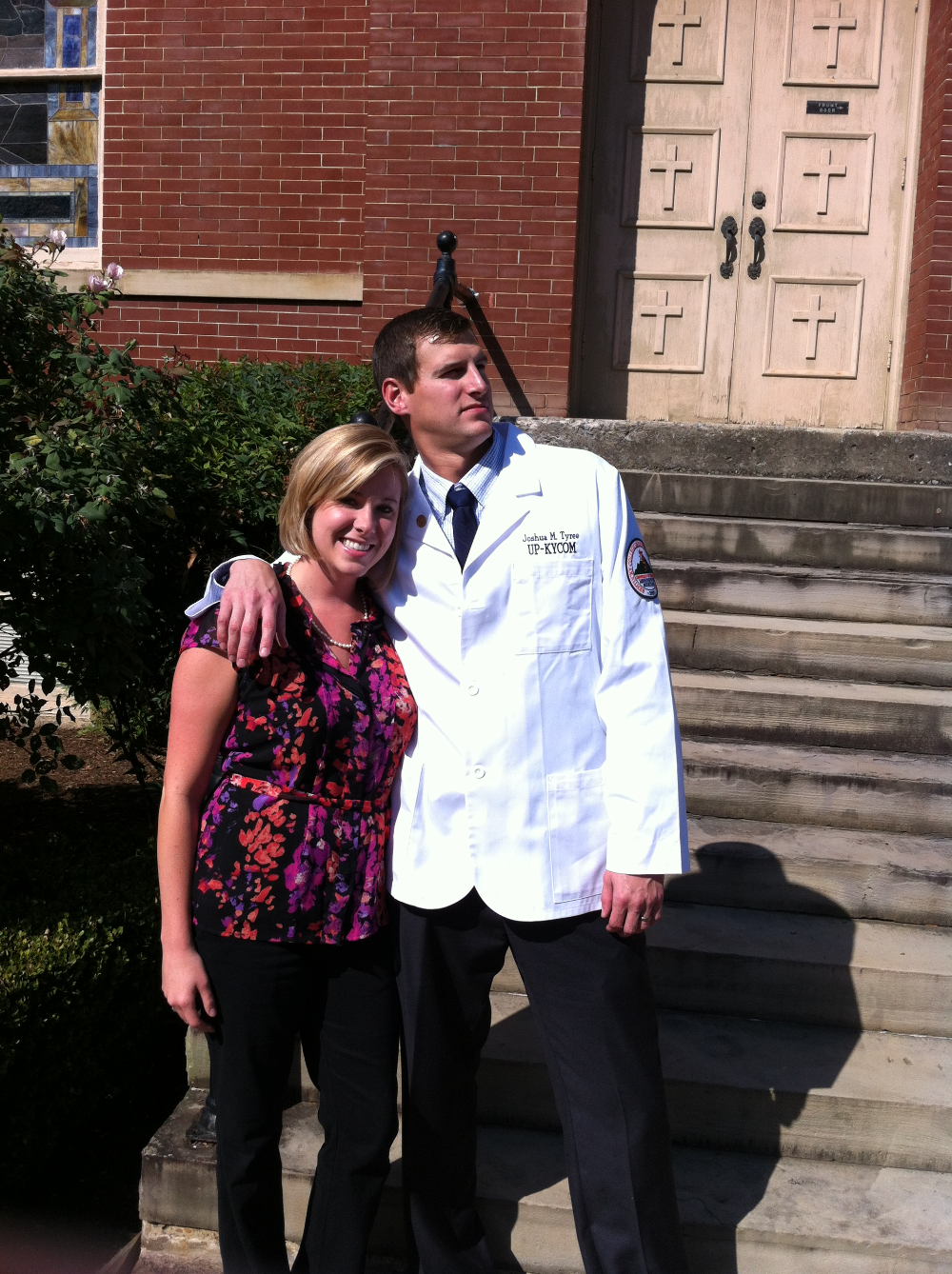 Josh enjoyed the rigors of medical school and thrived on its intensity.  He excelled and was 6th in his class of about 140 first year medical students.  During breaks from studying, Josh enjoyed singing and playing his guitar.  With the first year of medical school completed, Josh and Chelsey looked forward to a bright future together with endless possibilities…then the headaches started.
Josh began suffering from severe headaches that he and Chelsey attributed to the stress that accompanies medical school.  Unfortunately, there was no easy explanation when Josh uncharacteristically failed an exam.  Knowing this star student well, Josh's professor sent him for an MRI immediately.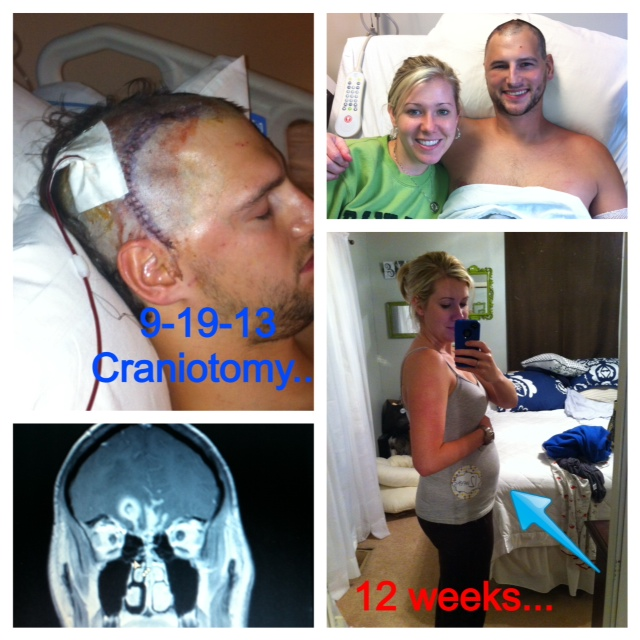 To everyone's shock, the MRI revealed a mass in the right frontal lobe.  Josh was scheduled for surgery to get a biopsy which was unsuccessful, resulting in a full craniotomy.  Samples were sent to multiple labs, and all came back inconclusive.  He was treated for several wrong diagnoses including bacterial, fungal and viral causes for 7 months with no improvement.  MRIs continued to show lesions throughout his brain. With progression of the unidentified disease, his cognition was declining, he was hallucinating, and his short-term memory was becoming non- existent. By not receiving the correct treatment he developed hydrocephalus and now has a permanent shunt in his brain. He has endured 2 air evacs to Duke Hospital, countless ER visits, hospital stays, and consultation with specialists from across the U.S. Resulting in a grand total of 9 brain surgeries throughout this process.   
Two weeks before his initial headaches, the young couple discovered that Chelsey was pregnant.  (The Lord in His infinite wisdom knows what we need before we do.) They would become pregnant with a boy and Josh chose his name to be Jace, not knowing at the time that Jace means "a healing." The couple continues to have faith.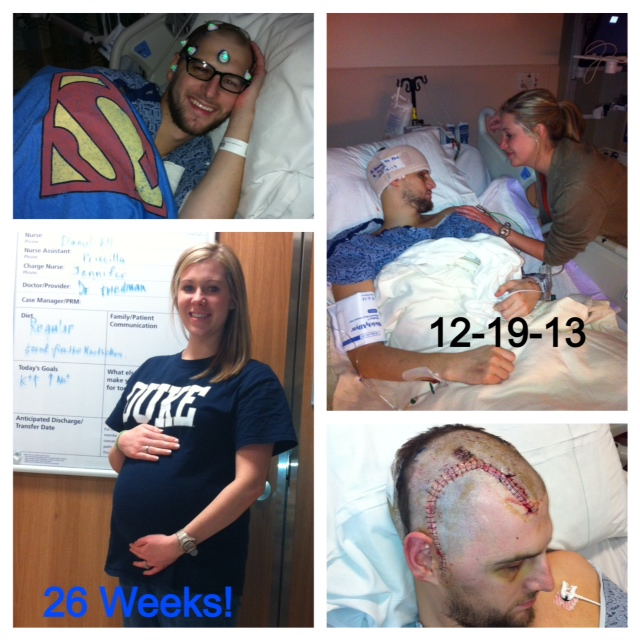 Initially, Josh returned to school after his first craniotomy.  Unfortunately, due to complications, Josh had to take leave from medical school.  Finding themselves three hours from family, with a little baby to care for, along with Josh's significant medical issues, the couple decided to move back to Chelsey's hometown of Williamsburg to be closer to family. 
Chelsey found a job working as an occupational therapist in a local school.  Although her job is only part-time, it allows her to care for their son and accompany Josh to his frequent medical appointments.
Specialists from 5 different hospitals came to the conclusion that he has a rare autoimmune disease, called neurosarcoidosis. The family sought out for the best care for this disease at Cleveland Clinic, where they make monthly trips, 8 hours away for IV infusions.  These monthly trips require a 3 night stay in a Cleveland hotel.  Each infusion costs $5,000.  
Josh and Chelsey have medical insurance, but since they were just starting out, they don't have disability or SSI benefits.  Josh is not able to work at this time, but hopes to return to medical school once his health recovers. Currently, when able, Josh visits a local university's class where he enjoys listening to lectures and brushing up on his academic skills.  He also volunteers at his local church, First Baptist, playing the guitar in worship and teaching guitar class.   
The couple recently learned that Josh will require a double hip replacement due to necrosis of his femur, a side-effect of his medicine. 
This family's income has been significantly reduced, while their expenses continue to grow.  Their student loans are due.  (When they took the loans, it was with the intention of having promising careers that would cover them.)  Josh's medical bills are mounting, as are the travel expenses that coincide with his medical appointments.  Chelsey and Josh are hard working, driven, independent people who have maintained a positive attitude through it all and have chosen to trust God through this trial.  They are the kind of people that would rather find ways to help others and are not comfortable with asking others for help.  I have told them to let us help; it's our turn to help them. Their expenses seem insurmountable, but we know that "with God, all things are possible" (Matthew 19:26).  Josh's medical issues seem overwhelming, but we know a God that is the Great Physician.
With the Lord's help and healing, Josh hopes to return to medical school to realize his dream of becoming a doctor. They are quick to count their blessings and acknowledge miracles along the way (ex.  rapid response of the medical teams, the birth of their son, etc.).   Let's let this be another miracle for Josh and Chelsey.  With your help and donation, we can be a small part of a wonderful miracle for this precious family!  Any donation is greatly appreciated and your prayers are even more so. 
The purple theme for this page was chosen to help bring awareness to neurosarcoidosis, Josh's diagnosis.
Organizer
Kassey Karr Lowrie 
Organizer
Williamsburg, KY