Jose Robles Legal Support Fund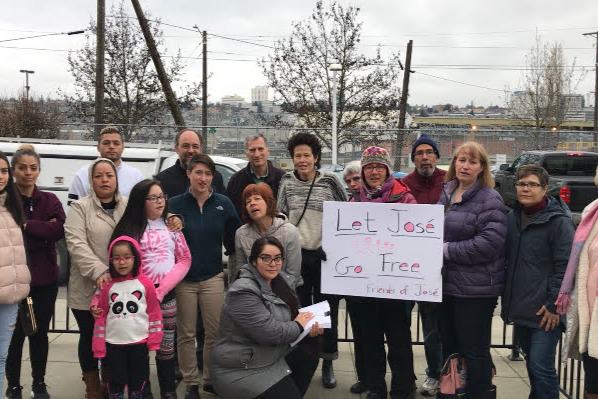 UPDATED February 13, 2020
Jose's bond was denied and the community's focus is on gathering new strength to continue the journey of accompaniment, reaching out to Jose and family. We also have stepped up giving to his legal fund and are very close to covering the $2000 costs billed to apply for this bond. Additional funds raised will be added to Jose's commissary and communications accounts. Keeping Jose in conversation with family sustains them all in this arduous journey. Thank you to all who have so wholeheartedly supported this cause. 
February 9, 2020
After more than six months in detention, Jose will have a bond hearing the morning of
Tuesday, February 11, 2020
. Community members are invited to stand together in solidarity outside the NWDC (aka Northwest ICE Processing Center) at 1623 East J Street, Tacoma, WA 98421. Anticipating a need for bond funds and recognizing a need to continuing to help pay Jose's legal bills, we welcome new contributions to the Go Fund Me page. If you prefer to send a check, please contact Gethsemane Lutheran Church at [phone redacted].
Background

For eighteen years, Jose Robles worked to provide for his family in the United States. But that work was put on hold June 28, 2018 when Jose entered sanctuary at Gethsemane Lutheran Church in Seattle, WA. Jose was welcomed into the church to avoid deportation to Mexico; sanctuary providing a means to remain near his family while awaiting certification and adjudication of a U-Visa (a legal adjustment to his immigration status for which he is eligible because he was victim of a violent crime and has cooperated with the police investigation). 
Members of local faith communities with neighboring businesses and individuals helped generously with family expenses during the long time Jose was in sanctuary without income. Now, circumstances have changed. Jose was arrested on July 17, 2019 when he went with his attorney to ICE to file a stay of deportation. He is currently detained in Tacoma.
As a network advocates for his release, we want to remove the financial burden of legal expenses from Jose and family. Your contribution will help cover costs for professional legal representation in Jose's case. Any money raised beyond legal expenses will be used for ongoing support of the Robles family while Jose is in detention. Learn more online at
www.sanctuarydowntownseattle.com
Thank you for generously supporting the work of keeping this family connected and working to reunite them.
#familiesbelongtogether   #freejose






Become the first supporter
Your donation matters
See all
Organizer
Joanne Elise Engquist
Organizer
Seattle, WA