Jonah McIntosh Memorial Scholarship
On what would have been his 23rd birthday, it is with great pride that we announce the establishment of The Jonah McIntosh Memorial Scholarship, in co-operation with Sheridan College.  The scholarship has been created to honour Jonah Daniel Franklin McIntosh and will benefit future students of Sheridan's Bachelor of Music Theatre program.  Jonah passed away suddenly on July 11, 2017 and the family has chosen to establish this scholarship to recognize the importance of continuing education, specifically for future Sheridan music theatre students.   We are confident this award will help keep Jonah's bright spirit and infinite energy alive for those who love and miss him greatly, and for those who look to follow a similar path of living their dreams within the Arts after successfully completing their education at Sheridan.
Born August 16, 1994 in Ajax, Ontario, Canada, Jonah knew he wanted to pursue music theatre from his early years. He was committed to his passion, and spent vast amounts of time teaching himself to sing, dance, act and play numerous instruments before beginning his formal training. He even began writing songs starting in his pre-adolescent years. While a student at Holy Trinity Catholic High School, Jonah received multiple arts awards and starred in the school's productions of Godspell, Back to the 80's and Midsummer Night's Dream.  He became a commanding presence around the school and embodied what is referred to as a triple threat. He was always standing up for others, helped to teach younger students and eventually morphed into the face of performing arts at HTCSS. He also shared his talents outside of school, starring in productions of Les Miserables and Glee at the Oshawa Little Theatre. 
After graduating high school in 2012, Jonah started realizing his dreams by attending Sheridan College to study in the Bachelor of Music Theatre program.  The Music Theatre program is an intensive and elite program offering tremendous challenges and rewards.  Students receive theoretical and practical training in the three core disciplines of acting, singing and dance through a comprehensive and holistic approach.  During his four years of study at Sheridan, he once again represented the epitome of a triple threat. Jonah participated in several productions including Grand Hotel, Damn Yankees, Legally Blonde and Chess as well as Atlantis – a Canadian Music Theatre Project production.  Jonah soared at Sheridan through his friendships, passion and impact.
After graduating from Sheridan, Jonah's first professional appearance was with Neptune Theatre in Halifax, Nova Scotia, Canada, where he was part of the ensemble for Beauty and the Beast. Then, just one year after graduation from Sheridan, he became part of RBC's Emerging Artist Project and joined the Shaw Festival. RBC's Emerging Artist Project supports organizations that provide young artists with the best opportunity to advance their career trajectory. The Shaw Festival is a major not for profit, charitable Canadian theatre festival in Niagara-on-the-Lake, Ontario, Canada, the second largest repertory theatre company in North America. At the Shaw, Jonah had parts in both 1837: The Farmers Revolt and Me and My Girl. Outside of his professional work, he also pursued other projects like teaching others, volunteering, writing a musical and partial completion of an EP, to name just a few. 
Beyond his art, Jonah was known in the community for his radiating smile, the light in his eyes, his incredible work ethic, discipline, and dedication to be the best version of himself and to push others to do the same. Among his vast circle of friends Jonah was a source of light to everyone he touched.  His bright smile was infectious – it was sunshine.  He was regarded for his intelligence and humour and he never hesitated to go out of his way to look out for others and fight for equality, fairness and justice.  He was a loyal, honest and faithful friend who provided unconditional love and support while encouraging others to grow and be better versions of themselves.
Jonah's family knew his great heart, his passion and unrivalled courage.  His purpose to live his truth, his dreams and uplift and inspire others was always evident.  Jonah wanted everyone to live up to their potential.  He was determined and fought hard for the life he wanted.  His profound effect on people was impressive yet he never needed to be first – he was just happy to be part of the team.  He was larger than life to us and never ceased to amaze us with how hard he worked at everything.  What he achieved and the impact he made in his 22 short years has been amazing and made us all immensely proud. Jonah taught people to speak to one another, smile infectiously, dance and sing like no one is watching, take care of each other, dream big and be our best.  His spirit will continue to guide us all.
A Celebration of Life for family and friends was held on Saturday July 15th, 2017.  Jonah's Shaw Theatre family – which he had a profound impact on during his brief time with them – is hosting an additional memorial service in his honour.
"History Has Its Eyes On You"
~ by John Legend~
Please note: tax receipts will be issued, for eligible donations, received directly through Sheridan College here 
Sheridan Memorial Giving Page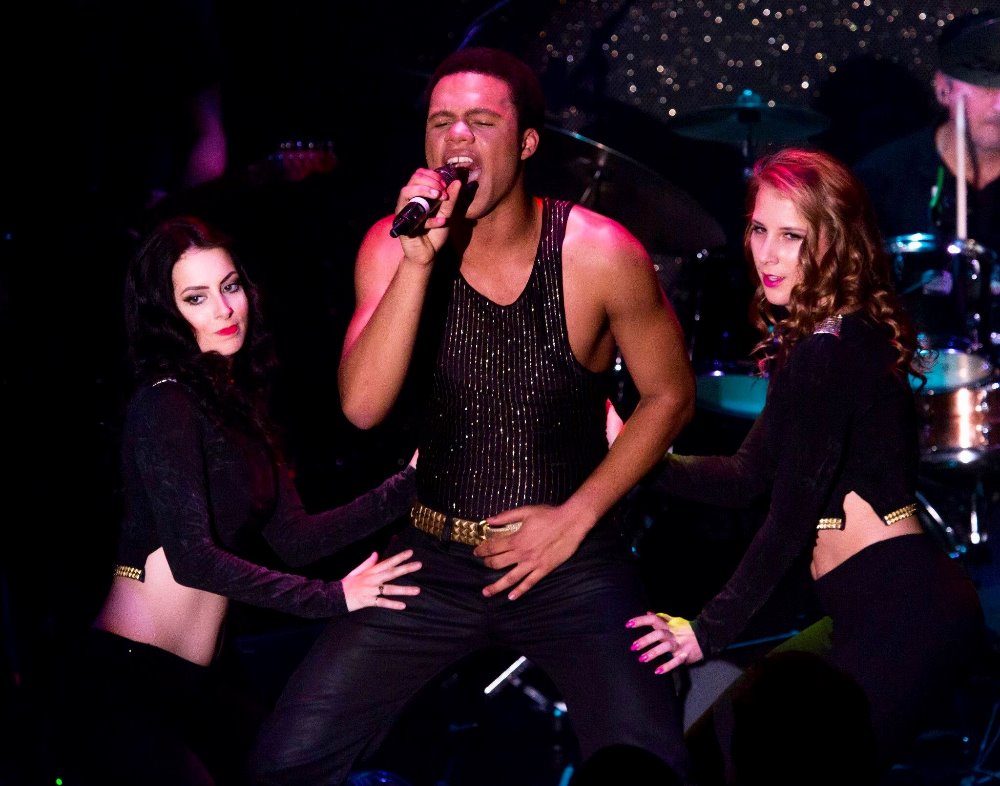 The Lewis Family (Hailey) 
Organizer and beneficiary