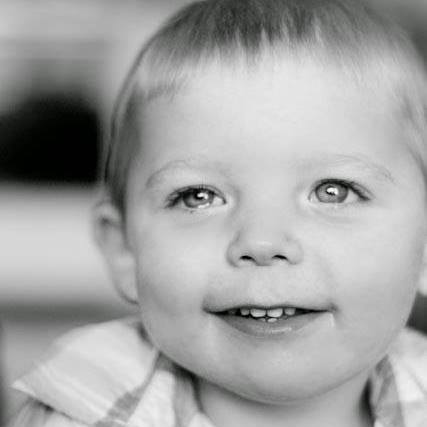 The Inspiration for JoJo's Jungle
Josiah Hoerter, was born in 2012 as our biological nephew.  He was 11 months old when we had the opportunity to adopt him into our home, and he became our son.  It was clear to us he wasn't developmentally on track, yet, several doctors assured us he would catch up and all would be fine.  We prayed they were right.   As time went on it became clear; all was not fine.  The answer came through genetic testing.  Josiah had a rare genetic disorder called MECP2 Duplication Syndrome.  Our little JoJo, would never walk, talk, or gain any kind of independence in his life.  His prognosis came with another sobering reality; we would bury our son while his siblings were still young.  That happened sooner than anyone expected as he passed in February 2015, three months shy of his 3rd birthday. 
JoJo's Jungle came from a promise we made to Josiah.  His Make-A-Wish was going to be an accessible playground in our backyard.  When he passed, however, the wish ended before it began. 
We made a promise to design the ultimate all-inclusive playground for our community so that other families could enjoy his legacy.
The Mission
To build a unique playground setting where children of any ability can play alongside their friends and families. 
Our Goal
Our goal is to enrich social skills, sensory learning, and promote physical fitness in a safe environment for every child in our community, while allowing parents and caregivers to feel relaxed and comfortable in their surroundings. More specifically, our design is such that children with a wide array of special needs can play together in the same space as a friend or sibling of typical health. 
Addressing a Need
Although children of all physical abilities will enjoy the park, the target demographic for which this playground is designed to serve is the over 2,000 children with special needs in our local community. 
Thirteen to 15% of children in Marathon County have some disability that makes a typical playground unenjoyable or completely unusable. These children need a place to play. 
The Vision
Walking into JoJo's Jungle won't feel like a typical playground setting.  You will be immersed in a large natural tree canopy for a real jungle feel.  This habitat also supports the Monarch and Karner Blue butterfly.  It will serve to educate children about the amazing life cycle of these two endangered species.  
The only "separation" in this all-inclusive design is by age.  There are three, distinct, playgrounds targeted to the play styles and developmental needs of each age range.
"The Jungle" playground, for 5 to 12 year olds, is wheelchair accessible up to eight feet high.  The summit is a large grass hut packed with activities from top to bottom.  A transfer point continues to a slide tower up to 18 feet.  A sensory-rich accessible cave with a six-foot high roller slide lets the imagination run free.
The two to five-year-old playground has an open concept design with plenty of room to run.  Children will be climbing, wiggling, wobbling, spinning, and running.  Parents have a clear line of sight from all directions around this playground. 
Toddlers, six months to two years, will have their own play area shaded from the sun.  Youngsters can safely learn to navigate stairs, ramps, and slides without being trampled by older children.  This area is also rich with sensory panels, toddler pull-up bars, and specialty swings.
To further elevate the design, JoJo's Jungle will also sport a cause-and-effect splash pad, accessible zip lines, a quiet chalk drawing area, music ensemble, and two picnic areas with more shade.
Timeline
After years of research and planning, the design is complete and construction documents have been prepared by Rettler Corporation and we are ready for bidding of the remaining work. 
The goal is to being construction as soon as we secure commitments for the remaining funds. An active campaign to raise the remaining $1 million is on now.  
We hope to begin groundwork in the fall 2018, with equipment installation in the spring of 2019. This will provide a stable foundation for the playground.  This will also allow us to open earlier in the season.
Ways to Give (in addition to gofundme)
JoJo's Jungle is a component fund of the Community Foundation of North Central Wisconsin.  Donations can therefore also  be sent directly to the Community Foundation (500 1st Street, Suite 2600, Wausau, WI 54403), noting the gift is for JoJo's Jungle, or credit card donations can be made online at www.cfoncw.org.