Joel Leonard Needs Tow Vehicle 4 Mobile Makerspace
Want to help people build back better? To help more underserved and rural communities get access to tech and training and the maker movement, we need to help Joel Leonard get a vehicle to tow "Makesboro, USA" - his mobile makerspace. 

Every week during the pandemic, Joel Leonard gave his all to keep local community manufacturing going and boost national resilience. 
Leonard, a community developer in Asheboro, North Carolina, has pulled all his influence to help small businesses, tech ed programs and community makerspaces stay afloat. He even leveraged contacts to give shelter to homeless hackers. 

This spring he launched a mobile makerspace. It brings emerging technology and training to schools, parks, youth programs and people in rural, underserved areas. "Our hope is that students will see manufacturing as a viable and lucrative career path, particularly for those who do not want to go to college," Leonard said. "They can learn the basics through the classes we will hold and then they can go to their local community college to get additional training and certification for a job."

It also helps the e-NABLE of which there are 4 chapters in this area, and close proximity to our Recipients' Advocacy Group. We make arms, hands and adaptive devices for people with limb differences and learning tools for people with vision impairments, PTSD and neurodiversity. Joel helps spread training and information, delivers devices and brings CAD and tech to people who haven't had access before. People learning digital design and fabrication can use Makesboro USA to finish earning New Collar Badges and in weeks earn workforce skills certifications that match to jobs.

There has never been a program like this in North Carolina. Forest Scientific, Maker Depot and Leonard immediately were asked to expand the program to other states. 

In its maiden tour this March, he had stops from NC to Louisiana where he galvanized community outreach and connected people to training and programs. Shown below, the food and crafts distributed by Dusty and her Asheboro restaurant, The Table, while families work on projects and use the makerspace seen behind. 




In 2019, before COVID-19 hit, Leonard drove more than 120,000 miles through 35 states visiting more than 100 makerspaces.  That vehicle was stolen and damaged at the Nation of Makers Conference in TN, and it has never been the same. It is not up to hauling anymore. On the way home it was clear Joel needs his own, reliable towing vehicle. 

Now we need to help this amazing, inspiring person reach even wider for funding. 

Please help us get him a used truck able to tow his makerspace trailer and supplies, and bring back local manufacturing skills. 


Technology Tailgate Connects Manufacturing Technology Public And Employers 

The NC state legislature just honored him with a state flag for his work.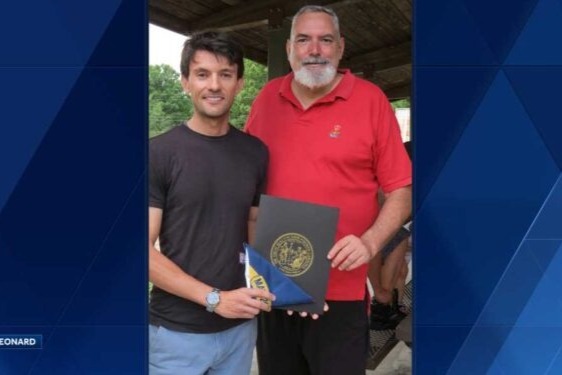 What's a Makerspace?






Makesboro USA is a 15-foot trailer packed with equipment where you can learn how to use a CNC (computer numerical control) mill, router, laser cutter and 3-D printer. A number of fun activities for indoor and outdoor fun with purpose launch from here, including learning how to make your own drone and fly it. An FAA-certified drone pilot and instructor hopes to use the makerspace as a way to get people to complete their FAA drone pilot's certification and reinvent themselves as drone operators for infrastructure and construction safety surveys, agriculture and search and rescue support, and even water surveys looking for fuel spills that can be mitigated by seeding bacteria to eat the fuel on the surface.

If you've ever tried to keep young people awake learning to read blueprints and schematics, they can participate in a scavenger hunt with blueprints. If you find the right spot, a drone will drop a taco on you, courtesy of a local restaurant. Other activities are learning digital design to create a beautiful laser etched image of families and people emerging from their COVID Bubbles; creating time capsules; 3D printing that can help make arms and hands and customized assistive devices for people who can't afford standard devices:  teaching 3-D printer basics by making edible images in pancakes on a pancakebot - making sure everyone at the Tech Tailgate Party gets to eat.

Joel recently used his laser etching and CNC machine to make a laptop desks with students aged 6 to 18 in a free parks program that introduced wood working to families.

Joel also uses his visits as opportunities for volunteers to help share free scholarship and resume' construction apps, and as a  place for local businesses to match to job seekers. 

Leonard will be taking the Makesboro USA trailer and instructors to area schools, events and towns to introduce rural and underserved populations to this type of equipment and lucrative jobs.  

The mobile makerspace is the result of collaboration between Forest Scientific Corp., a company based in Arizona and Pennsylvania; Maker Depot, a 501c3 non-profit makerspace from New Jersey and Leonard.  Matterhackers, a manufacturer of 3-D printers in California, has provided the 3-D printers in the trailer. The City of Asheboro has provided use of the park.

e-NABLE Alliance has partnered in programming and demonstrations of solar power stations and panels, adapting things to make them accessible to people with limb differences or neurodiversities, and 3D printing for people with vision impairments. With volunteers including new youth leaders Lincoln and Virginia Myers and veteran Joe Greene of Robo Dojo, the mobile makerspace has trained more volunteer leaders in its travels by hosting demonstrations of different devices, making hands, prototyping using 3D pens, decorating containers for accessible gardens, and leading safe tool use.

The mobile makerspace demonstrates that making is valuable to supply chain, workforce development, life-changing education and project based learning, and fun programming indoors and outside.

Who is Joel?
Leonard has been named the "Makers' Maker"  by the Nation of Makers and recently recognized with a citation by the North Carolina State Legislature for his Technology Tailgate Parties and programs. He hosted 3 weekly web events to help small businesses and makerspaces collaborate on challenges, stay encouraged, find funding, COVID information and PPE. He kept reminding funders and legislatures that children and makers had stepped in when the supply chain failed to keep their communities resilient. 

In the makerspace world, Leonard is recognized worldwide. He has taken his message and help to makerspaces everywhere.  He was instrumental in the development of The Forge, in Greensboro. It is the largest makerspace in the state, and has fostered innovators to get patents, launch startups and reinvent themselves in new careers.

Fundraising team: Makesboro USA Fundraising Team (3)
Maria Esquela
Organizer
Asheboro, NC
Greta Anita Lint
Team member