The Secret Music of Lily Dale
Composer and sonic archeologist Jill Tracy has begun an unprecedented project—a musical excavation of mysterious Lily Dale,  the famed private town of mediums and Spiritualists in upstate New York. She is recording her singular piano music channeled at night inside the original 1883 auditorium, site of séances and spirit communication services for over a century.  She has captured field recordings from the mystical Leolyn Woods to chilling nighttime rainstorms to create an authentic, never-before-heard sonic journey. Donate and get a rare glimpse into this strange, little town that talks to the dead...

"Jill Tracy is utterly intriguing. She transports you into a magical world solely of her creation."
NPR, ALL THINGS CONSIDERED

"Jill Tracy is the Queen of taking her listeners into another realm."
SAN FRANCISCO CHRONICLE

"Jill Tracy creates an elegant netherworld both seductive and terrifying."
CLIVE BARKER


Thank YOU immensely for helping fund my initial trips and materials, enabling this project to even exist. I am honored by your level of trust in my work—and to the Lily Dale Assembly for inviting me to make this project happen. Such a rare opportunity!
I received a beautiful letter from the President of Lily Dale, and love having the enthusiasm and support of the community. Plus some donations from members of the Board
.

During my most recent trip, I did a really fun video interview at the site of the legendary Fox Sisters Cottage with Lily Dale Medium Celeste Elliot. Watch it at THIS LINK! 

Read the interview "A Glimpse Beyond the Veil: Jill Tracy Reveals The Secret Music of Lily Dale" in Haute Macabre!
I discuss many behind-the -scenes tales and stories for the first time, hidden frequencies, spirit phenomena, my beliefs, and process unearthing music in unusual locations. This piece will give you much new insight on the project.  So proud of how it came out. Excited for you to read it! 
Here is the LINK.
***
SCROLL DOWN for the original campaign story,
plus the history behind it all... (and
be sure to read the UPDATES here!
) *** Also Follow
JILL TRACY on Instagram. 
Follow the hashtag
#jilltracyinlilydale
for an ongoing peek into my otherworldly adventures!
What's it like inside this peculiar place called Lily Dale?

I have been fascinated with Lily Dale for years, and beyond thrilled to
have been invited to research, live amongst the mediums, and compose music on the piano inside the 1883 grand auditorium
(pictured below)— the site of many poignant spiritualist gatherings, spirit communication services, and lectures. Susan B. Anthony spoke during the Women's Suffrage Movement. Harry Houdini walked these grounds. (Did you know Sir Arthur Conan Doyle was a devoted Spiritualist?  Mae West too.)
It's an honor and inspiration to be blessed with this opportunity, but I need your help! Plus the thought of taking you along on the journey makes it even more alluring. 

Come with me for a backstage pass beyond the veil.

Rare and strange discoveries await us both...
My invitation came unexpectedly (like most magical things do) so I am scrambling to prepare. I want to inhabit Lily Dale during its off-season, with no visitors, to experience the town authentically. And be able to work at the piano alone in the auditorium, wander and conduct field recordings in the mystical Leolyn Woods (a sight of supposed strong spirit activity.)
I will be living in the home of an actual medium on the lake!
I cannot bring a crew with me, so I must be completely self-contained with video, recording gear, software, and accessories. I must buy things. I have travel expenses. This is why I need your support!
To show my appreciation, I'll send you secret behind-the-scenes photos, odd historical tales from the archives, videos, interviews, updates, recordings, and musical works in progress.


You'll peer into the entire process and accompany me on my explorations... 
Details:



What is Lily Dale?

Lily Dale is a private village on small, placid Cassadaga Lake founded when the Spiritualist movement, began in 1848 in central New York State.
In the middle of nowhere, mediums, some of them fourth or fifth generation, live in quaint clapboard houses. The village, on 167 wooded acres, has about 100 year-round residents— ALL of them Mediums and Spiritualists. This means a belief that spirits are able to communicate with the living by agency of a medium. ... Adherents of spiritualistic movements believe that the spirits of the dead survive mortal life, and that sentient beings from spiritual worlds can and do communicate with the living.
Definitions from the National Spiritualist Association of Churches:
A
Medium
is one whose organism is sensitive to vibrations from the spirit world and through whose instrumentality, intelligences in that world are able to convey messages and produce the phenomena of Spiritualism. (1914)
Spiritualism
is the Science, Philosophy and Religion of continuous life, based upon the demonstrated fact of communication, by means of mediumship, with those who live in the Spirit World. (1919)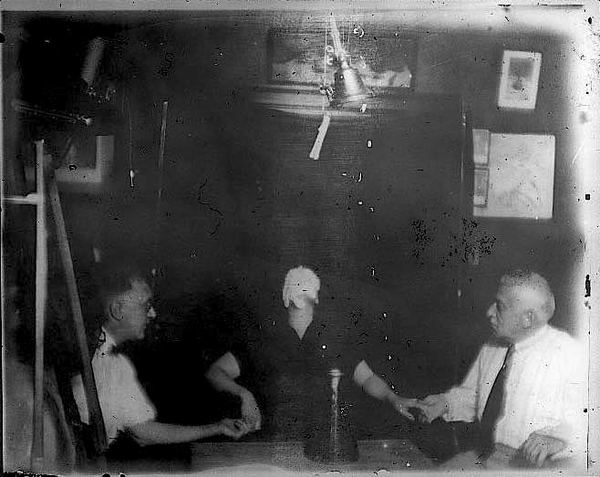 What will you do there? And why?
My work has always been about honoring the Mystery, the hidden worlds that lurk all around us. My piano is my portal. Frequencies, resonant tones, music, and sound have long been used in psychic communication. Music (which is merely a collection of selected frequencies) is a bridge to realms we may never fully comprehend or master— but they surround us. I'm fascinated with what I call "sonic residue,"  echoes, and impressions that remain in environments, buildings and objects. Much like a ghost. For me, uncovering the hidden music within these spaces is the closest thing to time travel or channeling.
The thought of being alone at the grand piano in the 1883 Lily Dale auditorium at night, unearthing music on the instrument played during actual spiritualism services and séances is chilling.
I plan to set up a series of microphones to capture the ambience, the room— the aural energy of being inside this place is as intense as the music I uncover.
And I will share it all with you for donating!

I will be working with the great folks at Lily Dale's
Marion H. Skidmore Library,
which houses the largest collection of Spiritualist books in the world. They have been saving rare 1800s Spiritualist sheet music and audio-related materials for me for over a year! Much never-before-seen. So I will be spending a lot of time in the stacks.I plan to
conduct interviews
with historians and those who communicate with the dead—and even experience readings myself from the mediums, and attend mediumship workshops.
I approach this project as neither a believer nor non-believer, but open in expanding my mind to possibility.  I do believe in other realms and energies far beyond human comprehension. There is so much we don't know.
Why should I donate?
Your donations make this project exist. The closer I can get to the goal and beyond means I get more accomplished during my stays in Lily Dale to create new art, music, and content I am proud to share with you.
NOTE: I am paid NO money for these research trips, make no other income during the time invested — and still responsible for my monthly bills and living expenses during my travels. It's a tough constant slog for artists and researchers— countless hours unpaid, but the process is the most vital part of the creation!
Knowing you value my work and efforts means the world to me.
Budget includes separate 2017 and 2018 trips to Lily Dale —airfare, transportation, lodging, workshop fees, meetings, food, daily expenses.
Cost of audio/video gear, microphones, cases, accessories, hard drives, SD cards, batteries, etc. Post-production:  audio/video editing software, plug-ins, computer upgrades, monitors, lighting, additional mastering, etc.
Please remember that this equipment is not "one-use only,"  but an investment enabling me to continue and expand my work ongoing.  My future goal would be to use this material to finally launch my web series of strange, sonic explorations, which could also be edited into a podcast with interviews and stories, as well as releasing the Lily Dale music! This experience could also become a memoir, lecture/ live concert event.  Ahhh, think of all the spellbinding possibilities! 
Your contribution is the launchpad.
I am driven to do this project now, and celebrate these enchanting, hidden gems while they still exist. Lily Dale is such a place. There is belief and beauty here, a welcome respite from the current state of much of the world. It's important to acknowledge this.
I embark on this project with the utmost respect.
I hope you will come with me...
For more info about my work and music, visit
JILLTRACY.com


Follow JILL TRACY on
Instagram
. 
Follow the hashtag
#jilltracyinlilydale
to keep up wth my otherworldly adventures!