Jeremiah is a Pit Bull that was recently discovered by compassionate Toledo, OH residents, as he was tied up in a backyard (24-7), on a heavy tow chain without adequate food, no water and visible injuries. His collar was so tight around his neck, that it was on the verge of becoming embedded, causing a terrible and visible neck wound. He is blind in his left eye, which is also infected, due to having never received Veterinary treatment upon initial injury. It has been confirmed by his former owner, that he was indeed a victim (and survivor) of the Toledo dog fighting scene at some point in his life. This is obvious, as he is covered in scars due to his traumatic past, in addition to sores on his paws and elbows, due to his horrendous living conditions. Well, all of that has changed for sweet Jeremiah and this is how... 
WELCOME TO JEREMIAH'S NEW JOURNEY...
On Monday, August 7, 2017, it was brought to my attention that there was a Pit Bull in need of rescue. I read the concerned residents Facebook post and immediately made a call to the Toledo Area Humane Society (Cruelty Division) requesting their attention to this urgent situation. Many others placed multiple calls to the Humane Society, local Rescue groups and Lucas County Canine Care and Control. From this, I had learned that the owner of the Pit Bull (a 72-year-old man, caring for his 92-year-old mother with cancer and just barely surviving) was given multiple notices and warnings from the authorities that he needed to purchase a lighter chain for his dog and was given so many days to do so. In the mean time, worried residents were instructed to continue to document this dogs suffering, proving that no positive changes had been made to his living conditions over the course of a few days since having been visited by the authorities.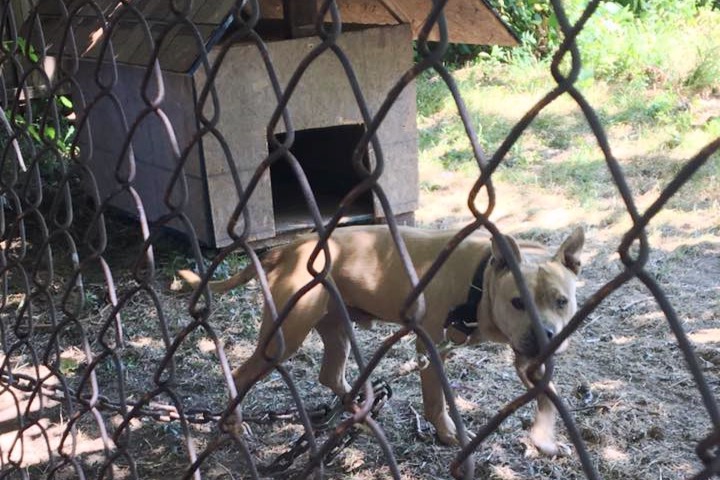 Well, that just wasn't enough for me... I had to DO something. Something to alleviate the suffering of this animal, this living, breathing beautiful soul, who was at the mercy of the law and his owner's lack of action. This is when the miracle occurred...
On Wednesday evening, August 9th, I jumped in my truck with one can of wet food, a plastic spoon and bottles of water. I parked in the church parking lot near the property line, approached the fence and could see the tow chain leading up to the dog house. I gently called for the pup, who immediately emerged from his shelter, tail wagging and excited to be receiving love and attention. I got down on the ground and began feeding him by hand through the fence. I couldn't bare the thought of him being hungry and thirsty for one more day. Out of his reach, were empty plastic ice cream containers that, at one point, had a bit of dirty water in them.
Suddenly a woman and man who were attending Wednesday evenings church service began to approach me in the parking lot, obviously curious as to what I was doing and why I had parked so poorly by taking up two parking spots (I was simply in a hurry to get this pup his dinner). I introduced myself, explained what I was doing and expressed my deep concern for this dog and his current living conditions. They immediately opened their hearts, saw my genuine passion and became an instant support of my efforts. I explained to them that I will be feeding this pup until the authorities take him if the owner does not make any changes. I also expressed my desire to speak with the owner and listen to his story, understand the details of this situation first-hand. No sooner do I express this desire to these witnesses, an older gentleman rides into the backyard on a bike. I immediately ask if he's the owner of this dog, and he replies with a "Yes." I requested that he come over to the fence, so that I may speak with him. I said, "I hope you don't mind that I'm feeding your dog some dinner." He replied, "I don't mind." Then, the gentleman behind me, who was attending church that night, asked the owner if he could loosen the collar around the dogs neck, as this young man noticed how severe his neck wounds were. The owner complied and began to loosen the collar, while telling us what a good dog he is. I agreed. I knew in my heart that compassion was the way in regards to my interactions with this man if helping the dog in a productive way was the goal, which it was for me. I proceeded to ask if he could bring me the pup's water bowls so that I may fill them with the fresh water I brought... that is when the unexpected took place.
The owner, suddenly began to pet his dog's head, looked at me and said, "Do you want him? You can take him if you want." I was in complete disbelief. I had never experienced such a peaceful owner surrender. I quickly turned around, looked at my three witnesses (earth Angels) from the church and smiled (barely able to contain my JOY and amazement). I looked back at the owner and confirmed, "You are surrendering your dog to me?" He replied with a calm, "Yes. But please promise me that you will not take him to the pound or let anything happen to him." He had my word and I know in my heart that he knew his pup was in good hands with me and that there would be no risk of euthanasia. That his life would indeed be better than what he was able to provide for him. He invited me to park my truck in his driveway and introduce me to his dog. I could feel this man's sadness, as he made the tough and extremely honorable decision to let him go, willingly.
Thankfully, I had one of my rescue slip leads in my truck and upon approaching his pup, I asked him what his name was and he said that he didn't have one and that I could name him. Tail wagging and lots of kisses, as I caressed his sweet face, the owner unhooked the tow chain from his neck and took off his collar. I could feel the darkness lifting from this pups entire being. I could feel the HOPE and the happiness entering his life for the very first time. I was overwhelmed with emotion. I leashed him up and we all walked together, to my truck and the owner guided him into my back seat. Again, he begged that I not take him to the pound. I placed my hand on his arm, looked him in his eyes and reassured him that I am a woman of my word. I will NOT allow anything to happen to him and that I will even come back and visit to show him photos of him, his progress and give him updates on how he is doing with his new life. He truly appreciated this. 
I immediately called my dear friend, animal advocate and rescue side-kick, Tara to report the good news and let her know that we would be immediately headed to the Emergency Veterinary Hospital. I picked her up and we were on our way! The welcoming staff at Med Vet were happy to see us and instantly fell in love with this gentle boy, just as we did! I was asked what his name was, as I began to complete his paperwork... I knew I had to choose a name that was symbolically meaningful to this pup's new journey. Of course in the moment, my brain couldn't think of a name, then all of a sudden, I heard that still inner voice say, "Jeremiah." Not knowing the meaning of the name, I immediately jumped on Google! The first results revealed: "Exalted of the Lord." Exalted meaning, "held in high regard, in a state of extreme happiness." THAT was it! I knew that had to be his name.  Even the example of the word used in a sentence was: "I felt exalted and NEWLY ALIVE!" It was meant to be. 
Upon entering Jeremiah's room, he took turns giving each of us hugs (literally) and kisses. He was in a state of pure bliss!
As always, we received the best care, compassion and support from the Doctors and staff at Med Vet. They knew Jeremiah was on his way to an incredible life!
Thankfully, Jeremiah's Parvo test came back NEGATIVE and he received immediate treatment of his wounds. He is currently on an antibiotic, in addition to medicated eye drops. He was also treated for fleas. Upon arriving, he was severely dehydrated, so he was given 500 ml of sub-q fluids, a warm gentle bath and a comfortable bed to sleep in, as they monitored him for the night.  
The next morning, I picked him up from Med Vet and we made our way to Pets Mart to grab him some treats and supplies. Upon arriving, a woman and her granddaughter (he is wonderful with the children he has met) were able to meet Jeremiah, were inspired by his story and graciously took this photo of us together! - Thank you, Debbie and Aubree!! 
Next, we were off to Starbucks for his very first Puppuccino! He loves car rides and especially loves the AC blowing on his face. :-)
Thankfully, we were able to secure a temporary holding situation for him with one of the most compassionate and loving families who took a chance and helped us with this urgent and very unexpected rescue! I am immensely thankful to call them friends. Jeremiah has been loving his time running freely in a yard, rolling in the grass, soaking up the sun, sleeping in a bed and receiving more love than he could have ever dreamt of... 
This is where we need your support...
I was able to schedule him an appointment at  West Toledo Animal Hospital for Tuesday, August 15th to continue his treatment, determine the cost of his surgical eye removal (which needs to take place as soon as possible), neuter and continued care. He also needs a dewormer, a heart worm test, vaccinations and blood work, just to start.  
In addition to monetary donations to pay down the Emergency Vet bill and his further treatment with West Toledo (keep in mind, the $1,000 is just an estimate, in which the goal may have to increase once we determine the exact cost of treatment and surguries at West Toledo), we need the support of a wonderful, reputable and supportive rescue who would like to make Jeremiah a part of their rescue family. He deserves the best forever family this world has to offer and as a community and a village of like-minded animal advocates, I am reaching out to those who are inspired by Jeremiah's journey and would like to help us, help him. 
I thank you in advance for your support in every way! I will never turn a blind eye. I will never ignore their suffering. I will ALWAYS do what is right, for my reward is not found in fining a poverty stricken family, my reward is found in ending the suffering of a precious animal the moment the opportunity presents itself... and this time around, the chance of a lifetime was presented to Jeremiah and it was up to ME to act on it and to take that leap of FAITH! 

Organizer
#1 fundraising platform

More people start fundraisers on GoFundMe than on any other platform. Learn more

GoFundMe Guarantee

In the rare case something isn't right, we will work with you to determine if misuse occurred. Learn more

Expert advice, 24/7

Contact us with your questions and we'll answer, day or night. Learn more