Help Jeff Get Back on his Feet
IN THE BLINK OF AN EYE, EVERYTHING CHANGES…… 
Jeff Alexander loves to tell stories. And many of those close to him would say he is pretty good at it. They would also say Jeff is at his happiest at the dinner table, surrounded by friends and spinning a yarn about something ridiculous. These stories often start with phrases like: " And there I was, minding my own business….", or "You'll never believe what happened…" or the inevitable preface, "Get this!!"
One such story involved Jeff being introduced to someone who forever positively impacted Jeff's life.  Jeff was an aspiring musician having been a member of the marching band and Jazz ensembles during middle and high-school and also the marching band at Texas A&M.  He was also passionate about sound recording and sound reinforcement.  However, Jeff was working for General Dynamics as a fluids system engineer which was about as far away from being a musician as one could get.  So there he was, at Caruso's Music and saw a notice of a guitarist seeking a drummer for a rock band.  Jeff pulled the tab with the phone number. It was at that moment that Jeff's future would change forever.  Jeff met Joe Ciaudelli and they hit it off like wildfire. They became friends and formed a small company providing sound system rentals. Joe worked for one of the worlds leading electroacoustic companies.  As luck would have it, (and Jeff often repeats the phrase: "Luck is often when preparation meets opportunity"), the company Joe worked for had an opening, and Joe was somehow able to convinced the then President of the company that a Nuclear Fluids System Engineer might make a good Product Manager. Jeff was hired. So there Jeff was, working in a field that involved his three most passionate pursuits.  
Jeff loves to tell this story of how the split second decision of pulling that tab of paper from the sheet on the bulletin board in the music store changed his life forever.
And by 'changing his life forever', I mean it lead to a 22 year career with this wonderful company.
Now for the second story, which is of a totally different sort but along the same theme of a split second action affecting Jeff's life irrevocably.
Jeff had turned 50 in 2012 and as a gift to himself, he bought a 'Vespa-styled' scooter to use for fun along the Connecticut shoreline with his 12 year old son Ethan. He was proud of this scooter which could move along at 50-60 mile per hour. Jeff got his motorcycle license and he and Ethan spent many happy hours cruising around Connecticut's secondary roads during the summer.
On August 25, 2012 Jeff was on his way to a dinner engagement about 10 miles from his home.  It was a beautiful Sunday afternoon so he decided to go on the scooter. He was traveling on Rte. 1 in Westbrook when tragedy struck. 
Sgt. Charles Burns of the CT Highway Patrol wrote in his report;
'Vehicle #1 (Jeff) was traveling eastbound on Boston Post Road. Vehicle #2 was making a left turn from the driveway of 433 Boston Post Road onto Westbound Route 1. Vehicle #2 pulled out directly in to the path of vehicle #1. Vehicle #1 collided with the left side of vehicle #2. Operator #1 was ejected and sustained serious … injury. Investigation revealed that operator #2 failed to see vehicle #1 approaching from the West. Operator #2 initiated her left turn from a commercial driveway directly into the path of vehicle #1. Operator #1 had no time to react and was unable to avoid a collision with the left side of of vehicle #2.'
Jeff was thrown approximately 75 feet from the point of impact. The femur in his right leg was snapped in half. His right pelvis was crushed. His left tibia/fibia were broken and his left knee was essentially obliterated. Jeff's right hand/wrist was crushed. Thankfully, Jeff was wearing a helmet so he did not suffer brain injuries but the force of impact was such that it caused severe hearing loss in his right ear.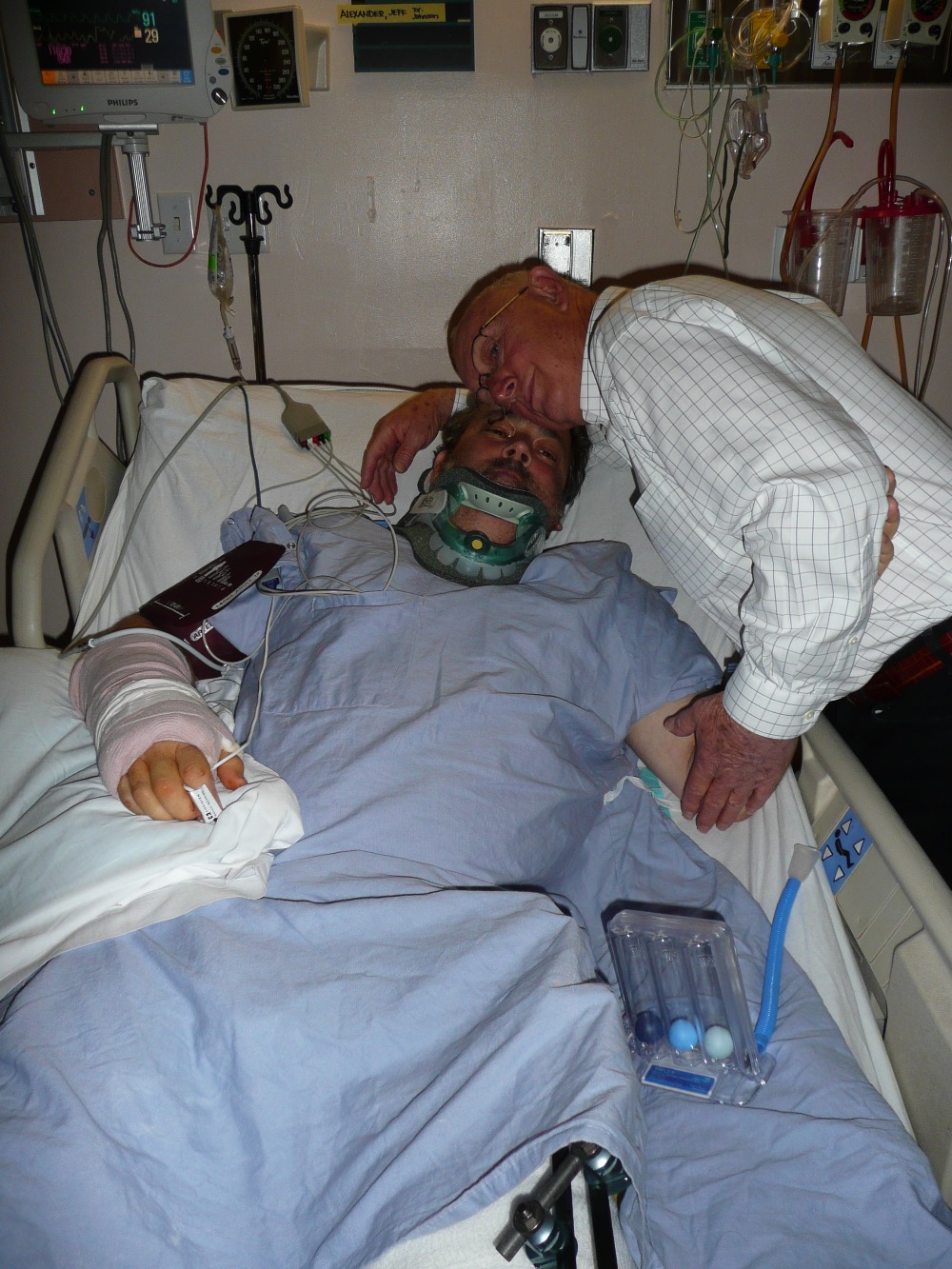 He was taken to Yale Hospital where he was placed into an induced coma.  It was unclear for several days if he would survive. His parents flew up from Texas and close friends were with with him as he went through the first of what would ultimately be 27 surgeries. He was in intensive care for a few weeks and ended up hospitalized for seven months.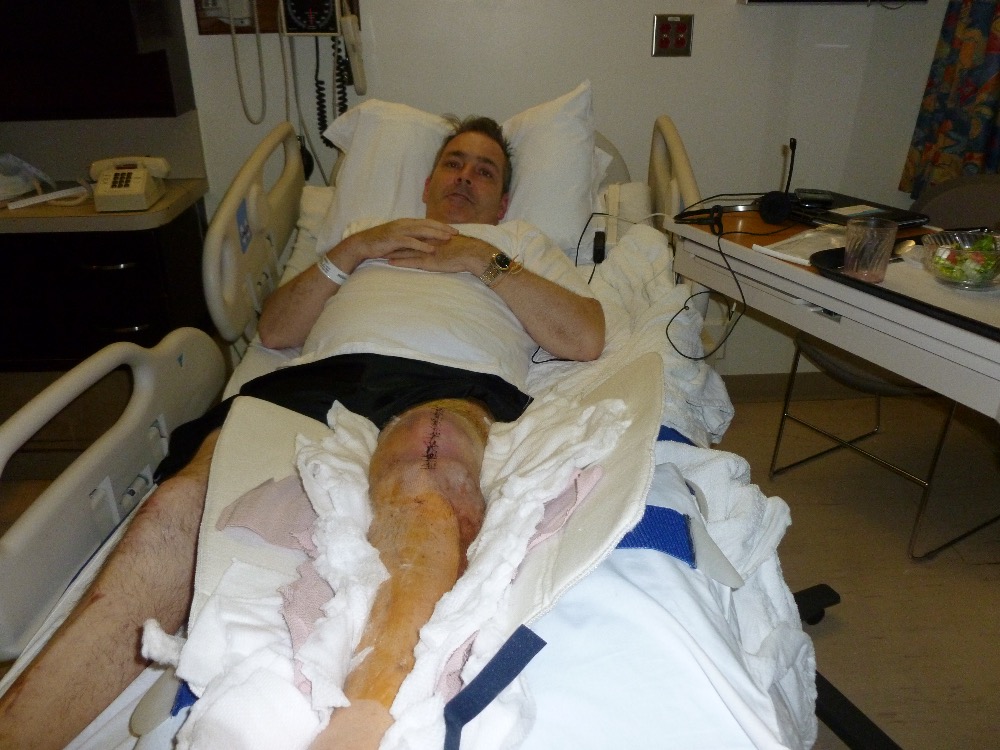 It has now been three years. Given Jeff's extensive recovery period, physical limitations and trauma post accident; he was unable to return to work and lost his job. His left knee was damaged beyond repair and Jeff suffers from intense arthritis.  His left leg was so deformed that he could walk for only a few yards before experiencing severe pain and fatigue. He had no sensation in his lower left leg and no ability to move his foot or ankle. He had circulation issues so severe that wounds on his left foot never healed. His right leg also suffers from severe nerve damage with limited mobility and his right wrist is deformed and is a constant source of pain.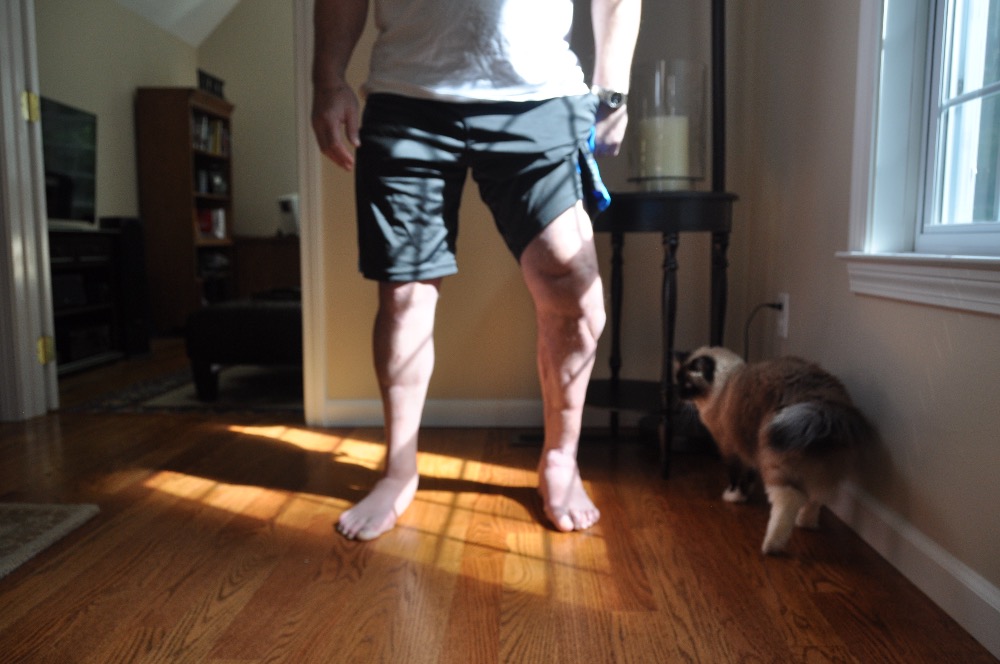 Jeff had to cover all of his medical bills with his insurance and with his own savings.  Jeff didn't file a lawsuit against the woman who caused the accident. His comments at the time were, 'Well, one life was ruined, why ruin two?" The hospital bills for the first week after the accident were over $1 million, most of which were covered by Jeff's insurance. 
So, here is yet another example of a split second action changing the course of everything in the future.
Needless to say, it has been a long, arduous and expensive ordeal.
Fast forward to four weeks ago. After careful consideration and counsel from well-informed orthopeadic specialists, friends and family, Jeff made the decision to amputate his left leg above the knee. This was a difficult decision but Jeff and the many doctors and supporters with whom he had consulted believed it to be the best course to help Jeff re-gain somewhat of a 'normal' life.
Jeff underwent  the amputation on August 20th, 2015.  Five days shy of the third anniversary of the accident.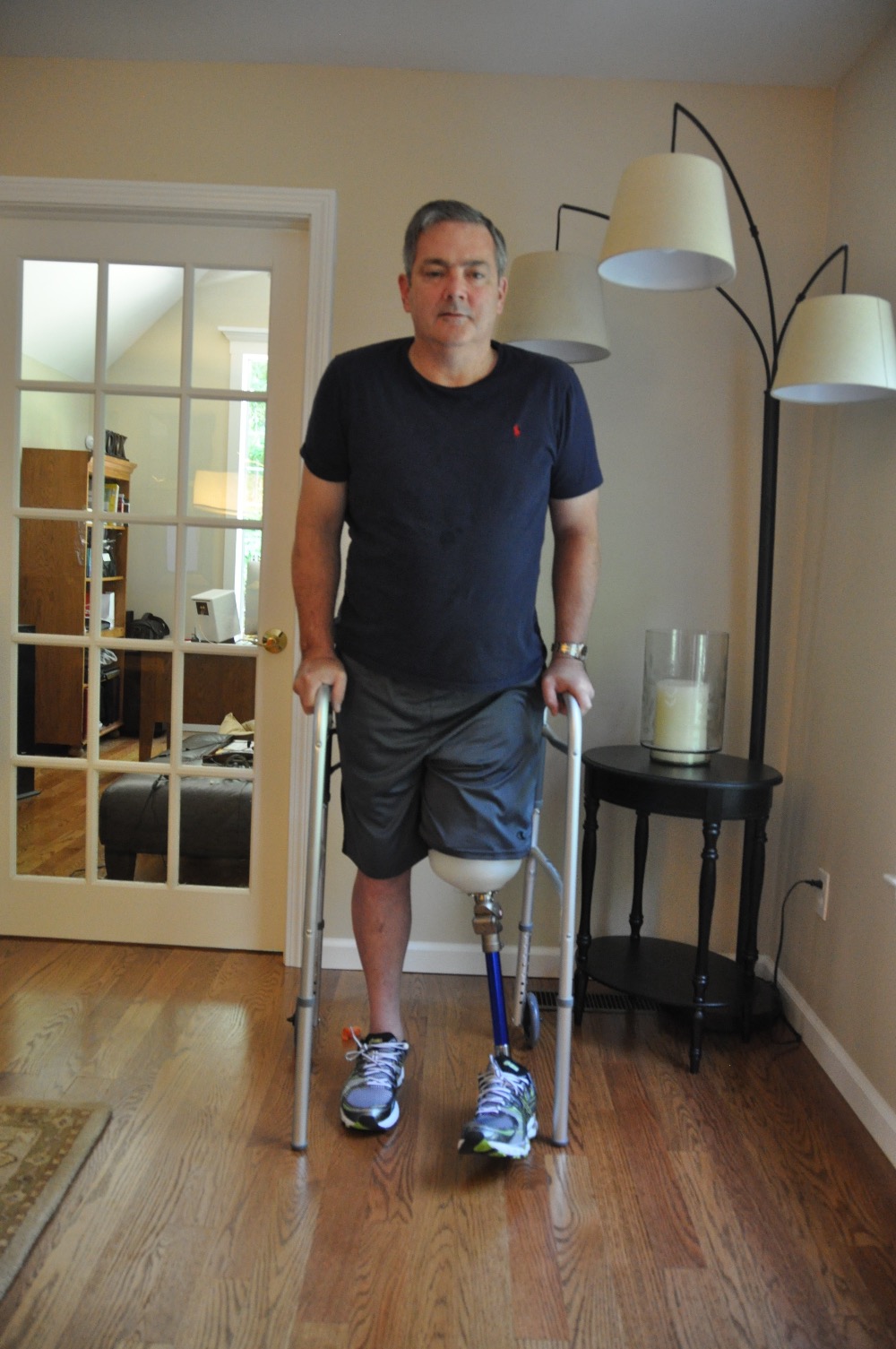 Why Jeff needs your help and where the money will go.
-Jeff needs help with paying his portion of the cost of his prosthesis.  The prosthesis being recommended by Jeff's prosthetist is called a 'C-Leg', version 4.  These devices start at around $50,000 and can cost upwards of $100,000.  Jeff's insurance will cover a portion of the cost, but Jeff will have to come up with the rest.  Your contribution will help cover these costs.
-Jeff will have to undergo months of physical and occupational therapy which are costly.  He needs your help covering these costs
-Jeff will have significant 'out of pocket' costs for the amputation surgery and in-patient acute therapy hospital costs.  He needs your help covering these costs.
-Jeff and Samantha's home has to undergo modifications to make it more 'handicap friendly'.  Your contribution will help cover these costs.
Any contribution, be it $2 or $2000 will be sincerely and gratefully appreciated and Jeff thanks you in advance for your kind and gracious assistance.
Jeff's Dream,
Jeff hopes that with the help of a quality prosthetic, he will be able to regain a level of mobility such that he can go for a walk with his wife.  He speaks of this often.  He would also very much like to get back to work;  hopefully with the wonderful company with which he worked for over 20 years.  Jeff would also be very happy if he could enjoy another round of golf and go for a bike ride.  These things have been out of Jeff's reach for over three years.  With your help, he can reach his dreams.
Thank you very much for your support and kind assistance.

Organizer
#1 fundraising platform

More people start fundraisers on GoFundMe than on any other platform. Learn more

GoFundMe Guarantee

In the rare case something isn't right, we will work with you to determine if misuse occurred. Learn more

Expert advice

Contact us with your questions and we'll answer, day or night. Learn more