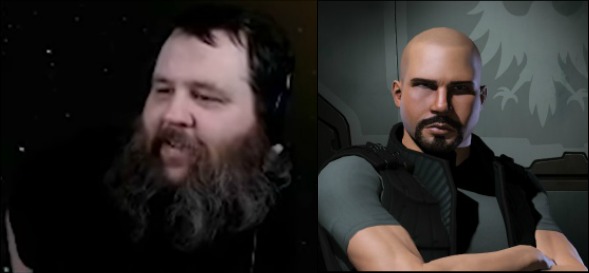 It is with deep regret that we mourn the loss of our friend and fellow EVE Online player Jeff "BigCountry" Waltman.  BigCountry, or BC as he was known to many of us, died suddenly, yet peacefully, on November 1, 2016 at his home at the age of 37.
BC played EVE since 2007, and was most recently a member of Sniggerdly in Pandemic Legion.  Over the years he was also a member of Tactical Narcotics Team, Shadow of xXDeathXx, and Intrepid Crossing alliances as well as a long-time director in Specter Syndicate corporation.  However, his corporation or alliance affiliation was never truly what defined BC within EVE Online.  These were merely organizations in which he played the game he loved with his circle of friends.
BC was more widely known to EVE's players through his work as an EVE Radio DJ and host of The Open Comms Show, which he started in 2011.  Without a doubt, BC was a larger than life personality with a passion for gaming, most certainly for EVE Online.  EVE is a social game and BC combined his enjoyment for the game with his desire to talk about it with others.  Love or hate what the guy had to say, almost nobody could keep a live broadcast going like BigCountry.  BC was the genuine article; the guy in the game, the guy on the podcast, was the same guy in real life.
Jeff leaves behind a wife Megan and two young children: 8-year-old daughter Taylor and 6-year-old son Carson.  Over the years we came to know his wife through his various shows as Mrs. Country, and from time to time we would hear about his children whom he loved very much.
This gofundme will go directly to help Megan and the children through this difficult time.
If you were familiar with BC from his time in EVE, or simply wish to support the family of a fallen capsuleer, we ask that you please find it within yourself to make a donation.