HANAPEPE MASSACRE STORY NEEDS TO BE TOLD
THANKFUL FOR YOUR INTEREST, THANKS FOR GIVING!!
A Band of Angel Supporters is urgently needed to help provide Startup Funds so that we can launch strong. This Hanapepe Massacre Mystery film project is an important work for history, Filipinos and workers rights everywhere, and we've already started filming and production. 
WHAT'S THE FILM ABOUT? 
The planned film will delve deeply into the mysterious tale of an explosive Filipino sugar cane workers' strike on Kaua'i, Hawai'i on Sept. 9, 1924. The ensuing melee led to the deaths of 16 strikers and four sheriff deputies. A fog of fear and more reprisals in its aftermath gripped Filipinos, as surviving strikers were deported, tried and some jailed, and an exodus of hundreds of Filipinos leave Hawai'i for California or go back to the Philippines in the years that followed.  Virtually a forgotten history for 95 years, it is also a suppressed history, as the film will reveal.
VIEW:  TV reports on film project 
WHY A GOFUNDME.COM CAMPAIGN?
While funding requests to nonprofits, private foundations, corporations and government entities are being submitted for consideration,  your GoFundMe gifts will allow me and my film production team to forge ahea. We can begin filming interviews with aging community storytellers whose memories are fading and dig deeper into this history by interviewing critical historians, researchers and scholars.  
WHO IS MY GIFT GOING TO BENEFIT?
The film production -- research and filming.

Your gifts to the project are expressions of goodwill only.  In no way will donors influence the storytellers.  Angel Supporters will be given a "big Thank You" in the film's credits.
This is not a for-profit film project. Documentaries are not known to make money but serve the public good. There will be no investors who have to be paid back. Everyone who gives is an Angel Supporter.
Together we have the opportunity to set aright this forgotten and incomplete 95-year-old history of a massacre that involved the killing of 16 Filipino sugar cane workers in 1924 who were buried in an unmarked, mass grave.


WHERE CAN WE SEE THE FILM WHEN IT'S DONE?
We will hold community showings when the film is completed in 2023.  And in 2024, -- the 100th anniversary of the massacre, we hope to broadcast it on PBS. This not-for-profit endeavor will enrich public understanding of and increase public education about this tragic, forgotten history. 


WHO ARE YOU? 

I am Stephanie J. Castillo, and EMMY Award-winning filmmaker. I am from beautiful Kaua'i, Hawai'i and I am honored to head up this compelling documentary film project. My grandfather and grandmother immigrated Kaua'i from the Philippines sometime in the early 1900's. I had never heard of this horrific event --  a pitched battle between deputized police and strikers that ended with a massacre of Filipino sugar workers. I feel compelled to find out what happened and to understand what my grandparents and other Filipinos lived through in the days following the massacre. In their day, thousands of Filipino sugar workers were striking for higher wages and better working conditions on every Hawaiian island. Those strikers are today "the shoulders" upon which all laborers in Hawai'i stand.
WHAT'S YOUR TRACK RECORD AS A  DOCUMENTARY FILMMAKER?
This is my 11th documentary; my first one won the EMMY in 1993. My documentaries include social and cultural histories, biogra
phies and mini-documentaries for nonprofit organizations.  The EMMY was won for a film about Hawaii's leprosy epidemic of the late 1800's and Father Damien's intervention -- SIMPLE COURAGE: AN HISTORICAL PORTRAIT FOR THE AGE OF AIDS. It took a look back at Hawaii's leprosy epidemic so we could look forward to how we would deal with the AIDS epidemic.
With your support, I can produce yet another important documentary and add to Hawai'i, Filipino, and labor history with a more complete telling of this tumultuous story. Already, the local media has recognized the importance of updating this tragic tale.
WHAT'S BEEN DONE SO FAR?
When I heard a group of community researchers here on Kaua'i were looking for the unmarked grave of the 16 Filipino sugar cane workers, my team and I jumped into action. On Sept. 29, we were there at the Hanapepe Filipino Cemetery to film the community researchers and their search.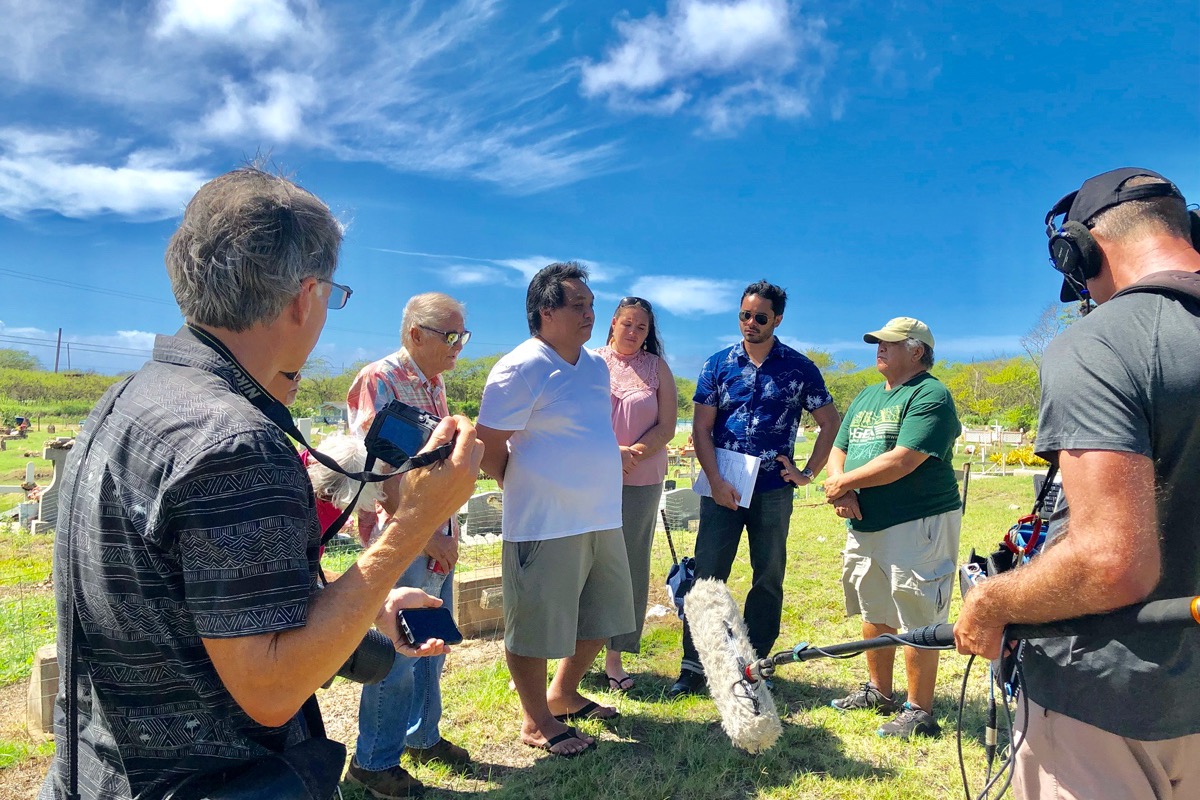 These community researchers will present their findings in Waikiki in July at the biennial conference of the FILIPINO AMERICAN NATIONAL HISTORICAL SOCIETY (FANHS).
AN UPDATE:  FOUND!!
Using ground penetrating radar at the Hanapepe Filipino cemetery on Oct. 20, the trench where 16 coffins had been buried was identified.  A 95-year-old mystery had been solved!
We are just beginning to  interview community storytellers whose grandfathers',  great-grandfather's  or family stories of the massacre were handed down.  Below,  Dickie Lutao tells the story of his Filipino  grandfather who was a sugar plantation manager at the time of the 1924 riot.
WHAT ARE SOME OF THE MYSTERIES AND QUESTIONS IN THIS STORY? 
Who were these Filipino strikers killed? What started the melee when police and deputized hunters were called into an explosive situation in Hanapepe?  What happened to Filipino workers and their families afterwards? How did this dramatic event impact the progress and evolution of the nascent labor movement in territorial Hawai'i, the years of labor struggles that followed, and those that continue today? What are the story's implications for today's issues regarding labor rights, immigrants and transnational workers?
The mysteries in this history will be searched out in the film, and the turbulent times of striking workers who wanted better wages and living conditions in the lucrative sugar plantations of Hawai'i is the back drop.
WHO'S ON YOUR TEAM? 
L-R: Stephanie J. Castillo, Executive Producer/Creative Team Leader; Randall Francisco, Executive Producer/Operations & Finance; Christopher Ballesteros, Research Team Leader/Finance Team; Leslie Castillo Scales, Production Concierge; Wesley Manaday, research team member/finance team member.
All of us are Filipino and from Kaua'i.
My co- Executive Producer is Randy Francisco, who is the former film commissioner of Kaua'i. He brought in millions of the County of Kaua'i for film production.
I personally have raised more than $2 million for my 10 documentary films. 
Christopher Ballesteros, who is based in Boston, wrote a capstone academic paper about the massacre while studying history at Harvard. He has experience with startup and non-profit fundraising, and worked in venture capital with producers and sponsors of other documentary films.
Leslie Castillo Scales has a concierge background in air flight services, and Wesley Manaday is a retired Boson principal with broad connections here and on the Mainland.
We are very confident we will raise our film budget that is heavy with costs for the reenactments of the massacre (as there are no photographs that exist today) and for top-notch film crews.  
All of us have given time and effort without being paid. That will come in time; in the meantime, 
LET ME SAY THANK YOU NOW! 
It's time to "go for it." Let me express my deepest gratitude to all who come forward to help. Your generous gift will be like angel dust to us.  I am confident that a gigantic wave of support is going to provide us the funds needed to sustain this project.  Already, the first $6,000 has come in to help pay for needed expenses, such as film production insurance and production crew costs.
Don't forget to tell your family and friends to Go Fund Us!
LEARN MORE:  Watch the Hanapepe Massacre Mystery Slide Show
Got five minutes?  To learn more and read more details about the film project, please watch my PowerPoint slide show recently presented at the Kaua'i Filipino Chamber of Commerce. 
CLICK HERE F
OR DETAILS ABOUT THE FILM PROJECT
  Watch a PowerPoint Presentation
LEARN MORE AT THE FILM'S OFFICIAL WEBSITE  at
www.hanapepemassacremysteryfilm.com
Organizer