Baby Kereli's medical fund
Hello, I'm Devin and this is my account of some very sad but then very happy events concerning my family over the last several days.
This past Sunday, December 21, 2014, my wife who was 7.5 months pregnant woke me up at 8:00AM and said she was in pain and that we should go to the hospital. Just 3 days prior, we went to the hospital due to sharp pain in my wife's abdomen. Only this time, the pain was more unbearable, and to make matters worse it was accompanied by a splitting headache. We were a little surprised since during the earlier visit, the doctor strongly recommended that my wife go on bed rest, and that is exactly what she did for 3 days straight, though he wanted 7 days.
The doctor also said that if she didn't stop working so hard, she would work herself into early labor. However, due to my wife's work responsibilities, she didn't think she could take 7 straight days off. Plus, I recently started a full-time job in early December that became a part-time job just a week and a half later. This put a great deal of stress on my wife and I, especially her since she was relying on me fully taking over the role of providing for our family once she had given birth.
As my wife and I reached the hospital, I could tell something was very wrong. My wife's reflexes and awareness were a bit off as it took her several moments to realize our taxi had stopped right in front of the hospital. So, we rushed inside and 30 minutes later, what we learned shocked us 1, 000 times more than what we had learned after the first doctor visit 3 days before. This time, the doctor said the baby as well as my wife was distressed and that my wife would have to undergo an emergency C-section to relieve the pain of both our baby and my wife.
To make matters worse, they said our baby's pulse and heart rate were quite low and that her chances of survival weren't bad but not great. As I tried to take all of this in and wipe the tears from my eyes, I saw my wife go into a seizure. The doctors, nurses, and I immediately tried to keep her from biting her tongue as she laid on the gurney shaking violently. Fortunately, after about a minute, the seizure stopped.
As I started to calm down and gather myself as best I could, I was then told that they couldn't perform the C-Section at that hospital, because there was no bed for our baby. They said not to worry since they could transfer my wife just 5-10 minutes away to a bigger hospital with many beds. It turned out that bigger hospital didn't have an available bed for our baby either and the nurses spent over an hour trying to find a medical facility with one.
Once they found one, apparently the best in South Korea (My wife and I teach English in South Korea) for NICU babies, a nurse accompanied us in an ambulance to Seoul National University Hospital. On arrival, we rushed my wife to the ER, where I was told to wait outside. 20 minutes later, two nurses came to me asked me if my wife had a history with seizures. I told them no and that today was the first time she had one. They then said the condition that caused all of this was "preeclampsia". This condition causes high blood pressure (even if the mother had no history of it), low platelet counts in the blood, which the nurses told me my wife was experiencing, and even seizures, which I had witnessed just an hour earlier. Hearing all of this shocked me and I didn't want to believe it as feelings of despair and hopelessness consumed me.
What the nurse said to me next could not have been worse. She said to me, "Devin, you have a choice. Who do you want to try and save? Your wife or your baby?" I paused for a moment and fell to the floor. With the last bit of strength I had in me, I got myself up, and said to the nurse, "What would you do if you were me?" "Who has the best chance of survival"? She couldn't give me an answer. Then, Dr. Oh Gyungjun (head obstetrician of SNUH) came in and asked me to come into his office and have a seat. He explained very clearly and with a far less bleak outlook the reality and possible outcome for my wife and my baby.
He said that my wife could have hemorrhaging in the brain due to the seizures (We later found out that she suffered two seizures), but before he could find out for sure with a CT scan and MRI, he'd have to perform the C-Section first to make sure our baby wasn't exposed to any radiation from the machine. He said that in 90% of cases like this, the mother survives, though there could be possible brain damage, though in most cases any damage to the brain would likely be reversible.He also said that he was the best obstetrician in Korea. Thus far nearly a week later, I believe that he was telling the truth.
I gave the OK to perform the CT scan and C-section. Fortunately, the surgery went quickly and without complication. I even saw the nurses bring our baby out in an incubator. All I could see was her small hand sticking out from the big blue blanket they had wrapped her in. I knew she was alive and fighting. Finally, my wife was taken to the ICU for recovery.
As of December 23rd, my wife was released from the ICU and our baby is breathing on her own as of December 24th. Even though she was born 6 weeks premature and underweight at about 3lbs, she is strong and growing stronger every day. It surely is a turn in a much more positive direction than before and we are just overwhelmed with joy with all of the support we've received from family and friends.
My wife was released from the hospital today, the 26th and we paid her bill, which wasn't cheap but wasn't too expensive for us to handle. However, our little brave fighter has to stay in the NICU for at least 2 weeks. That coupled with the fact that my wife cannot go back to work for a while, plus my current work situation not being sufficient to cover all of the costs we likely will incur, we kindly ask you to help us any way you can. If you can't donate money that's fine, we appreciate you including our family in your prayers.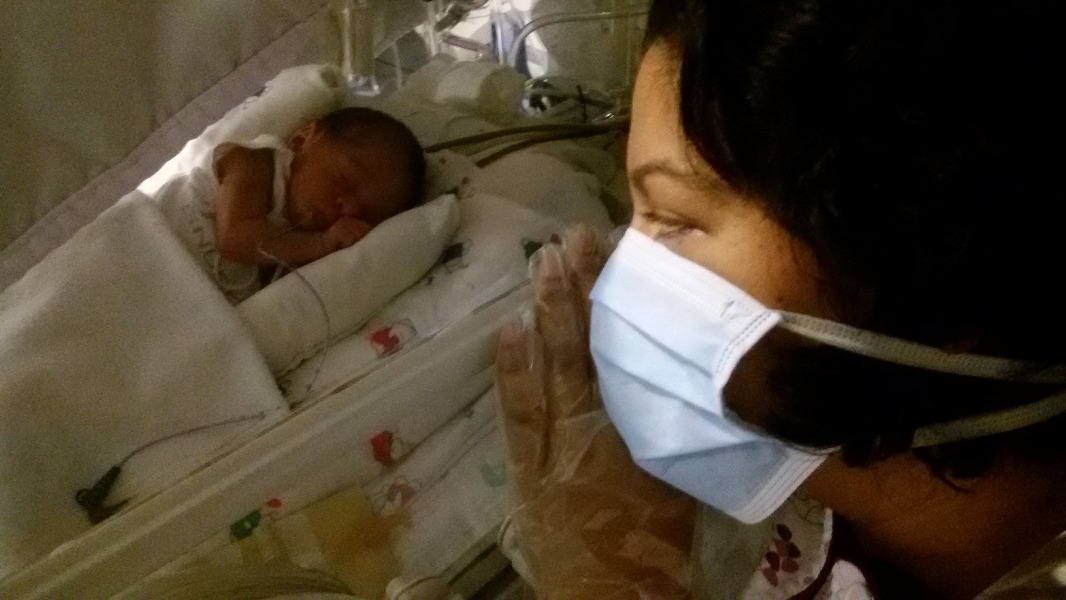 Organizer
#1 fundraising platform

More people start fundraisers on GoFundMe than on any other platform. Learn more

GoFundMe Guarantee

In the rare case something isn't right, we will work with you to determine if misuse occurred. Learn more

Expert advice, 24/7

Contact us with your questions and we'll answer, day or night. Learn more