What do you get when you mix a whole lot of spunk, a great big helping of sass, and just a little bit of sugar to make her sweet?  A great big saucy surprise named Jayden Lee.



Jayden was born January 10th 2012 at the end of a high risk pregnancy due to extra fluid buildup in her ventricles, the two chambers in her brain.  At a mere three weeks old, Jayden was admitted to the Health Sciences Centre in Winnipeg. After seeing every specialist in the book, she was diagnosed with Craniosynostosis, a condition where the bones in a baby's skull join together too early, and hydrocephalus, a condition where fluid builds up in the brain.
At five months old, Jayden underwent cranial vault reconstruction to open up her sagittal skull structure.  After that, the Lee's went for bi-weekly visits to Jayden's craniofacial team for the first two years to keep things in check. Bi-weekly turned to monthly, turned to biannual trips to Winnipeg.

Three years into Jayden's journey, more surgeries were required.

Tonsils needed removed, along with her adenoids. Tubes were required as well.  But that    never stopped Jaydens spunk or sass from growing stronger.
Along the way, Jayden continued to visit a variety of specialists; around the age of three, and after two rounds of genetic testing, Jayden was diagnosed with Crouzon Syndome  a genetic disorder identified by the early fusion of certain skull bones. This fusion prevents the skull from growing typically, affecting head and face shape. They discovered  she has a small mid face resulting in sleep apnea. She also has a small top jaw, leading to a variety of dental issues that will need to be addressed down the road.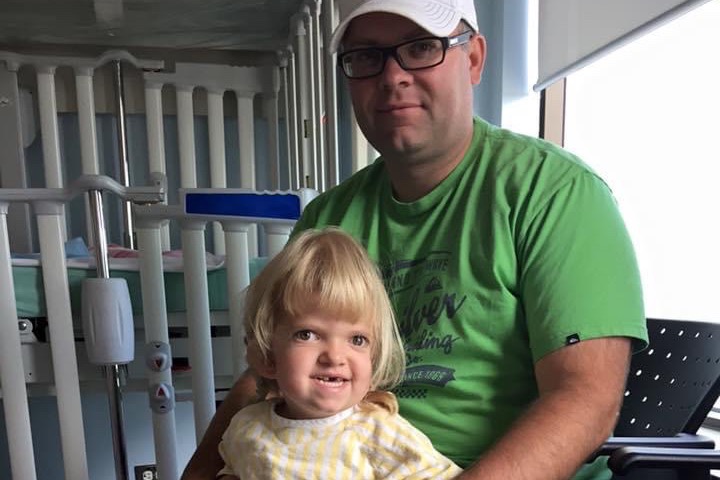 Jayden started having headaches a few years ago as well, which increased in frequency and severity over time. More testing was required to get to the bottom of it. Within the past year, she has had 2 MRIs as well as a CT scan with contrast — all of which Jayden rocked like the superstar we all know she is!

Testing found Jayden has a condition known as Chiari Malformation in which brain tissue extends into the spinal canal. It occurs when part of your skull is abnormally small or misshapen, pressing on your brain and forcing it downward. Also discovered is a cyst running from the top of her spine to her tailbone.  A second cyst in her brain has grown and increased the fluid in her ventricles.



The Lee's found out Friday Jayden has been put on the fast track and will be heading to Winnipeg where Jayden has what could be the first of multiple surgeries scheduled.  On Tuesday, she will have an operation to alleviate the pressure being put on her brain; she will also have her cysts drained in her brain and along her spine.

They will be in Winnipeg for a week at least - maybe longer.

As we all know very well, the world is a very  unpredictable place right now.  Covid-19 has added a great deal of strain on the Lee's— medically, spiritually, and financially. The Ronald McDonald family rooms, a place of great comfort and convenience for families in times like this, and the Lee's in the past, is currently closed due to the coronavirus.  On top of that, only one parent is allowed in the hospital at a time. Due to the current social distancing measures in Manitoba and around the world, the Lee's have no option other than to stay in a hotel — staying with family and friends is not an option.

The journey to Winnipeg is nothing new for the Lee's; over the past 8 years there have been countless trips to Manitoba's capital. Clocking in at over 350 kilometers and just shy of 4 hours — one way — the family has logged a lot of kilometers on their vehicle— and their souls.  The medical appointments, tests, procedures and operations almost always involved multiple days at a time off work and overnight visits. Leaves from work have been needed time and time again over the years due to extended hospital stays after various tests, procedures, and surgeries Jayden has faced.

The next chapter is about to be written, and we want to help the Lee's head into it focused on one thing and one thing only — Jayden's successful surgery and recovery.

We have created this Go Fund Me for the Lee family with one goal in mind — help alleviate the financial strain caused by years of doing what was necessary for Jayden without a second thought, to help lessen the burden of worrying about immediate financial concerns, and help give the Lee's the ability to focus on Jayden, her sister's Jordan and Jessica, and  Jayden's recovery.

At this time, when we are all told to stay away from each other, let us all come together to support this wonderful family when they need it most.



Organizer and beneficiary