Java Cats Café - Marietta Square
Hello Dear Friends!

My name is Hadyn Hilton, and I am the owner and founder of Java Cats Café, Georgia's very first cat café, located in the heart of Atlanta. At the age of 24 I took a risk, and dropped out of Georgia State University
to pursue my dream of opening a place that would have a positive impact on the lives of shelter cats. Dealing with the city of Atlanta to obtain the permits I needed for this concept was strenuous, but I was finally able to open the doors to Java Cats on March 27, 2016. Within the last ten months, we have celebrated 210 adoptions from the Java Cats lounge.
Java Cats has been a huge success, with our adoptions
more than doubling the yearly rate of our partner shelter. We have been told many times that Java Cats has been a gamechanger for shelter cats and I am so overjoyed that having our cats in a café setting has significantly increased their socialization and their chances of getting adopted. So many shelter cats get overlooked and some go years without being adopted; at Java Cats, those exact cats that have spent years only knowing the shelter life have been adopted in a matter of weeks. The Java Cats lounge has proven time and time again to have a positive impact on cats that need love and affection to help them heal after being neglected or abandoned in the past. The type of attention and love our cats receive has changed the course of their lives and opens the opportunity for them to find their own families. Our cage-free, customized vertical space designed and built specially for the cats allows them to roam freely. This type of layout provides a safe space for the cats to feel comfortable and for people to get to know the cats for their unique personalities, which in turn allows for more successful adoptions and fewer returns. All in all, Java Cats is a pretty amazing place for cats and people!
Every shelter has the same problem: for every cat that is adopted, another one is brought into its place immediately. The overpopulation of shelter cats is a nationwide problem I am so passionate about solving, which is why a second location is not only necessary but also so critical when it comes to making even the slightest difference in increasing cat adoptions and making more room for cats so they may avoid euthanasia. About four months ago, an opportunity arose to open a second location. I did not anticipate opening a second location so soon, but after I started to dream a little, I began to think about the impact we could have on even more shelter cats. I decided I would see the space that was being offered and after seeing the building, there was no way I could turn down the opportunity to grow. Our new location more than doubles our current size, meaning that we will be able to house at least 30+ cats and still allow space for a decent size coffee shop!
Having a coffee shop component organically brings together the community. Java Cats in itself has created such an incredible culture that is welcoming and inclusive to everyone. I love when people are impressed by the full service (and delicious) coffee we provide, because many people think we are "just a cat place."
People are able to support the concept by making us their local coffee shop, without necesarilly feeling the need to visit the cat lounge if they are allergic, etc. Altogether, Java Cats is a concept that I hope continues to create a culture of inclusiveness, warm hospitality, and a family for those who need one. I am so thankful for the community and culture that has formed at the Grant Park location because it is what makes Java Cats such a unique place. (Pictured below: Java Cats Creatives Group started to help women entreprenuers find community and resources to help them pursue their small business dreams!)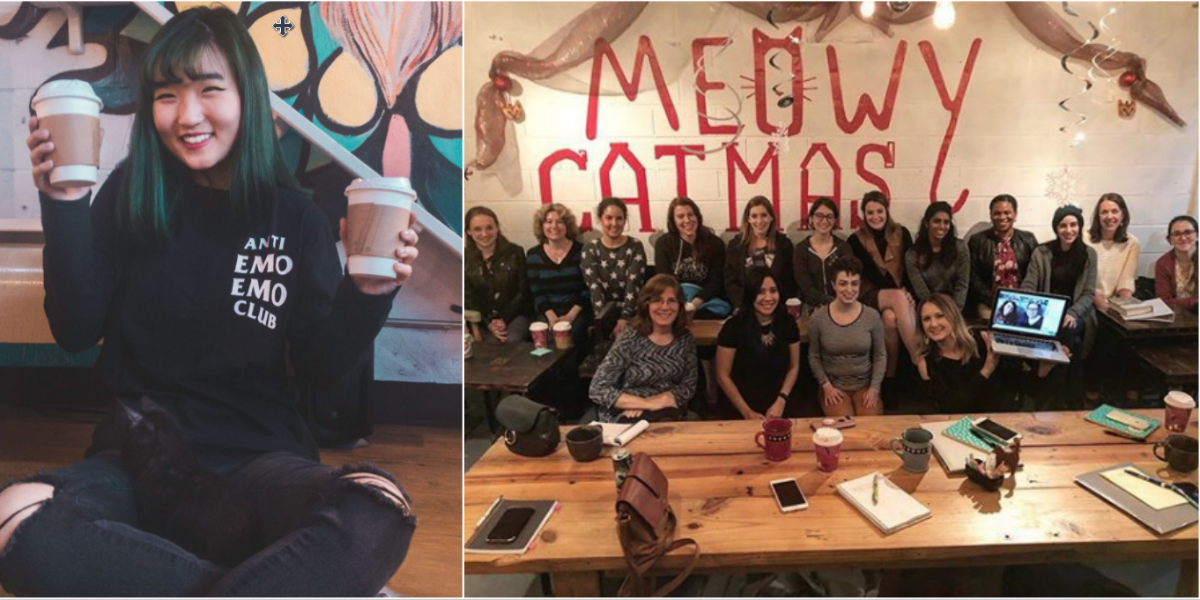 I am hoping to have the new location up and running by May of 2018. To help us get off to a great start, I am hoping to raise funds to aid in the initial expenses.
Your contribution will go towards the massive cat lounge we will be furnishing, vertical space, cat related necesities, and my deposit for the building! Opening a business is an expensive venture and unfortunately comes with surprises that (I learned the first time around) you just can't always financially plan for.  Any and all help is welcomed, even if it's just a share on social media! Thank you for believing in Java Cats, and I can not wait to see you all in Marietta soon!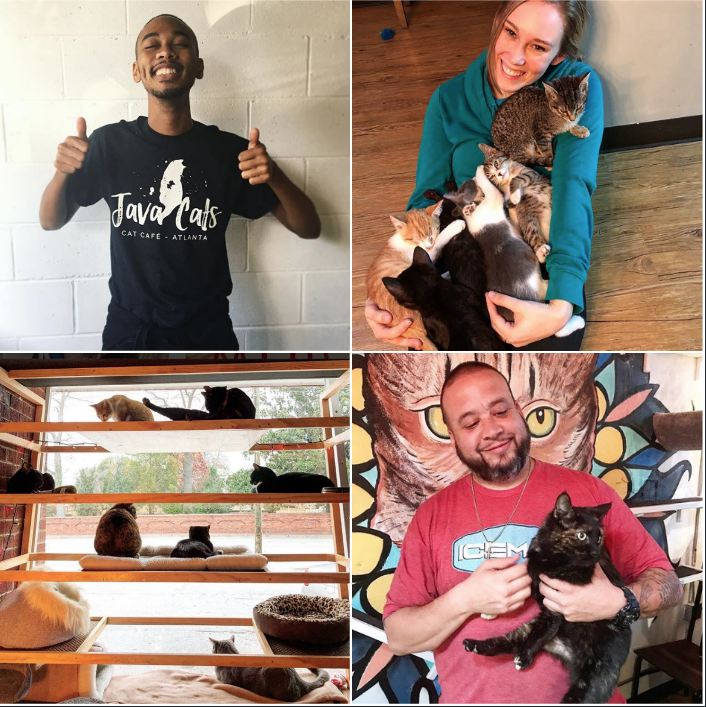 For those who are questioning : ) ....Java Cats is a highly regulated establishment with regulations that strictly prevent any cross contaminiation of animals and food. The cats are only allowed in a space that is partitioned from the café side. Food is not to be made on site. We work with The Gathering Industries, which is a nonprofit that helps the Atlanta homeless learn culinary arts; all snacks, cookies, scones, and other food items. Java Cats also supports local organic farming by donating all coffee and food waste to help underpriveldged communities make compost to grow their own produce. 
If you would like to hear more of the original Java Cats story, check out the Community Cats interview!
https://www.communitycatspodcast.com/episode-228-haydn-hilton/
Pictures are by Fred Stobel & Jas Scarfone
Panthers4Pawz GeorgiaState