Jason Robinson Memorial Fund
Dear friends,
It saddens us to announce the untimely death of our beloved family member and friend, Jason Robinson.  Jason died in Washington's Snake River by drowning on Aug 11, 2018. He was only 39 years old and is survived by Marci, his wife of 14 years.  
He brought much joy and love to all he knew. There will be a void now that he is gone. 
Jason's family is grieving right now and, as he had no life insurance, the last thing we want Marci to worry about is finances. We are reaching out to the community with this GoFundMe to give Marci the funds to pay for funeral arrangements. We would also like to relieve some of the financial strain Marci will face during this devastating time.
Jason was born and raised in Pocatello, Idaho.  After some time at Boise Bible College and Idaho State University, Jason joined the Air Force and was stationed in California at Travis Air Force Base.  This is where Jason met Marci in 2001, fell in love, and married in 2004.  Soon afterwards, they moved to Idaho where Jason attended Boise State University.  It was here that Jason began work at Gold's Gym, a job that would become his passion and career.  His work at Gold's Gym ultimately brought him to Kennewick, Washington in 2010.
Jason was brilliant when it came to Gym operations.  He was hired earlier this year as Chief Operations Officer at Club 24, a 10-club fitness center in Washington and Oregon.  He was passionate about helping people understand how to be healthy and giving them the tools to be successful.
Anyone who knew Jason knows that he had a huge heart and would help anyone who needed it. Please consider helping his family in this time of need.
[This GoFundMe supporting Marci is run by Karen Jacobs, Marci's sister.  We appreciate your support!]
Jason and Marci
Jason and Marci: June 26, 2004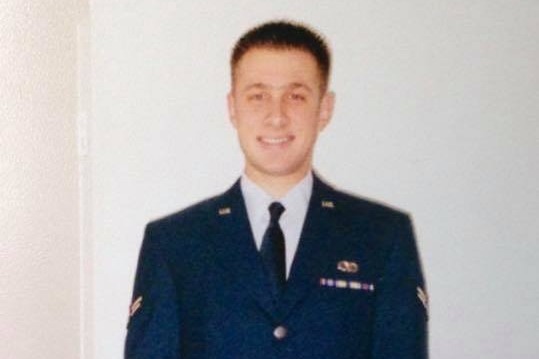 A very young Jason in his Air Force uniform
Karen (GoFundMe organizer) and her husband Jonathan, spending some time with Jason
Organizer