In 1997, my mother had to get dentures. It was discovered that there was some deterioration of the maxillary alveolus. This is the bone below the nostrils under the lip. Because of this the dentures never did fit correctly. Through the years, the deterioration has gotten so bad that there is no bone or cartilage left under her nose. She now has to use an enormous amount of two different glues just to get her dentures to stay in her mouth.
She is unable to chew or bite due to the the pain and survives on eating only soft foods such as mashed potatoes, pudding, etc.
The last maxillofacial surgeon she went to said
she has lost so much bone that her sinuses are to the point where they have to be moved.
Sometimes when she drinks it will unwillingly come out her nose.He also said that she will need bone harvested from both hips to rebuild the damage.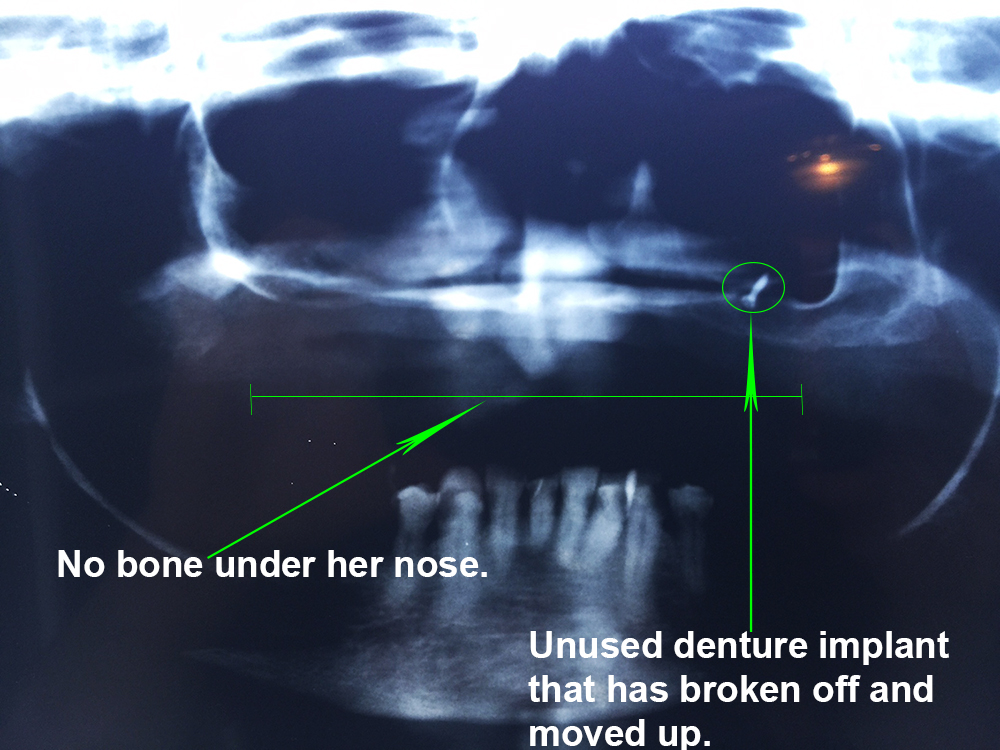 This maxillofacial surgeon was not comfortable with performing the necessary surgeries to fix all of this damage due to the severity of her condition. His note to the insurance company read, in part, as follows:
"She has a devastating loss of maxillary alveolus which makes prosthetic replacement of her missing teeth virtually impossible. This is extraordinary, and I would not attempt in my rural practice a case such as this. She will need multiple surgical interventions with expanders, bone graphs, and ultimately implants. I suggest she seek consultation...this extraordinary case needs the expertise from the uniquely-trained specialists at the University of Iowa."
The insurance (Health Alliance) responded by saying
"According to your current health plan, dental services and the anterior iliac crest bone graft to the maxilla is not a covered benefit".
The estimated cost for the multiple (up to three) surgeries needed is $80,000 - $100,000. The estimated time to complete all procedures is over a year. Additionally, she will not get any sick pay or paid time off for recovery and will need money to pay her bills (rent, car payment, etc.).
We are hoping to start the procedures by spring 2016 and she hopes to be fully recovered by mid 2017.
This has become a serious health issue. She is in constant pain which includes headaches, throbbing of her face and nose, bleeding, and open sores due to the amount of glue being used. She's been on two different kinds of medication for years to help cope with the pain.
At this point, we don't know what to do. A few years ago we even tried sending a video to Oprah with no response. Then I discovered gofundme.com and I am hoping to get her the help she needs.
Any and all help is very much appreciated by her, myself, and our whole family.
Thank you for reading.
Sincerely,
Chad
Organizer
Chad Dennis
Organizer
Macomb, IL