JAMES DUNN Tribute Show in support of DEBRA the EB Charity:
Whether you're a supporter of DEBRA the EB Charity, heard about this special charity show and campaign from one of James's many famous friends, or knew James personally during his remarkable life ... we want to start by thanking you for taking the time to visit this GoFundMe page.
Our mission is simple: To celebrate the life of an inspirational young man who touched so many lives and to continue his incredible fundraising efforts in the fight against Epidermolysis Bullosa (EB), creating awareness about this little known yet devastating condition. 
On November 5th 2019 there will be a Las Vegas style variety show in James's honour at the prestigious Empire Theatre in his hometown of Liverpool. An international cast of world class entertainers, several direct from the Las Vegas Strip, are all kindly donating their talents, but we need your donations to help cover the considerable travel and production costs of putting on this one night show and to support DEBRA on the night.
JAMES DUNN: 
Last year James Dunn sadly lost his battle with the horrendous skin disease EB at the early age of just 24. James was an incredibly brave young man and an inspiration to everyone he met. As an ambassador and spokesperson for DEBRA the EB Charity, in the last 12 months of his short life James helped launch the incredible #FightEB fundraising initiative to fund vital research into this cruel disease. James was able to raise a staggering £250,000. Unfortunately time ran out for James, but his legacy lives on.
James's EB caused him constant pain with morphine injections part of his daily life as well as regular full body bandaging of his wounds. Despite his unimaginable reality, James loved life and never let his condition define him or prevent him from living life to the fullest possible extent. An accomplished photographer, James took many notable portraits of royalty and movie stars to auction off in support of his fundraising campaign. One of whom was his friend and avid supporter, Tom Holland (aka Spiderman) pictured above with James. Many will have also seen James featured on the BBC TV show 'The Big Life Fix', where inventors designed a custom made device to help him operate his DSLR camera to overcome physical difficulties caused by EB.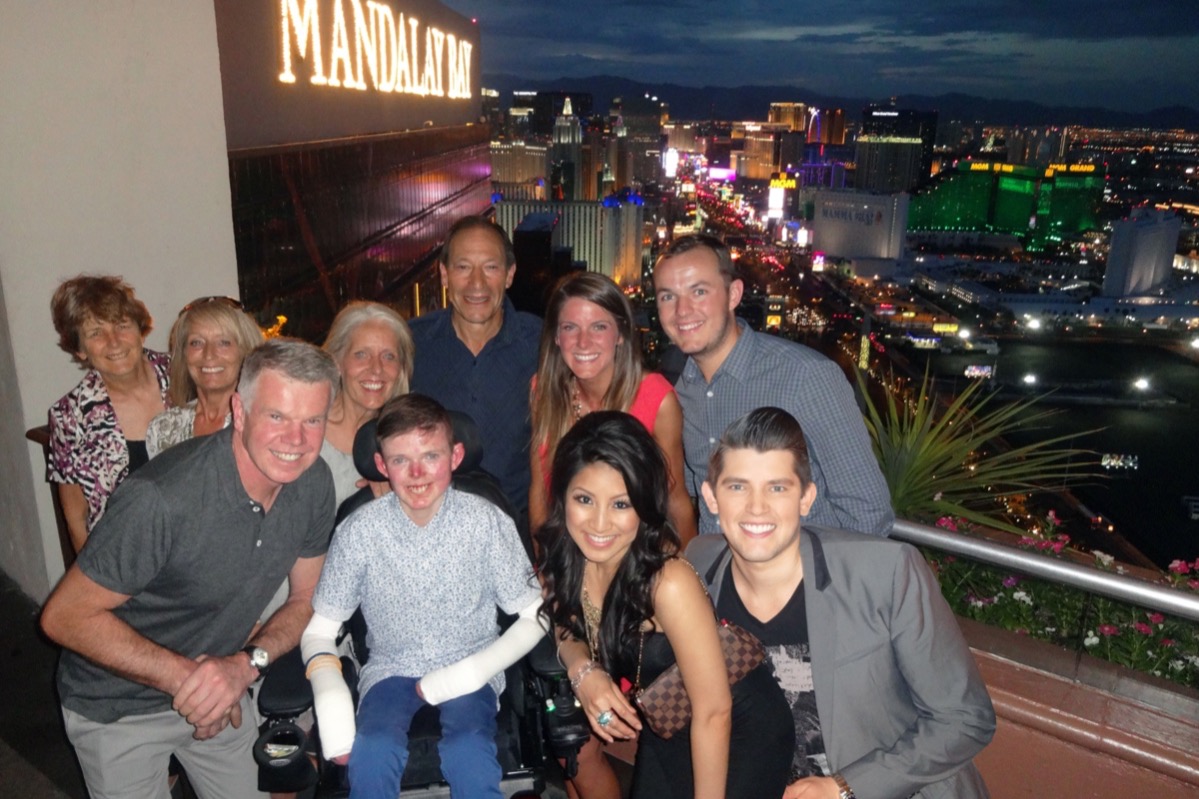 JAMES IN LAS VEGAS:
Although a major challenge, with the help of his wonderful parents, Leslie and Kenny, James regularly managed to travel abroad including several visits to the entertainment capital of the world, Las Vegas, where he made many high profile showbiz friends and fans. James was a VIP guest in showrooms up and down the famous Strip and always loved watching big variety shows. We felt it would be a fitting tribute to put on a special Variety Show in James's home city of Liverpool to celebrate his life and continue his mission to dramatically increase the public awareness of EB. 


VARIETY LIVE at the Empire!
A Tribute to JAMES DUNN in support of DEBRA:
On 5th November 2019 we are producing 'Variety Live at the Empire' a Gala Variety Show at the impressive 2300 seat Empire Theatre in the heart of Liverpool. This will be a spectacular show with performers traveling from across Europe and direct from Las Vegas, every one of whom met James and were touched and inspired by his bravery and positive attitude. These world class entertainers, singers, comedians, jugglers and magicians, including several headliners from the Las Vegas Strip, are all kindly donating their talents to celebrate the remarkable life of a very special young man. 
The main aim of this show is to create awareness and let as many people as possible know about this little known yet devastating condition. The funds we are seeking through this GoFundMe campaign are to cover the considerable productions costs to put on this special one night show for James, which include hiring the theatre, technical production and staging, promotion and marketing, and travel and accommodation for the performers.
Whether you purchase tickets to attend this special show or share this campaign on social media and donate ... we thank you for your support. Whatever you are able to do, big or small, means so much to so many. All profits from the sale of show tickets will be donated to DEBRA the EB Charity for their ongoing research to find a cure for this life threatening disease.
JAMES'S LEGACY:
Please take a moment to watch a couple of James's short videos below. His powerful message is a lesson to us all and one we hope you will join us in sharing to help keep his incredible legacy alive. Thank you so much for your generosity and support. 
DEBRA:
For more information on DEBRA the EB Charity visit ... www.debra.org.uk ... or on social media @charitydebra #FightEB