Anyone who knows me personally knows my cat Jak is my entire world. I've had him since he was a kitten and we have loved each other immensely over the years. He has been my soulmate for almost 11 years now and I can't imagine my life without him by my side. Which is why I have been completely heartbroken since he fell deathly ill the other day.
It all started a couple of weeks ago when out of the blue Jak started vomitting. He wasn't able to keep food or water down. I had given him his insulin injection earlier that morning since he's diabetic, but little did I know his blood sugar would soon drop to the dangerous level of 37. He was limp in my arms as I transported him to my vet. They immediately pumped him full of karo syrup and he ravenously ate baby food and got some protein into his system. He got medication for the vomitting and diarrhea and I brought him back home since he had eaten (good sign), but still kept close observation all night. He seemed to improve slowly throughout the week, eating his treats and food and drinking plenty of water. At this point we had taken him off the insulin out of fear of his sugar dropping too low again since he wasn't eating 100% normal and his sugar levels weren't too high to cause alarm. It was a risky situation we wanted to avoid. However, after a week had passed his old symptoms came back and he was once again vomitting any food and water despite his constant attemps to eat and drink. Once again we found ourselves back at the vet's office, but this time he was kept overnight for observation, x-rays, blood work, fluid injections to treat his severe dehydration, and medication to treat his nausea. The x-rays showed no obstruction, but he did have mild constipation. The blood work showed his dehydration and diabetes. His urinalysis showed a bladder infection. After treating him for the infection, he was able to come home the next day despite the fact he wasn't eating or drinking. Shortly after I brought him home I noticed his breathing was labored. So I took him back to the vet's and they figured he was breathing heavier because his throat appeared to be inflamed and sore with infection. With the medication already in his system I was able to bring him back home.
However, things took a turn for the worse throughout the course of the night and he drastically fell ill. By 4am his breathing was worse and he couldn't stand or walk. I knew something was desperately wrong.
At 5am on February 16th I rushed Jak to the emergency vet clinic where he immediately got more x-rays and blood work, which showed his potassium levels were incredibly low and he was severely dehydrated. He was administered a catheter for fluids and a potassium drip to help correct the damage before I promptly transfered him to Pittsburgh Veterinary Specialty & Emergency Center. We had no time to spare as he degraded even more on the hour long ride. By the time we arrived he couldn't even lift his head. He was completely limp. My heart shattered as the technician told me he was in critical condition and asked if I would like them to perform CPR if his heart stopped. I saw no other answer other than YES. They took his frail, limp body to the back and immediately ran x-rays and blood work.
At this point the doctor told me my baby boy was incredibly sick and had a 50/50 chance of survival. My heart shattered once again into a million pieces. She recommended he be admitted to the hospital for approximately a week in order to stabilize him, but this would end up costing me an estimated amount of $4,000-6,000. I was overwhelmed, but there was no way I wouldn't do everything in my power to save his life. So I said YES please save my boy and they admitted him to the hospital immediately.
He was given IVs in an attempt to correct his potassium, dehydration, and electrolytes. He was placed in an oxygen chamber to help him breathe.  They continued to run more tests throughout the day in order to find answers. The situation was made even tricker because of his heart murmur. They had to be very cautious in how they approached his treatment.
After a grueling 24 hours of intense crying and anxiety, more tests, blood work, x-rays, ultrasounds, and treatments he has finally started to become somewhat stabilized.
He is no longer reliant on the oxygen chamber and his potassium is currently at a normal level. His electrolytes remain low and still need aggressive treatment. His heart has changed slightly but it's nothing that requires treatment at this time. His lungs look good. They put him back on small doses of insulin as I learned that his body still requires small amounts even if he isn't eating. He is still incredibly weak, but has shown signs of progress! Today he was able to sit up and drink water! With that news my heart swelled.
Although he has shown small improvements, Jak isn't out of the woods yet. It's still an hour by hour situation and I'm hoping he keeps progressing and making those small baby steps into recovery without having any set backs. He will most likely require more testing to see if he has inflammatory bowel disease or cancer and if his appetite doesnt return soon we will also have to find an answer for why he won't eat.
I have already spent $5,488 on my boy and I'm imagining that price will be much higher by the end of this ordeal. I am not one for asking for help from anyone, but at this point I am desperate to raise money to help pay for his extensive medical bills. So I'm officially asking my friends, family, and even complete strangers to help me. Every single dollar counts. I'm not expecting to raise the full amount needed, but I'm just hoping I can make a small dent in all of these bills as I cannot currently afford the money needed to save his life.
Even if you aren't able to donate money toward this cause, please keep us in your thoughts and prayers as we navigate this terrifying journey of Jak's recovery. I just want my boy to pull through and come back home to be with me again. I miss him terribly. It feels as if a piece of my heart is missing and I'm hoping I will get him back.
With undying love,Kristen & Jak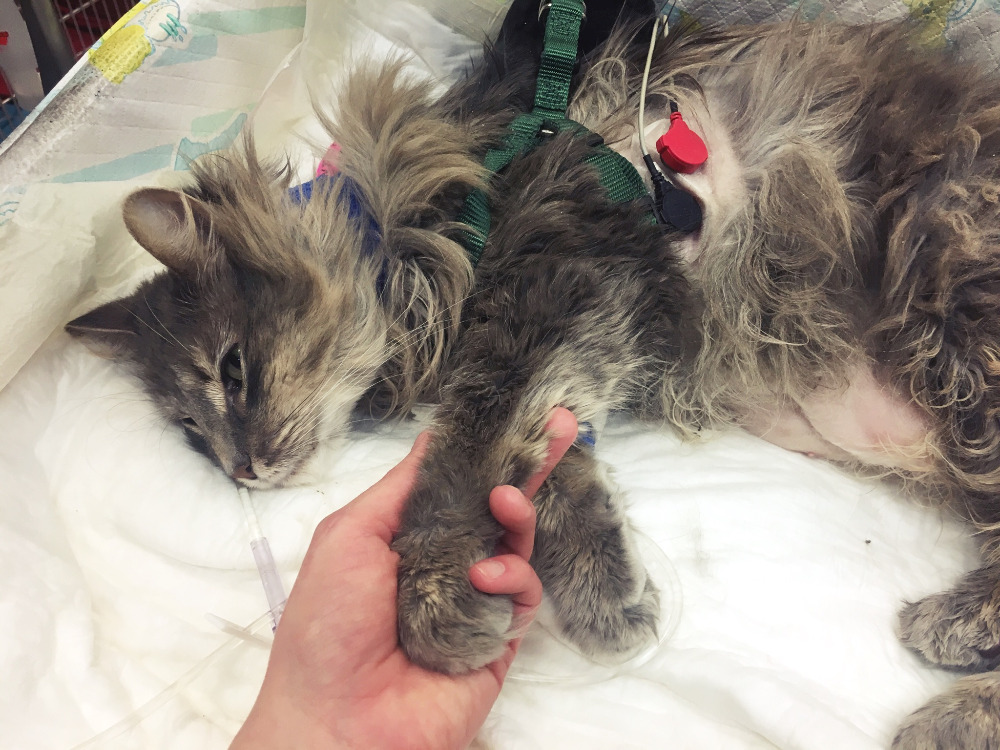 Organizer
Kristen Llewellyn
Organizer
Columbiana, OH