This is a story of love torn apart by fear and cruelty. 
It's the story of our friends.  Their names are Jade and Warren and Adam.  Some of you who know them, know Warren from Jade's blog as W; still more of you know of him as WoodDemon. 
Jade and Warren and Adam have what could be described as an
unconventional
relationship.  Jade and Warren met in 2009 through FetLife, an online site for those who enjoy kink and BDSM.   As their kink relationship developed, it became more than a just about kink; they fell in love, and that love blossomed, growing deep and strong.  Jade's other partner, Adam, and Warren became friends.  The rest of the story is that the three developed a deep and abiding polyamorous relationship.  They decided to live together and bought a wonderful old house that they were rehabbing together when disaster hit.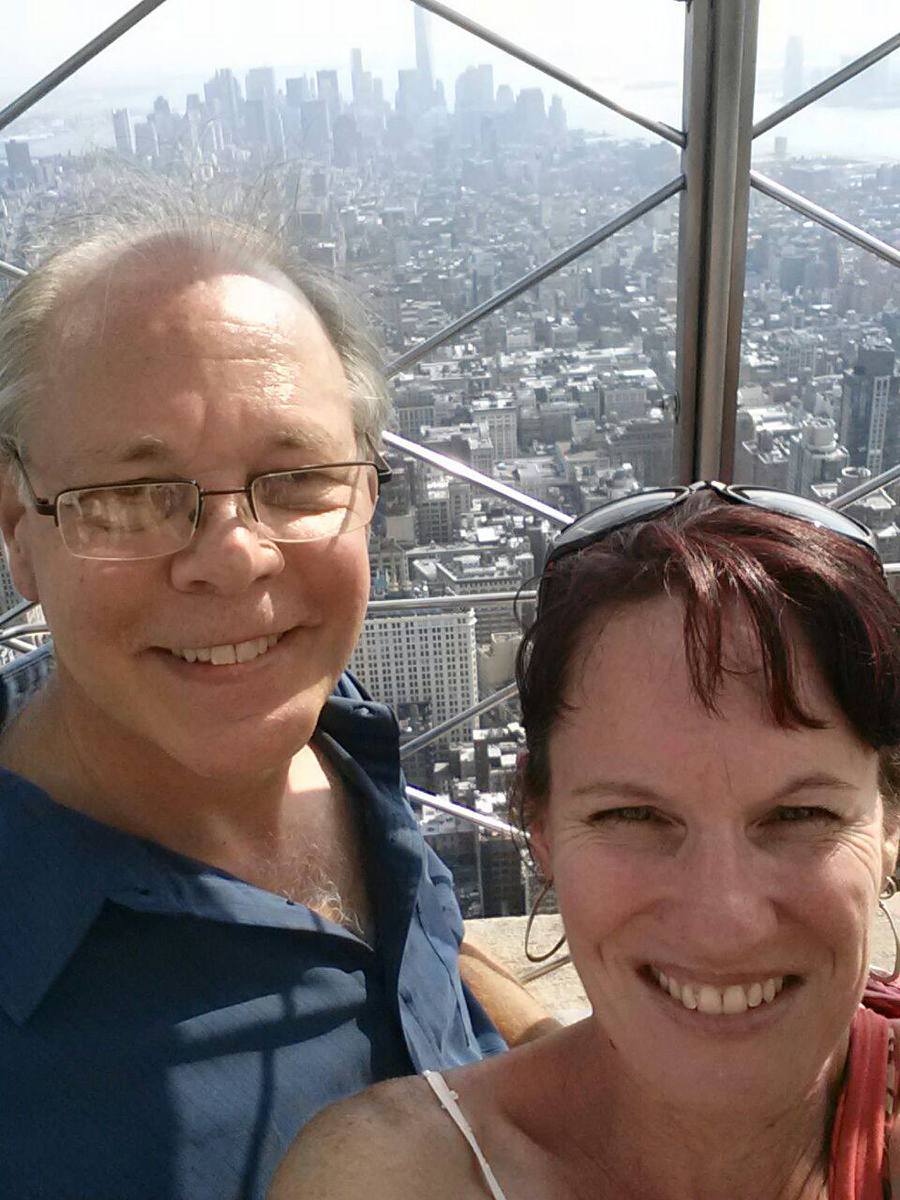 In February 2015, Warren suffered a sudden and debilitating illness, endocarditis, and was rushed to the hospital.   For the first two weeks, Warren was unconscious, and clung to life in the ICU in critical condition.  As the doctors fought to control the infection in his heart, Warren had several setbacks.  The damage to his heart triggered a major stroke and a series of smaller ones, a mild heart attack, pneumonia, and then a lung embolism. Still, he clung to life, battling back after each set-back.    When Warren did open his eyes and regained consciousness he was facing severe damage from the stroke.  The stroke had left him without the ability to speak or make his wishes known, at least in the short term. 
During his time in the ICU, Jade spent every single day at Warren's side, reading his favorite books, talking to him about their life together and the one magical month that they had been able to live together before his illness struck.  She promised him she would be there every day to see him through it, and together they would win over this illness. She slept there in a chair beside his bed, hoping and praying that he would open his eyes and once again be with her.   Despite the fact that Jade was not a blood relative or spouse, the hospital staff quickly befriended her and supported her. While the ICU is not supposed to allow 24-hour visitation, the staff felt compassion for her plight, and saw that her presence was soothing to Warren. The compassion and understanding of the staff at the hospital made this extremely difficult time just a bit easier.   
 As Warren's physical health improved slightly, Jade began to feel hope, at last, that she might be able to bring him home to their new house after rehab.  It was at this point, his family chose to move him from the hospital to a rehabilitation center.  
What Jade didn't expect was that once his family moved him, they would, in effect, hide him from her.
When he was moved, without Jade's knowledge,  to the rehabilitation center, they "blacklisted" him, restricting information about his status and condition exclusively to blood relatives.  
Because of the family's directives, the rehabilitation center was not even permitted to confirm to Jade that Warren was even a patient there.
It was also at this point that Warren's family began to systematically dismantle his life with Jade and Adam and eliminate all links to all of his friends – most of them in the kink and poly communities.  Since they won't speak to Jade at all, it is difficult to know their motivations.  In any case, the family used Warren's inability to communicate to exert legal control over him, and to cold-heartedly exclude Jade, Adam, and most of his friends, from any information or visitation, isolating him to all but them.
On March 4th, Warren's family removed him from the rehabilitation center, and has refused to disclose his whereabouts.  As of today, neither Jade, nor the myriad of friends that love and care for him, know where he is, or how he is doing.  
The family has worked with cold calculation to ensure that Jade and Warren were completely cut off from each other.   His Facebook account was shut down; his cell phone service suspended, and a complete blackout of communications has occurred.  Jade is not allowed to visit Warren.   She receives no response when she asks how he is doing.  Her pleas to the family members simply to allow her to see him, or to tell her how he is doing, are ignored.  
And, as if that weren't cruel enough, the family has started eviction proceedings from the home that they share, the home they were rehabbing and living in; a home that all three of them – Jade, Warren, and Adam – had planned to live in together as a happy polyamorous family.
Currently, the situation is dire.  Jade is completely powerless to see, help, or care for a man that she deeply loves.   The medical system and Warren's family won't even let her know if he's alive or dead.  
Similarly, Warren is deprived of love, care, and support from the woman he loves – care, support and love that he would want, and that he desperately needs as he fights to recover brain function, memory, and speech.
And now the final blow.  Jade has been informed, not by the immediate family, but by a cousin, that Warren may be in hospice.  Still, neither she, Adam, nor any of his friends, can confirm this.
And so, dear readers, we come to you for help.
The legal hurdles to reuniting Warren and Jade are tall ones, and legal help is expensive.  Societal attitudes and the legal system are both stacked against them.   Jade and Adam are pumping all the money they have into a legal solution to the problem, but they just don't have enough.   The bills keep piling up - court filings, attorney's fees, time off from work for hearings and meetings… all so that she can hold his hand and tell him that she loves him.  We fear that Jade may be fighting for the right just to say goodbye to the man she loves.
Please.  If you can spare $5, $10, $20, or more to help, we beg you to do so. 
We know Jade and Warren and Adam well.   Warren would not want this, and would be furious with those who have created this situation.   If he were able to communicate, this would stop in a microsecond – but meanwhile, the fears and narrow-minded attitudes of his family, as exercised through a legal system that has no room for those who love more than one person - have taken their love, locked it in a cage, and buried the key under a mountain of legal paperwork.
You've probably heard the old Beatles song "Can't Buy Me Love".    
Well maybe… just maybe…today you can.
Maybe a few dollars from those who care will be enough to tip the scales of justice back into balance.    
Justice. 
Love.  
Those are worth a few bucks, aren't they?  
Thank you.