Mitzvah- A Random Act of Kindness
The Mitzvah Fund was established in 2006. It received its 501(c)(3) in September 2014  to meet the needs of clients and their companion animals facing economic hardship.  The Mitzvah Fund provides emergency care, preventive care, chronic care management for pets along with re-homing services for relinquished and abandoned animals.  The Mitzvah Fund is partnered with Worcester Veterinary Care in Worcester, Vermont, and primarily serves clients throughout Central Vermont.  The Fund operates from the generous donations of individuals, because of noteworthy growth and need we are hoping to expand. The professional veterinary staff provides needed veterinary services to residents who are facing tough economic challenges, and collaborate with a number of regional organizations dedicated to preventing and responding to animal abuse including NCAL (North Country Animal League),Cavalier Rescue USA, Good Karma Rescue, Green Mountain Pug Rescue and others.  
Meet Wanda(aka Twanda) relinguished to the Mitzvah fund after her skin disease was so bad that she had lost almost her entire coat.  She was found almost dead in her basement covered in fuel oil. Her heart rate was 25 and her blood glucose was less than that. She was so cold her temp was too low to measure.  She was adopted by our tech Deb and after a long fight lived out her days as a princess! 
As a small animal practice in a rural Vermont setting, The Mitzvah Fund & Worcester Veterinary Care make determinations of need on a case by case basis. Vermont reflects great diversity; the economic situation in rural Washington County and the need for the veterinary care relief fund outweigh the capacity of the existing donor base.  The Mitzvah Fund functions as a partner within the facility of Worcester Veterinary Care, and the operating veterinarian, Dr. Connie Riggs, currently donates time and the facility space for Mitzvah Fund patients while providing medicines and treatments at very discounted rates. 
The generosity of the staff and veterinarian at Worcester Veterinary Care (WVC) allow the Mitzvah Fund to exist.  WVC makes supplies and daily care available at an extremely low cost.  The needs of the surrounding community have grown to a point that these services need to seek additional funding sources for sustainability.  In particular, the hundreds of interventions provided by The Mitzvah Fund have raised the organization's local profile, and the community need now outweighs the funds available. WVC can no longer front the fund's costs. Worcester Veterinary Care is enduring the entire financial burden and can no longer continue to do so without exterior funding options.
Go Fund me donations will directly fund medical services for Mitzvah Fund patients. The Mitzvah Fund has reached a growth point that requires outside funding and grant funding while growing its donor base through community events.
The Mitzvah Fund helps animals and good pet owners in central Vermont during times of need, whether great or small. Often, The Mitzvah Fund funds expensive surgeries, testing and treatments for an animal.  Because treatment needs vary annually, the program maintains a rolling process of evaluations, and the goal of The Mitzvah Fund is to provide as many needed veterinary services to economic hardship cases as fiscally sustainable during each fiscal year.
The Mitzvah Fund provides diverse services, including preventive care, emergency, and chronic care/ pain management. Preventive care like dental cleanings and physical exams, for instance, frequently become a costly burden to low income and senior clients.  The Mitzvah Fund has also provided extensive surgical care, when advisable, and has successfully removed tumors, treated animals exposed to poisons and fires, and provided spay and neuter services that help reduce stray populations.  Serving a primarily rural community, the Mitzvah Fund responds to unpredictable situations, and provides low cost care to help reduce neglect as well as increase awareness about responsible pet care.  Additionally, the facility at Worcester Veterinary Care has enabled the Mitzvah fund boarding and care to re-home animals whose owners have died or animals that were strays or abandonment's. 
Meet Mac & Moxie-- An apartment fire almost ended their lives-- With our help and a very dedicated owner-- they came out the other side!
Meet Aspen-- Surrendered to us after her mom's new boyfriends pitbull was beating her up. Possibly one of the kindest most wonderful dogs ever!
When faced with illness and the desire to improve the quality of life of beloved animals, The Mitzvah Fund enables families to focus on the care, not the price tag. The flexibility of the Mitzvah Fund allows people to keep their pets healthy and happy, because the staff believes that no one should be faced with a decision to euthanize an animal because of lack of funding for necessary medical care. Worcester Veterinary Care is able to bill the Mitzvah Fund at greatly discounted costs for medications and services. The Mitzvah fund also provides sanctuary to animals. Sometimes owners are overwhelmed by an animal's medical needs but do not want the animal euthanized because of their lack of being able to comply.
The Mitzvah Fund provides solutions for these animals.  With Deb's extensive network of veterinary technicians, pharmaceutical reps, and doctors many animals are re-homed with veterinary medical professionals that can provide for the animals' special needs. (Deb has been the President of the Vermont Veterinary Technician Association since 2005.)  Worcester Veterinary Care also has a wealth of exceptional clients that often adopt or foster special needs patients. Deb is the Mitzvah Fund's full time liaison to bring people, pets, families and veterinary professionals in Vermont together for a Mitzvah recipients best interest. 
As soon as Wanda got "healthy" she laid with patients during recovery. It may have been their heating sources but we want to think she wanted to share her healing mojo! 
Over the last eight years, upwards of two hundred animals have been assisted directly or indirectly by the Mitzvah Fund.  Additionally, The Mitzvah Fund assists with the veterinary needs of area shelters, directly manages abuse and neglect cases, responds to owner relinquishment requests with needed veterinary care and boarding until re-homing is secured, and delivers low cost small animal care services for seniors.  For example, one recipient of the Mitzvah Fund services was a stray dog whose microchip revealed he was originally from the state of Oregon. One recipient had chronic renal failure and lost his battle but the Mitzvah Fund staff took his elder mom to a local shelter to find her a new love. A mitzvah is a random act of kindness delivered with selflessness. We try to provide mitzvah's as often as possible.  
Meet Jack-- His family lost their family farm.  He was very important to the family.  The Mitzvah fund and a VERY kind community member brought him back from peril. 
The success of the Mitzvah Fund is evident in the purrs, barks, and ongoing feedback of our clients. As a result of The Mitzvah Fund's growth, the need for increased formalization has emerged.  An evaluation process has been developed to meet the needs of future Mitzvah Fund clients and grant reports to assess client perception on three levels of care: ease of accessible medical care, quality of care regardless of funding, and animal quality of life. 
How the fund has always had limited funding.  We usually pay Worcester Veterinary Care back as donations come in.    We need medical funding to expand our direct services as we restructure operations.
Meet BO.  SHe is owned by a HARD working young gentleman. Bo had 3 golf ball size bladder stones, severe skin disease,  a mammary tumor, and needed to be spayed. Her people gave all they could and the Mitzvah Fund covered the rest. Her boy got to continue college and his two jobs but best of all he did not have to lose his dog because of costs. 
Currently all Mitzah Fund animals and stories that can be shared publicly (we do not post many neglect/abuse cases or relinquishment's to keep the animals locations secret) are on Worcester Veterinary Care's Facebook page.  All of the gallery pictures on the Worcester Veterinary website (wvccares.com) are Mitzvah Fund recipients.    Here are some samples...
Meet Trot-- the entire village helped to save his life. A huge tumor in his belly had ruptured and he needed lots of blood products. As a community (Guys Farm & Yard (transport) Lamoylle Valley Vet Service (Blood Products) and the Mitzvah fund Team saved his life.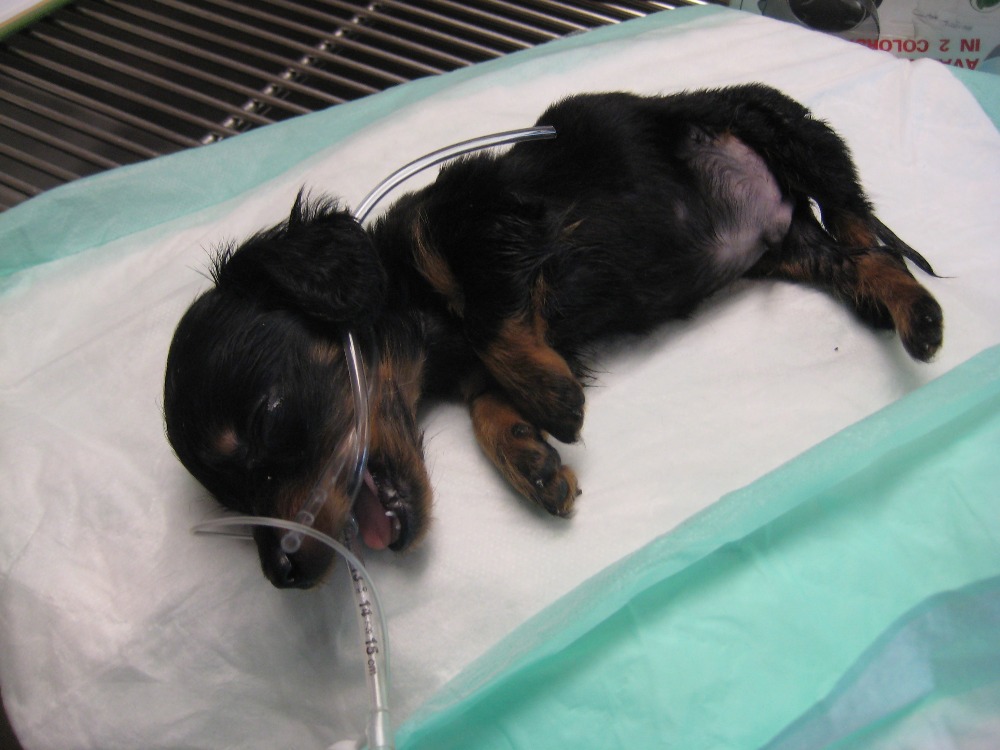 Meet Chad-- a rough and tumble baby dachsund that had a prolapsed rectum. Gone unfixed he did not have a prayer for survival.  He now lives with a Horse vet in Bridport and gets to go on calls all day long!
 Clients of the Mitzvah Fund are encouraged to assist with payments to offset the costs of required treatments and ongoing medication. Often they are asked "What can you afford?" The assistance level provided by The Fund is assessed at the time of the animal's evaluation. Clients of the Mitzvah Fund are not required to apply for CareCredit, but if a payment plan is instilled with conjunction to Mitzvah Fund assistance all necessary credit information is collected. If for any reason a staff member feels like any type of abuse is occurring to the privilege of utilizing Mitzvah Fund resources the situation is immediately addressed and properly handled with the owner. This has not occurred but a protocol is in place in case of future need.
We have designed an intake need evaluation form and will ask for the income verification as pet owners apply for funding.  As the fund grows, so has the paperwork and need for official "in need" documentation. Many of the animals receiving assistance are strays and or relinquishments so they do not have owners to ask. 
We will request income verification from the list below:  They can provide proof from any of the following programs.
1       State or federally funded welfare program, Food Stamps, WIC
2       Medicaid, Medicare, Social Security, Disability, Unemployment
3       Non-commissioned active military
4       Extreme medical expense, loss of home due to natural disaster, etc.
5       Pay stub proving income meets state or federal low income or WIC guidelines 
Bruce after he gave blood to a Mitzvah patient.
Bruce and Kitten -- Best of buds!
Our main goal is to raise funds so we can begin to advertise our services to other Vermont communities and grow our cause.  If we can help more pets, possibly branch out for different funding options or even move to a Mitzvah Fund Facility that would allow for more cases, more veterinary support staff, more mitzvahs! Any donation is very much appreciated and is tax deductible! The Mitzvah Fund is a 501 C3 Tax Deductible Organization. EIN # 45-4307895 210 Center Road Montpelier, VT 05602
Bo & Luke Duke-- rescued as babies--

Organizer
#1 fundraising platform

More people start fundraisers on GoFundMe than on any other platform. Learn more

GoFundMe Guarantee

In the rare case something isn't right, we will work with you to determine if misuse occurred. Learn more

Expert advice, 24/7

Contact us with your questions and we'll answer, day or night. Learn more