Send Robotics Students to Nationals and Worlds!
Two Porta-Botz! Robotics Teams Won State and Midwest titles to qualify for the 2019 World Robotics Championships!  And, four Porta-Botz! teams qualified for the National Championships.  Now, they need your assistance getting there!
Meet our World Teams: Team "Porta"- Connor, Payton, and Scott, and Team "2568K"-  Ilija and Grant.  They will be representing the Portage community and northwest Indiana at the VEX World Robotics Championships in Louisville, Kentucky from April 24th through the 27th. 
Each team earned this honor winning the "Excellence Award" at their World Qualifying Tournaments.  The Excellence Award is the highest honor a robotics team can earn and is presented to the overall best robotics program.  "Porta" is a University level team and won the award at the Midwest US World Qualifier at Purdue University in Lafayette, IN.    "2568K" is a Middle School level team and won their award at the Indiana State Robotics Championships at Lucas Oil Stadium in Indianapolis.  It's a tremendous honor for two of our teams to receive this distinction.
High school teams "2567A" - Sanja Kirova, Kelly Schaffer, Jace Thomas, Jared Walczak, Zander Gomolinski, and Myles Kappes, and Team "2567E" - Kassandra Garay, Miereina Keith, Declan McKee, Jeremiah Nelson, and Jeromie Disser qualified for the CREATE US Nationals for their Excellence and Design Awards earned during the season at National qualifying tournaments.   They will be joined by Team "Porta" and "2568K.  The National Championships are held in Council Bluffs, IA from April 4th through the 7th.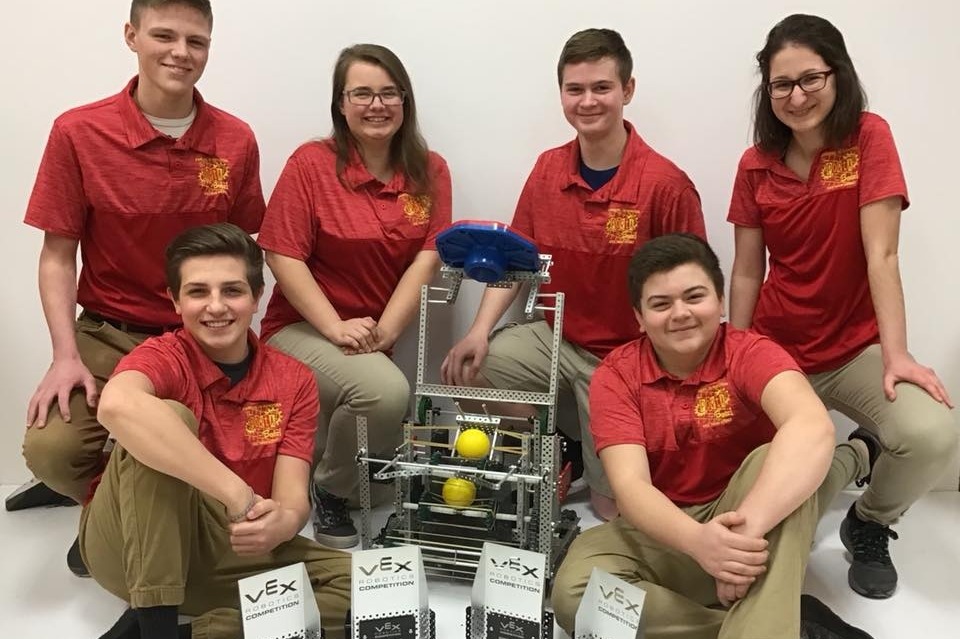 Since late August, these hardworking kids have logged numerous hours after school in the lab and made many personal sacrifices to realize their dream of reaching the National and World stage.  The National Championships is second only to VEX Worlds as the largest Robotics event in the World where teams will experience a field of 1,600 robots from over 40 different countries. 
As a program this year, the 50 kid-strong team did an amazing job fund-raising, generating enough funds through community partnerships to pay for eleven robot teams, team registration fees, numerous tournament entry fees, expensive robotics equipment, team apparel, and travel.  With all the success the program has enjoyed this season, those funds are now exhausted.
With an entry fee of $595 per Robot team for the Nationals, and $995 per Robot team for Worlds, the program-cost to simply compete at these levels comes with a price tag of $4,370.  (This does not include hotel or meals for either Championship  tournament).  Only with your generous support and financial backing will their dream come true. 
Robotics is more than building and competing.  Robotics develops skills students can use for life like; collaboration, communication, time management, planning, organization, creativity, problem solving, persistence, and resiliency. That is why the team's mission statement is "Changing Lives, One Robot at a Time!"  Now, you have the power change the lives of these kids.  Please consider giving.    
Commemorative World Tee shirts are being produced.
$100 GFM Donors will have their name on the back of the team's World shirt.
Businesses contributing $500 will have a large logo placed on Back.
100% of the funds raised go directly to the students.
Please, share our campaign and help us get the word out.
We appreciate your generous support and hope to make you proud!
Sincerely,
The Robotics Booster Club, Inc. and The Porta-Botz! Qualifiers
Sanja, Jace, Jared, Zander, Kelly, Myles, Grant, Ilija, Sara, Kassy, Declan, Mireina, Jeremiah, Jeromie, Danny, Sam, Connor, Payton, and Scott.
Visit the team's Face Book page and team Website:
www.facebook.com/PortaBotz2567/
www.portabotz.com
The "Robotics Booster Club, Inc." is a Community-Based, 501(3)(c), Non-profit organization committed to supporting and promoting youth Robotics and STEM initiatives in the Portage Community.
Fundraising team (3)
John Kappes
Organizer
Raised $385 from 4 donations
Portage, IN
Payton Bailey
Team member
Raised $400 from 3 donations
Grant Kappes
Team member
Raised $200 from 1 donation
This team raised $950 from 13 other donations.