The Osborns Visit Iqaluit, Canada
Dear friends and family,
As many of you know, we have come to the end of our time studying at seminary. Jared graduated in May 2013, and Rebecca graduated this May. Since then, Rebecca has done CPE (an internship as a chaplain at an elder-care facility), Jared has continued working as the IT manager at the seminary, and we've continued learning how to be parents to little Naomi, with another baby girl expected in late March 2015. We are both moving forward in the ordination process with the Anglican Diocese of Pittsburgh.
But we've known all along that Ambridge, PA was not going to be our forever home, so we've been looking toward where God is calling us next: ministering together as pastors in God's church. As we've looked, we've also found ourselves increasingly drawn to opportunities to serve the Anglican church in other parts in the world. This joins our former sense of call to international mission with our current call to serve God as pastors of his church, which we can only attribute to the work of the Holy Spirit.
We have mostly been in conversation with Anglican bishops in two places: Bp. Grant LeMarquand in Ethiopia, and Bp. David Parsons and Bp. Darren McCartney in the Diocese of the Arctic (northern Canada). Both locations include opportunities to be mentored for 1-3 years before striking out on our own. In both locations, the bishops and their wives are mission-minded, gospel-centered couples whom we would be excited to work with and learn from. Both locations have unique appeals and potential hardships.
At this point in our process of discernment, the time has come to visit: to get our feet on the ground, meet the people, walk the land, and figure out where we are called to spend the next several years of our lives. For strategic reasons, we have decided to visit the Diocese of the Arctic first. We would like to visit in the dead of winter, to see the region at its darkest and coldest. Also, because the diocese could afford to pay us a salary, there would be fewer obstacles to our going sooner if we discern God calling us there. With that in mind, our plan is to visit from January 21st – February 8th, 2015.
A little background about the
Diocese of the Arctic
: it covers north-central Canada, including the territories of Nunavut, Northwest Territories, and northern Quebec. It is geographically one of the largest dioceses in the global Anglican Communion, but only 80,000 people live there, mostly in isolated communities accessible only by plane. The Anglican church is well-established there among the Inuit people, thanks to mission work that has been going on since the mid-nineteenth century. However, there is currently a shortage of priests to serve in these congregations.
Despite the obvious factor of the cold, there are many things about this setting which are particularly compelling to our family (not just that Rebecca could knit more woolies than ever). We would be planted in a small community for an extended time, getting to know the whole town, and walk with our neighbors in ordinary life. There would be use for our skills and background in languages, liturgy, music, and anthropology. The setting is both parochial and missional, which is a unique combination that fits our passions and our personalities.
During our upcoming trip, we will visit Iqaluit, the capital city of Nunavut, where the igloo-shaped cathedral of the diocese stands and the suffragan bishop resides. If we hear God calling us to serve in the Arctic, this is where we would live for 2-3 years, working at the cathedral and gaining experience, before setting out to pastor another parish together.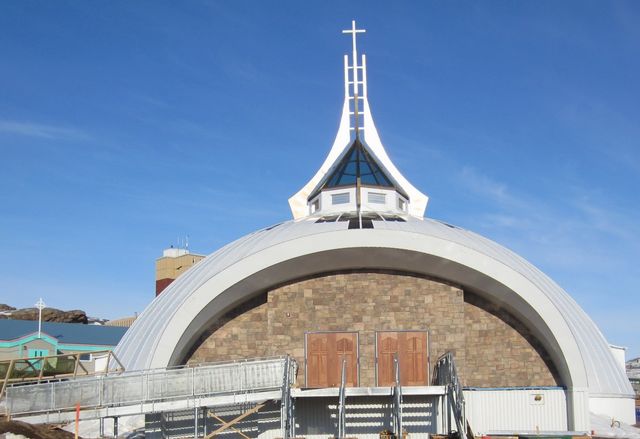 We are asking your help in two ways: first, consider joining us as prayer partners. We will send out updates in the future by email and social media. We ask for your prayers especially for our discernment process and for our safety and health in travel. Second, consider helping to pay for our travel expenses. For this exploratory trip, the diocese will take care of our needs when we arrive, but we are raising money primarily for airfare. It is not a long plane ride, but it is a pricey one, and beyond our ability to finance ourselves. God has been incredibly faithful in providing for us both to complete seminary without debt. If God provides for us to go on this trip through his people, we will take that as the Holy Spirit continuing to confirm that we are hearing his call rightly.
Thank you for reading, and for considering joining us on this next step of journey. So many of you have supported us already in prayer, friendship, and finances, and through you God has taught us of the power of relying on Him through his people. We have no hope of doing this work alone.
Organizer
Rebecca Osborn
Organizer
Ambridge, PA