Team RJ - EEU auction sponsorship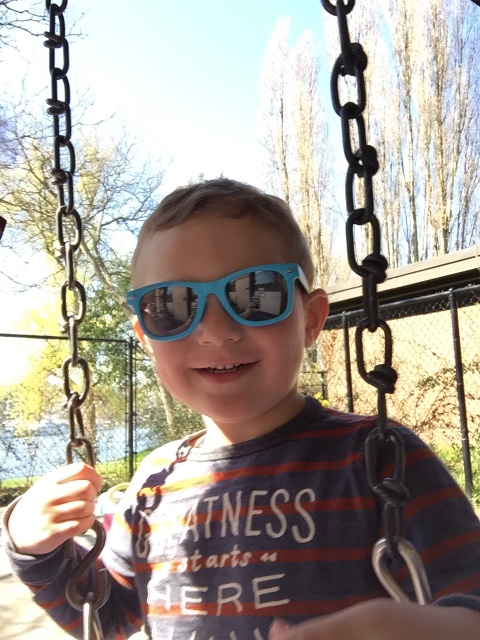 RJ Bauman was born 12/7/11 and was developing at a normal rate. He was a very easy going baby. He walked at 11 months; saying mama, dada, eating better than most babies his age, interacting with his older brother and sister. Then around 13-15 months I noticed a switch. He was no longer saying words. He began running away from parks, peers and noisy places. He never wanted clothes on and did not play with any toys. He climbed on everything, and I mean everything. His sensory need for hanging became worrisome and dangerous. He could not be left unattended for a second.
At his 2 year check up I voiced my concerns and was told he was developing typically. I couldn't sleep that night and called to respectfully disagree. At that time I was give resources and within 6 months RJ was diagnosed with Autism Spectrum Disorder. I was happy  we were going to get help for our beautiful boy.
RJ was blessed to start the EEU in September 2015.  Without a single word, unable to sit at a table for more than a minute to color, or even eat.
RJ has worked so hard along side the most amazing, caring and dedicated teachers, therapists, researchers, staff and volunteers I could ever hope for.
He now has abundance of words; even speaking a few sentences. His play and social skills are developing everyday. He is truly our hero.
I am hoping to raise enough to money to become a sponsor at the 2016 EEU auction and help raise $700,000 for the kids! This money bridges the 35% gap between the school contracts and operating expenses. We are working hard to create a world where children of all abilities learn, play and grow together.
The EEU offers five programs that span ages birth through 6 years. All EEU programs promote the development of children's cognitive, motor, communication and social interaction skills through specific educational and therapeutic interventions. These programs always include the side-by-side learning of typically developing children and children with various developmental delays or disabilities.
Also, if you would like to donate direct to the EEU and to learn about the school please visit
www.haringcenter.org/EEU
Love,
Team RJ Bauman
www.haringcenter.org/eeu