Mr. James McGill, CA. Pig Farmer
FARMS TO GROW, INC
(FTG) is a 501c3 nonprofit organization founded in 2004 by
Dr. Gail Myers Ph.D.
  and Gordon Reed, dedicated to advocating for and working with Black farmers and other socially disadvantaged sustainable farmers/ranchers around the country.  Visit
farmstogrow.com
   for more information.
The history of systemic social and racial injustice in the government
discriminatory lending patterns
 has been prevalent in the agricultural industry and a thorn in the Black farmers' side for more than a century.  There are countless examples of Black farmers being denied loans when they applied for farm operating, ownership, disaster, and emergency assistance.  Black farmers have had their land stolen through predatory lending or driven from their homes and communities by violent, racist mobs.
Despite the middle passage, chattel slavery, discrimination, and elimination from the American agricultural narrative;  Black farmers continued to farm and raise livestock in a way that honors land regeneration, the health of the environment and the people living in and around the community.  
The overarching goal of  FTG's mission and programming is to provide technical assistance, farming support and distribution opportunities to sustainable black farmers/ranchers that ultimately will assist them in keeping their land, their livelihood and continuing a family legacy.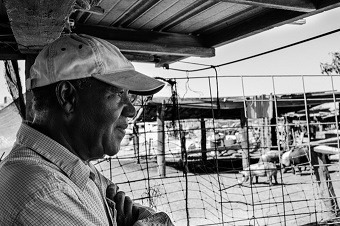 Meet one of our farmers;
Mr. James McGill a 2nd Generation African American Pig Farmer and  Vietnam Army Veteran
living in Bakersfield, California, a rural city in Southern California known for its agriculture and oil.  After serving in the army, he had a desire and plan to return to his family legacy of pig farming in the 70's.  Since the 70's he has encountered several bouts of injustices that have led to him experiencing racism from government agents shaking hands with him on a loan, then forcing the loan to go in foreclosure only to then buy the land and resell the land to a white farmer.  Regardless of his disappointments, barriers, and challenges Mr. McGill continues to farm and has inspired and trained a 3rd generation pig farmer in his family. 
THE NEED: 24' Livestock Trailer
Mr. McGill owns 5 acres of land and has grown his production from 5 pigs to 40 pigs. He reached out to Farms to Grow, Inc for assistance in acquiring a livestock trailer to attach to his truck, to haul his pigs year-round to market.   Although, Mr. McGill has the typical life of a black farmer; he works on another farm to help make ends meet, he depends on the revenue from taking his
"pigs to market"
to sustain his family and grow his farm production.  With your
CONTRIBUTION
you can assist Mr. McGill in experiencing some level of success by helping him purchase a
LIVESTOCK TRAILER
  to compete in a growing market.
According to Statista a leading provider of market and consumer data; revenue in the Ham & Bacon segment amounts to US$28,394m in 2018. The market is expected to grow annually by 4.7% (CAGR 2018-2021).
Source: www.statista.com 
Social Justice through the people, by the people, for the people!  Let's work together to support Mr. McGill's effort to sustain his pig farm and small business. Please donate today! 
Photos by Michael Santiago
Organizer

Ebony Farmer
Organizer
Oakland, CA