It's Been a Really Hard Year
As many of you know, this year has been a year of struggle.  A struggle medically. A struggle emotionally. A struggle to give my kids as much normalcy as we can admist the chaos.  And because of all this—it's also been a financial struggle. I am not the type to ask for help. I don't know how. So this is my effort. We are drowning. As we prepare for a relocation and the fact we have a new out of pocket insurance minimum to hit with Justin's new job while we are still paying off the last 11 months of bills— we need help. 
This all started last Halloween. A simple medication change—one antidepressant to another
. A hopeful change for the better turned into a medicine induced side effect.  A seizure. Resulting in a broken nose and eye socket and shoulder injury requiring surgeries.
 I was convinced we'd be fine. We had insurance. We'd cut back where we needed to. Months of rehabbing a shoulder and time spent in a sling. Depression from the physical limitations I was dealing with. Struggling through every day. Trying to be the best mom I could considering where I was at physically. I thought things were getting better.  Actually I was getting better. 
Then in March, I developed systemic shingles causing meningitis. Nearly a week in the hospital and a PICC line was placed. Complications compounded. A deep vein thrombosis. An infection. A reaction to the blood thinners causing a need for transfusions. More hospital time. More appointments.  More struggles.  More bills. More trying to make it through the day to day.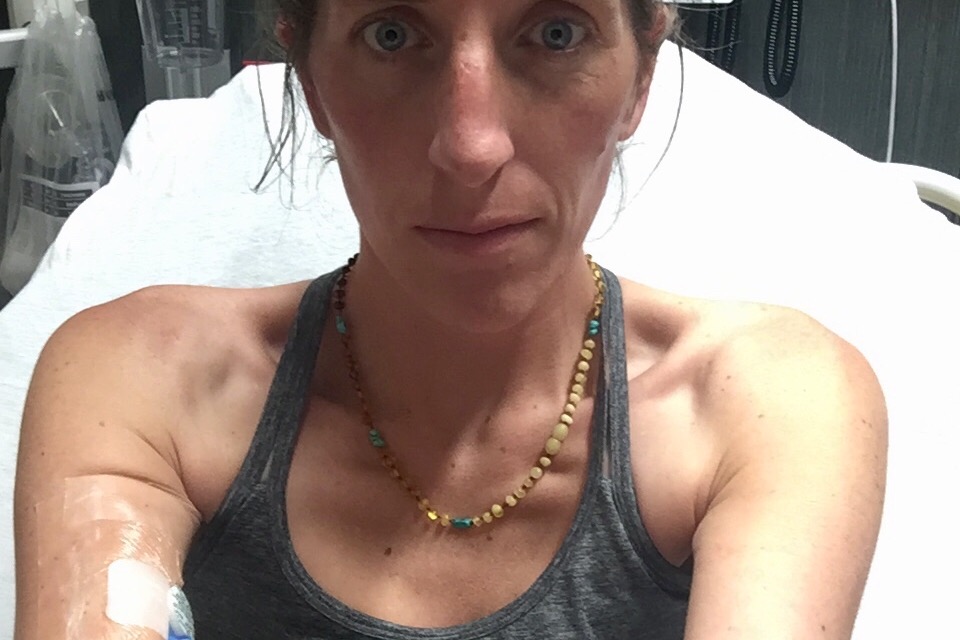 A month later two osteomylytis surgeries and countless PT and OT have followed. More bills. More eating on the run.  More trying to give the kids normalcy.  Kids are resilient. They've done great, but every doctors appointment I go to they fear means another night in the hospital for me.  26 nights since March spent tethered to an IV pole in a hospital. 26 mornings I begged for them to let me out. That I needed to be home—to be there for my kids and spouse. To enable a return to normal. Never once did I let myself rest. And looking back there are so many days I should have stayed a little longer and let people help and take care of me.   Countless ER trips because doctors care and want to make sure you are actually okay enough to be home but have the resources to treat you if you are not. 
But I am letting people take care of me now. I am attending 4-5 medical appointments a week between occupational and physical therapy, weekly infectious disease in Iowa City—an hour away, other miscellaneous doctors scattered throughout, hundreds of dollars spent on antiobiotics and medicines, and then the tests and treatments doctors order and you need that insurance does not cover despite every appeal. I am a good mom. My kids are my life and I like to think that this year I have kept them my number one priority.  We want to return to our passions.  The mountains and oceans.  Weeks spent off the grid in the wild. We were adventurers.  And I need help getting back there. My family needs a return to that "Keep Exploring" mentality.  Which means more appointments because healthy takes time and hard work.  Time to rest and an effort to be still and heal.    But the stress of piling up bills, mounting medical expenses and no end in sight is adding unfathomable stress to an already stressful time full of uncertainties. We need help covering the bills. Getting back to a fiscal baseline. I have an incredible team working to get me back to my new physical baseline. But now I need you. There is a huge amount of humility that goes into asking for any type of help, but asking for money is the hardest of all.  Anything you would be willing to donate to get us back on our feet would make a world of difference.  So many of you have asked throughout this how you can help and I've struggled to answer—but right now this is it.  I appreciate your consideration and your generosity both financially and the incredible support and compassion, childcare, and meals that have gotten our family through this year. Thank you.  Please—if you are in a position to give consider helping ease this anxiety and burden and get back to actively living.  
Wishing you love and light and incredible gratitude for your support. And a hopefulness that you never have to struggle alone.  It takes a village and I'm thankful to have one. 

Organizer
#1 fundraising platform

More people start fundraisers on GoFundMe than on any other platform. Learn more

GoFundMe Guarantee

In the rare case something isn't right, we will work with you to determine if misuse occurred. Learn more

Expert advice, 24/7

Contact us with your questions and we'll answer, day or night. Learn more