Isla Animals Spay/Neuter Campaign
COVID 19 Resources
For up to date and accurate information about COVID safety, visit the CDC or WHO websites.
HELLO ANIMAL LOVERS
. We desperately need your help!
Isla Animals
(a 501c3 non-profit organization) has been operating for 16 years, doing everything we can for animals in need on Isla Mujeres, Mexico as well as thoughout the Yucatan and Quintana Roo.
And we are planning our ANNUAL spay/neuter, vaccination, and wellness campaign for the dogs and cats in Rancho Viejo, located on the continental zone of Isla Mujeres, Mexico, December 1 -5.
We cannot do this without your generous donations and support. Together we can make a
BIG DIFFERENCE!
Please see below for info!
This is Toby when we found him on the streets 
Toby a month later under our care
Toby in his new Canadian home, 3 months later
Rancho Viejo is a very, very poor area
in the midst of a slow transition from a rural area to a more populated town. For the dogs, food is scarce, they are threatened by development and community members that don't want them, and highly contagious and fatal diseases like parvo and distemper that spread rapidly because of lack of vaccinations and unmonitored breeding. Tragically, what this has created is a HUGE number of unwanted, underfed, unattended, unvaccinated, often wounded and terrified dogs...that are breeding in rapid numbers. The average life span of these dogs is 1 to 2-1/2 years.
(Photos Above: When street dogs or neglected dogs have puppies, the mama dogs are starting with so little personal nutrients that they are unable to pass along the proper nutrition to raise healthy and strong puppies. Sadly, the majority of puppies will die.)
Residents simply do not have the disposable income
for vet care or surgeries for their pets. Wages are extremely low and jobs are scarce. Any extra income is needed the provide food, clothes, and shelter for their families. Many are living without running water or electricity. This campaign will likely be the only time any of these dogs will ever see a vet. To give you an example, we once had a woman from Rancho Viejo come to a spay/neuter clinic on Isla by tiny boat, with her three large dogs in tow, because she had heard the surgeries and vaccinations were free.
With your help, we can make a difference 

Residents getting to the clinic anyway they can.
In boxes!
Help my puppies not have any more puppies!

We have the experience,
knowledge, veterinarians, and volunteers. We have done a ton of large scale and small scale campaigns in the last 15 years. 
Last year we spayed over 400 animals in just 5 days.
This year we are trying for over 500!
We CAN do it! But, we need the financial aid to make this a reality.
Our volunteers in action
Our caring volunteer vets.
THE ANSWER
is to lower the population, vaccinate against disease, treat the existing animals, and educate the people. It may sound huge but,
what we can do, with your help, is extraordinary...
Gus surrendered at the clinic
Gus, 6 months later, treated and adopted in USA
WALKING THE MAIN STREET OF RANCHO VIEJO IS PAINFUL,
but only if we do nothing! Rancho Viejo means "old ranch". And as the "old ranches" are transitioning with development, it's not uncommon to see a herd of sheep crossing the road or a goat eating grass coming up through the pavement. This may sound charming but, for the dogs it's tragic. And the dogs are the least of this community's problems,
so it is up to us to step up!


Mama corner across the street from the clinic
So many dogs to help!


HOW CAN YOU HELP? Our goal is to treat and spay/neuter  cats and dogs. A Spay or Neuter surgery at a clinic by Isla Animals is not simply a surgery. ALL animals ALSO receive FREE OF CHARGE: *Consultations with owners * De-worming meds * Tick removal * Application of flea/tick meds * Nail clipping * Hair cut/shave to alleviate medical issues* Treatment/meds for other medical conditions if found (and they usally are). * And most importantly we will be educating dog owners on proper animal care.  Our average cost to treat an animal is $30, depending on male or female, cat or dog, and weigh. The average cost to vaccinate is $10. 
A $10 donation,
the equivalent of 2-3 cups of coffee, could prevent the unneccesary suffering of many, many dogs.
The more animals we fix, the faster the population drops, and the more there is to go around for the remaining dogs. The more wellness care and vaccines we do, the less disease and death there is. The more people we reach, educate, raise awareness with, the less people see animals as disposable.
Dogs waiting to be treated 
Mexico does not have animal protection organizations like other parts of the world. New laws are being made but, are slow to be enforced. For an idea of exactly what we see and do here,
I encourage you to please, please watch this short film about Isla Animals:


We know we have set a high goal.
Will you join our cause, and help us be the voice for those that have none?




How can we treat an animal (including spay/neuter) for about $30.00?
Because our veterinarians, technicians, and volunteers donate their time. And the local government is providing the location and support because they see the need and appreciate and value our help. And we can buy our medicines and vaccines with bulk discounts if we have the proper funding. Keep in mind that just a FEW medicines needed per surgery are: pain meds, anti inflammatories, anti-biotics....
Cat recovery volunteers! 
Most importantly
we will be educating dog owners on proper animal care.
Vet examination 
THIS IS WHY OUR #1 FOCUS IS SPAY/NEUTER:
*Pups born on the street or to poor families that don't care for them, are on their own by the time they are 6-8 weeks old. Their health suffers, they are born into a life of starvation, neglect, aggressive dogs, aggressive people, busy streets in a world that doesn't value them and sees them as a nuisance just for being born.
*Street dog overpopulation means: less food for more dogs - more aggressive dogs fighting for the food that there is - less healthy dogs with skin issues that are even less appealing because they are eating garbage and not enough - more dogs to spread highly infectious and fatal diseases such as distemper - wounded dogs everywhere that become a common sight and therefore it creates less sympathy - they are kicked - hit by cars - in dog fights and on and on...
*There is also a cancerous tumor in Mexico that is sexually transmitted called a TVT. They grow quickly and kill both male and female dogs. If the animals are spayed and neutered than they are not sexually active and will not get this tumor.
*Animals can go into heat at 6 months of age before they are done growing themselves and it sucks everything out of their bodies that they need to grow. (We once trapped a cat that was pegnant and spayed her, she was only going to have one kitten, and probably would not have been able to birth it because she was so weak and she had no teeth because she probably had her first litter too young and it sucked all the calcium that she needed to finish growing and put it into her babies.
Owners are encouraged to participate in recovery,
where we can show them how to clean their pet's ears, administer flea/tick medicine, clip nails, etc. Our ultimate goal is to provide education, create responsibility, involvement, and pride in dog ownership.
Young boy helping his puppy in recovery 
We hope, with your help, to make this clinic a great success.
A donation of as little as $10.00
will go a long way - that is the cost of vaccinations! As always, all funds raised are deposited directly into
Isla Animals
' bank account from gofundme.
We thank you for taking the time to check our page. Sharing it on your social media helps so much too!



Please help me!

DON'T WANT TO USE A CREDIT CARD? NO PROBLEM:
We completely encourage anyone who prefers other Donation methods to consider contributing to this fund via
PAYPAL, CHECK/MAIL, or IN PERSON
. (Please include a message if donating via Paypal, Check/Mail, or In Person that you would like funds to be used for "
RANCHO VIEJO
", and
we will add your name/donation here on this page towards our overall goal!
If you wish to remain Anonymous that is ok too!)
Here is how can:
------>
PAYPAL
: You can use the donate button on our webpage:
islaanimals.org
(include "RANCHO VIEJO" in the payment message)
----->
CASH In Person
on Isla Mujeres (pesos/usd):
At
MARINA PARAISO HOTEL/BARLITO
(1 mile south of the Ultramar ferry dock) with Tiffany Wareing.
----->
CHECK/Mail
: Payable To: Isla Animals. Mailing Address: Alison Sawyer, 1750 30th St #197, Boulder CO 80301
FIND OUR MORE ABOUT US:
We have rescued over 5,600+ dogs since 1999 and are dedicated to decreasing the unwanted pet population on Isla Mujeres, Mexico and surrounding areas through on-going spay/neuter programs, education, vaccinations and adoption. Our Goals:
--->To provide free spay/neuter clinics to help control the animal population
--->To provide free or reduced cost veterinary services and vaccinations
--->To offer animal foster care and promote adoptions in Mexico, USA and Canada
--->To educate pet owners about humane animal treatment, care and responsibility
--->To do all of the above in the most humane, compassionate way possible
Check out our Website
:
www.islaanimals.org
Like our Facebook
:
www.facebook.com/IslaAnimals
Follow us on
Instagram
: username
@islaanimals
Check out this recent article about us on Pet360: 
http://www.pet360.com/dog/lifestyle/isla-animals-where-rescue-never-takes-a-vacation/ilt3XcdKR02q6xDTQa35ww
Y
ou can also support us by shopping at Amazon ! Simply go to smile.amazon.com . This is Amazon's home page that donates .5% of your eligible purchases
to charities of your choosing when you login from this homepage. Simply pick "Isla Animals" as your charity.
(You must be logged in at the smile.amazon.com home page and not amazon.com!)
Happy shopping and thank you!
Alison Sawyer Current
founded
Isla Animals
16 years ago on Isla Mujeres, Mexico. She has worked tirelessly to help as many animals as possible (5,600+ dogs re-homed so far), and she will continue to do so with your help. In 2005 Alison received The Doris Day Animal Kindred Spirit Award, and in 2007 she was invited to Mexico City for the first Forum on Small Animal Overpopulation in Mexico.
Join us, and be a part of this wonderful cause!



Dr. Arturo Dzul
is the official vet for
Isla Animals
. He donates his time and expertise to our bi-weekly sterilization clinics and out-reach clinics like this one. He works closely with visiting vets, vet techs and volunteers to teach and share his wealth of animal knowledge. We are blessed to have Arturo on our team!
Some of our awesome volunteers!
Would you like to volunteer at the campaign?
The campaign is December 1-5, 2017. We are seeking good, hard working volunteers. They are long days but, incredibly rewarding. 
Send us a message on Facebook
 for more info.
We want to thank
CARM Tours and Transfers
 &
Isla Rentals
for all their volunteer work and help in transporting dogs to the airport and within Cancun. They will also be donating transportation and rental items during this campaign! Check them out for your transportation & tour needs in the Riviera Maya as well as items to rent on Isla Mujeres.
LET'S END WITH A SUCCESS STORY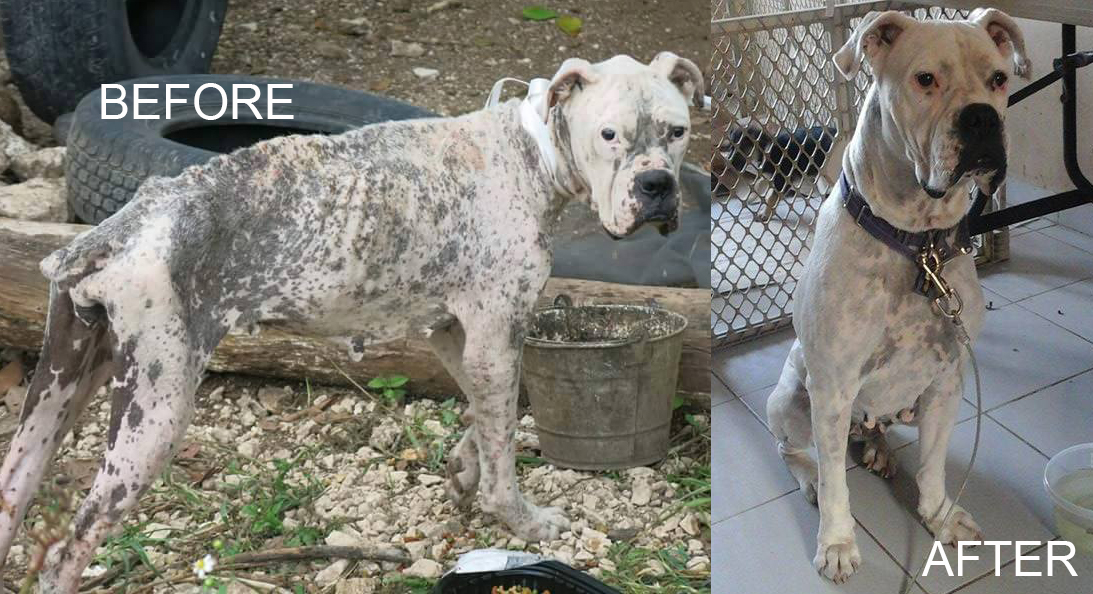 When Cat was rescued she could barely walk. In just 2 months of treatment, lots of food and TLC, she made a full recovery. She now has an amazing life with her new family in Canada.
From the bottom of our hearts, we thank you all for your support, donations, and belief in our cause! After all...Caring is Global.


Organizer
Trina Noakes
Organizer
Boulder, CO

Registered nonprofit
Donations are typically 100% tax deductible in the US.