Help me walk after birthing tragedy
On the 29th August 2014, my wife, Irrum, gave birth to our beautiful daughter, Amelie.  Unfortunately, our magical moment was swiftly overshadowed by unimaginable despair:  the epidural administered during labour caused a blood clot to compress Irrum's spinal cord, leading to total paralysis from the waist down.  Rather than returning home as a dutiful mother, Irrum spent the next four months in hospital agonisingly separated from Amelie and me (Adam).  Only Irrum can describe the emotional rollercoaster she experienced...
Irrum's story:
I was incredibly excited to become a mother for the first time.  I had been dreaming of this moment for a long time and couldn't have been more overjoyed at the prospect of being a mum and all the small but significant things I was about to experience.  But all that was about to be taken away from me.  I had suffered the most serious of complications and, after emergency surgery to decompress the spinal cord, I was left paralysed.  I couldn't move my legs.  I couldn't feel anything.  I was in a state of shock and unable to accept what was happening.  It was as if my whole world had collapsed.
I remained in hospital recovering from the surgery for a few weeks before being transferred to a spinal injury centre for a further three months.  I was totally devastated unable to think of anything but Amelie.  I asked the question a millions times 'why did this happen to me?'  There was no answer.  I felt totally isolated.  I still shudder at the thought of that place where no one gives you any hope and everyone with an injury like mine is told to learn to live in a wheelchair as you're unlikely to walk again.  How was I going to be a mother if I can't pick up my baby?  How could I look after her when I can't even look after myself.  How would I wash and dress her if I couldn't even wash and dress myself.  I was in a state of despair and utter panic.  What am I going to do?  How will we manage?
Sadly, rehabilitation in the hospital only meant an ability to transfer in and out of my wheelchair and to manage simple daily tasks.  Looking after a tiny baby seemed impossible.  But I couldn't let go of my dream, and I came to a realisation that I was going to start my recovery when I got home.
I was desperate to be reunited with Amelie.  Every time she visited I would wait at the front of the hospital in anticipation but when she left I was left heartbroken time after time.  I couldn't stand it anymore.  The life I had before was gone and the life I dreamed of as a mum had vanished.
I finally came home just before Christmas 2014.  Amelie was nearly four months old and I'd missed so much already.  I had nothing in common with all the other new mums and I was constantly reminded of what I was missing.  Every time I saw a mother walking with her baby I felt so gutted.  Adam had taken on the role of full-time parent and had all but given up his job.  I was so happy to be home with the two people I loved so much but my journey was only just about to begin.  Adam describes what happened next...
Irrum's recovery:
Just having Irrum home again was magical in itself, but she still remained totally paralysed.  Then, one day shortly after Christmas, Irrum jubilantly summoned me to show how she could twitch her right thigh ever so slightly!!!  She repeated the trick over and over again to prove it was no anomaly.  A few days later the left thigh woke up.  Now we had something to build upon.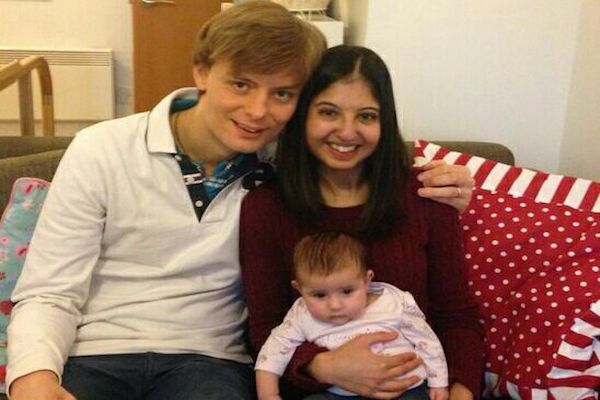 Since then, Irrum has worked tirelessly to rebuild damaged nerve connections and muscle, exercising for 4 to 5 hours per day, 5 days a week, often through severe pain.  She has to sacrifice spending time with Amelie because of the gruelling exercise schedule. However, Irrum remains undeterred and continues to improve. In order to propel Irrum to the next stages of recovery (standing and then walking), we need specialist help, both in the form of physiotherapy and equipment.  Unfortunately, these are not available on the NHS and are very costly.
Monies amassed in this fundraiser will be primarily used to fund intensive physiotherapy at the Zentrum der Rehabilitation Geerlofs in Pforzheim, Germany.  This is a leading neurological recovery centre that we visited in November 2015 to assess Irrum's recovery potential.  They believe that a 3-month stay will be sufficient for Irrum to take a few steps with the assistance of a 4-wheeled walking aid, but this will cost £40,000.  Further stays at this centre would allow Irrum to become less dependent on walking aids, rebuild her walking stamina and potentially enable hands-free walking.  To achieve the last aim might require at least 12 months of physiotherapy at this centre.
Any remaining funds would be used to purchase a Tek RMD, which is an automatic mobility device that would allow Irrum to be upright for hours at a time.  One of the challenges for Irrum is that daily activities, such as cooking, are impossible to undertake in our flat because we do not have adaptations to cater for wheelchair use.  This has meant that Irrum has never spent a single day alone with Amelie.  With a Tek RMD, Irrum could continue with every day home-based activities while her recovery is ongoing.  Furthermore, the device helps circumvent the detrimental health affects caused by being in a seated position for so long day after day.  The device costs approximately £13,000.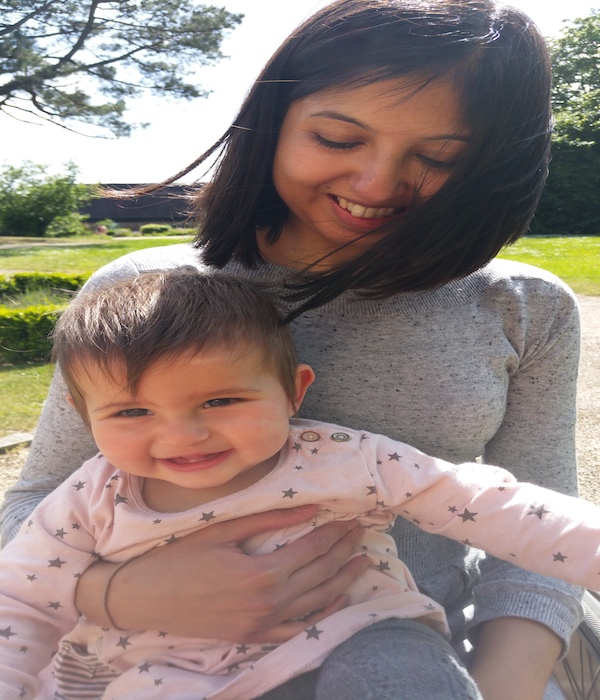 This is where you enter the fray!  We need to raise a lot of money to get Irrum back on her feet.  Anything you can donate will help us on our massive journey.  Please help Irrum fulfill her dream of walking hand in hand with Amelie!
'So many of our dreams at first seem impossible, then they seem improbable, and then, when we summon the will, they soon become inevitable.'
Christopher Reeve
Organizer
Irrum Jetha
Organizer
Ruislip, Greater London, United Kingdom