In Memory of Ryan Barnes.
Ryan,
"We Love you with our whole hearts, and our memories of you will be forever cherished. You pass through our minds a thousand times a day.. We miss you terribly.
We are so saddened your life ended so suddenly. You deserve to be here with us, and for that we are so sorry.
It has always been the three of us, and always will be, Forever Family. We Love you " Sugar Muffin " xoxo. "
We lost our dearest Ryan December 16th, 2017. It was truly unexpected and very tragic. When we recieved the news of his passing to an accidental drug overdose, My mother and I could not comprehend it, we were just forced to accept it and deal with it.
"It's not the size of the dog in the fight, it's the size of the fight in the dog." - Mark Twain
My Brother entered the Adolescent Program at The Last Door Recovery Center and was accepted in November of 2015. We were beyond thankful, hopeful, excited and reliefed for we felt this would be the only way ryan could save himself.
Ryan completed the 12 steps of the Youth Program, and we saw him through every step of the way, attended his 60 days clean and sober, and onto his 1 year Cake.
We had never been so proud of him.
The most impactful support ryan recieved was those of his housemates and program leadership, most of them to later become his friends and ongoing supporters.
We would like to acknowledge the Youth Program Manager, Peter, For being so exceptionally kind and patient with Ryan. He spoke of you often. You were both his mentor and his friend.
"Sometimes it is not enough to do our best; we must do what is required." - Sir Winston Churchill
The Community says relapse is a part of recovery, and with that being said, Ryan found himself rejoining the Last door Recovery Center through the Adult Program where he again successfully completed the 12 step program. Again ready to take a second chance at a clean and sober lifestyle, where he worked and moved into a halfway house. Our Family would also like to extend our thanks to Jessica, Youth Program Operations Manager, for always showing Love and Respect. Ryan respected you right back.
Our Sweetest Ryan did not make it to his one year cake, but in many ways, he had come so much further.
 "A life spent making mistakes is not only more honorable, but more useful then a life spent doing nothing " - George Bernard Shaw
We have created this GoFundMe Page to raise money to make a donation to the Last Door Recovery Center in Ryans Name. We spoke in detail about how and when the time was right for him, he wanted to repay the Last Door for changing his life, teaching him about life and most importantly saving his life. Though he is no longer with us here on earth, we will forever be grateful for the last 3 years we spent with Ry. We watched him grow into a respectable young man, inspired and motivated,
Responsible and reliable, and into a beautiful soul, we had always known him to be. He was a part of an amazing community that really helped shape him into the best version of himself, the best brother and son he had ever been.
Please, if you had the privilege to know our Ryan, or simply just believe in the power of recovery, show support by donating. Thank you all in advance xo.
Link to The Last Door Recovery Center
Please enjoy some pictures of our angel Ryan and the life we shared with him. Rest In Peace, In Paradise Ry.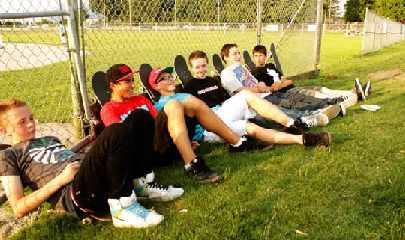 Steve and Ashley Weatherhead 
Organizer