In Memory of Jessica Cain
Jessica's story
On Monday the 14th October 2019, Jessica Louise Cain passed away suddenly in her sleep after suffering with Meningcoccal Meningitis and Septicaemia. Jessica was only 21 years of age. 
This was a huge shock to family members, friends and everybody associated with Jessica. Due to the illness striking so quickly this has left the family unprepared, as you can imagine nobody can prepare for a tragedy such as this.
The reason as to why we have started this GoFundMe page is because the sudden tragic loss to the family has not only hit emotionally but will impact financially. With proceeds from this page going towards the family to help with costs towards the burial service, headstone and all round funeral costs, aiming to raise a total of £3,000 although ambitious, any donations made are of great help during this time. 
Growing up in Newcastle, Jessica was always a fun, bubbly, positive  little girl with a life full of dreams and aspirations ahead of her. Everyone who knew Jess adored her, a gorgeous girl both inside and out who was so proud of her Geordie roots. A true Angel of the North. Jess was her families black beauty, due to her luscious locks, the bonniest lass in the toon. She would always be on the cadge asking for her step-dad's David's rollies. Jess enjoyed her nights out at the hut, Stone Trough and the Cannon but any pub was Jessica's local. She idolised her dog Lilly and always loved coming home to have cuddles with her. Jess was a party girl who loved her music and concerts, seeing Rihanna with her mother in Newcastle.
Aiming to pursue a career in Art Therapy, Jessica began studying at the University of Derby in 2016. Despite the original concerns of moving away from home, Jessica settled comfortably into University life. During this time Jessica made countless memories with loved ones, spending three years living with her closest friends. 
Although Jessica moved back home to Gateshead this year beginning her first experience of full-time employment. Enjoying her home comforts, Jessica got to cherish valuable time with her close family and friends. Recently being a Bridesmaid at her mothers wedding.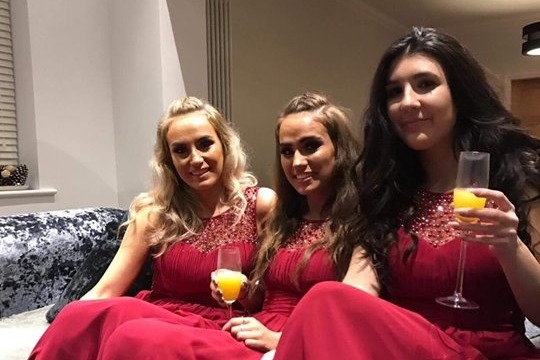 Never somebody to miss out on new and exciting adventures, Jessica spent her last week travelling to Manchester, Derby, Birmingham and Sheffield before returning home to Newcastle. Jessica also this year travelled to Amsterdam and Zante. Alongside this she attended various music festivals such as Creamfields and warehouse projects.
Jessica lived a happy yet short life, leaving behind her Mother Sheila, Father Phil, Brother John and Step Father David. 
Thank you for reading Jessica's story and I hope it has encouraged you to donate. It would mean the world.
Rest in Peace Jessica x
https://www.facebook.com/jessica.cain.353
https://www.instagram.com/jessshhhh/