Miss Plus Size Charleston 2014 "Alison"
Alison Teresa Parson
was born in North Charleston, South Carolina. She is the daughter of Mr. King Wright & Reverend Alice Parson-Wright, and Mr. David A. Brunson. Alison has a close knit family of 6 sisters and two brothers. She is a graduate of Allen University, where she obtained a Bachelor of Arts Degree in Social Sciences. She currently attends Liberty University, where she is pursuing a Master of Arts degree in Professional Counseling, with plans of becoming a Licensed Professional Counselor. She is also a member of
Delta Sigma Theta
Sorority
Incorporated.
Alison
is currently employed by the Medical University of South Carolina, where she serves as a Clinical Counselor in the Institute of Psychiatry. Alison strongly believes in giving back to her community and feels her greatest joy when she knows that she has made a difference in the lives of others.
Her motto is "Learn to value who YOU are, accept Life's oppositions and know that you are worthy and capable of handling everyone of them".
Alison believes that the title of Miss Plus Size Charleston
would give her the opportunity to inspire, motivate and encourage plus size women to be comfortable in their own skin and to not be influenced by the continuous pressure from society and the media to be a certain size to be deemed acceptable. It is her belief that all women are beautiful, both inside and out, and deserve a platform that will enable them to promote issues that are most dear to their hearts.
The support of family and friends would be greatly appreciated.
For those of you who would like to assist in making this endeavor a success, there are several ways that you can help. My personal goal for this pageant is to raise two-thousand dollars. You can help make this possible by making a donation of your choice. I am also collecting ads for the Our Souvenir booklet that will be given out on the night of the Pageant.
Donation
$5.00 | $20.00 | $40.00 or more - Your name will be entered into a drawing to win a Dinner For Two & a Professional Photo Shoot, Perfect for friends & family, etc...
Advertisement Categories
Patron's List $10.00 | Business Cards $25.00 | 1/4 Page $35.00 | 1/2 Page $50.00 | Full Page $100.00
Please contact me at
(843) [phone redacted] or Email me at
[email redacted]
Thanks in advance for your support.
God Bless
Alison T Parson

***Special Thanks To In Da Streetz Magazine For Your Sponsoring this page & Supporting Me in Becoming
Miss Plus Size Charleston 2014***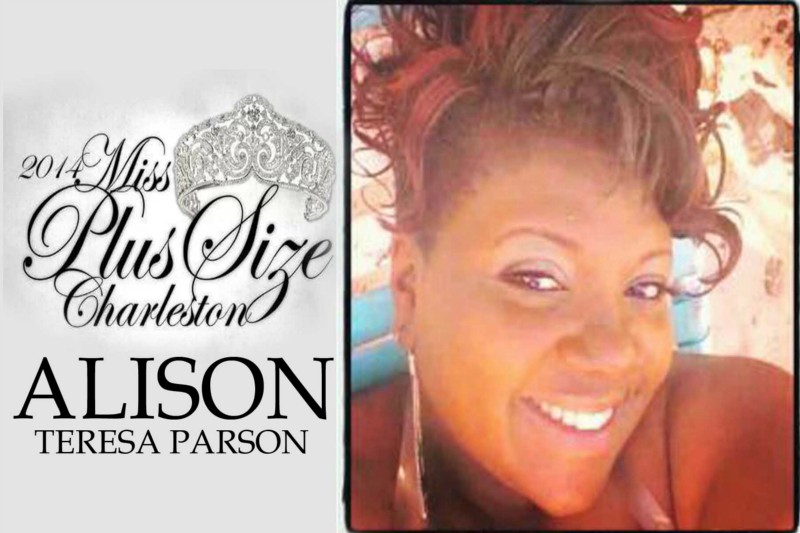 Organizer