Tomorrow's Warriors Fundraiser
TOMORROW'S WARRIORS URGENTLY NEEDS YOUR HELP to save our award-winning £FREE Young Artist Development Programme at Southbank Centre, which is

under threat of closure in 2019 due to lack of funding

. The current funding runs out in December 2018,
and we are  urgently seeking help from the jazz and wider community while we try to secure replacement funding from other sources. Please take a look at our short film to hear our alumni explain why this programme is so vital, not only to young musicians but also to the jazz scene as a whole.
Cerys Matthews, BBC Radio 6 Music
:
"This a cultural giant, a music making dream team, with generosity at their heart."
2018 has been an astounding year for UK jazz. Recent media attention has highlighted the fact that the current jazz scene, especially around London, is at a very exciting moment and younger audiences are turning to jazz in a big way. Many of today's jazz stars have themselves been part of our Artist Development Programme and have been helped by Tomorrow's Warriors to launch their careers as successful professional jazz musicians.
Gilles Peterson: 
"Can't overstate the impact that Tomorrow's Warriors has had on the current music scene in London."
TOMORROW'S WARRIORS ARTIST DEVELOPMENT PROGRAMME
helps aspiring young jazz musicians discover their magic and achieve their creative ambitions. Free access to this programme has proved crucial in nurturing the nascent talent and early careers of so many of the most exciting UK artists currently tearing up the international jazz scene.
Tomorrow's Warriors' Artists include
Moses Boyd
,
Nubya Garcia
, 
Sheila Maurice-Grey
,
Cassie Kinoshi
 and 
Nérija
, 
Femi Koleoso
 and
Ezra Collective
,
Binker Golding
,
Shabaka Hutchings
 and
Sons of Kemet
, 
Eska
,
Denys Baptiste
,
Soweto Kinch
, 
Mark Crown
,
Andrew McCormack
, 
Zara McFarlane
, 
Mark Kavuma
,
Camilla George
, 
Nathaniel Facey
and 
Empirical
,
Peter Edwards
and
Rhythmica
,
Jason Yarde
 and
J-Life
,
Robert Mitchell
,
Byron Wallen
...the list goes on and on and on! 
Emma Warren, Red Bull Academy:
"If you want to know who passed through their doors, it might just be easier to ask who didn't: The list is long and comprehensive."
Based at Southbank Centre in London, Tomorrow's Warriors offers a pioneering, comprehensive programme of learning and training which, in particular, champions and supports young people from Black and Minority Ethnic backgrounds, girls and those whose financial or other challenging circumstances would tend to lock them out of opportunities to pursue a career in the music industry. 
The core ethos of Tomorrow's Warriors is
'each one, teach one', 
where each generation supports the next, sharing skills, passing on the legacy and building a vibrant, supportive community.
Binker Golding, TW Music Leader & Award-winning Saxophonist/Composer: 
"We help students to learn who they really are, encourage them to become who they really are, and encourage them to take a risk artistically. As a result of that you end up with a lot of very forward-thinking musicians and artists that really end up creating something quite unique. I think the proof of that is definitely in London UK jazz at the moment."
WHY WE NEED YOUR DONATION
Bassist Gary Crosby OBE, Co-Founder & Artistic Director of Tomorrow's Warriors:
"I know there are young people from a similar background to me who, if given the opportunities, can create great art. It's not curriculum style, because what we're dealing with is art. The individuals are artists, and I want to hear what they have to say about the world."


Despite the undoubted success of Tomorrow's Warriors in supporting the development and early careers of so many jazz artists over the past 27 years,
our programme is under threat of closure due to lack of funding.
All of our learning and training activities are £FREE
at the point of access, and always have been, so that no young person is excluded for financial reasons.
We want to keep it that way. 
Arts Council England funds Tomorrow's Warriors to exist as an organisation, but all artistic and educational activity needs to be fundraised for separately.
There is no funding in place for our programme at Southbank Centre beyond the end of 2018
, and it will take time to secure new funding. 
So we're reaching out to all those who believe in music's power to transform lives, and who feel passionately about diversity and inclusion in the arts, to
help us keep this vital programme going
for the benefit of our young people and for the good health of the wider jazz scene.
Please 
DONATE TODAY
while we continue the search for new funding. 
John Fordham, The Guardian
:
"The Tomorrow's Warriors vision of a jazz party anyone can join, regardless of background, culture, gender or education, and making music anyone can tune into..."

WHAT THE PROGRAMME OFFERSUp to 150 young musicians access our comprehensive Artist Development Programme at Southbank Centre each year
, benefiting directly from a rich and immersive development experience that offers:
·    420+ weekly development workshops and band rehearsals led by trained, inspirational music leaders
·    48+ regular live performance opportunities in quality music venues and festivals
.    Tickets to see world-class international artists in concert
.    Professional and peer mentoring
·    Masterclasses and specialist training to develop artistic and educational practice
.    Collaborations with other artists, groups and art forms
.    Opportunities to participate in our international partners' programmes
.    Apprenticeships, work experience and volunteering opportunities to support skills development
.    Quality paid employment opportunities
.    Career development opportunities and access to our network of industry professionals
.    Outstanding pastoral care from our dedicated Tomorrow's Warriors team
.    Access to an awesome, collaborative professional network of jazz musicians and other creatives
and so much more! 
WHY GIVE?

Kate Hutchinson, New York Times: 
'Ezra Collective leader, Femi Koleoso and his brother explained that, at first, a career in jazz seemed unthinkable to them. "I saw jazz music as an elite art form that I didn't have access to," Femi said, "like playing the violin or riding a horse."'
Tomorrow's Warriors gifted Femi a musical pathway to his dream career. Today his feet hardly touch the ground, he's so busy touring the world, living his dream. Your generous donation today can give the gift of music to another aspiring young musician, just like Femi, and provide the crucial resources needed to advance his skills and nurture his creative talent. Help us give a budding young musician the artistic edge.

Nubya Garcia, Award-winning Saxophonist/Composer
:
"One of the most special things about Tomorrow's Warriors is their unwavering support. It's about diversity in terms of ethnicity and gender. That's what they champion and have been championing for over 20 years. There's no-one like them basically. I love them!"
There are lots of girls and young women like Nubya who simply need the nurturing environment that Tomorrow's Warriors offers in order to achieve their musical potential. Your donation today can empower a member of our Female Collective to pursue her dream to become a world-class jazz artist, captivating audiences from the moment she takes the stage.
DONATE TODAY
 to bring inspirational artists within touching distance of aspiring young musicians and provide them with transformative learning experiences in a safe, inclusive, creative space where people from ALL backgrounds
come together to learn and share the magic of jazz
!

PUTTING YOUR DONATIONS TO WORK
£5
can provide a young person with a subsidised ticket to see international artists perform on stage
£10
will cover a teenage musician for travel and subsistence incurred attending a live concert in London
£20
is the cost of 1 day's travel and subsistence for a young musician on our programme who is not in education, employment or training 
£60
 will pay for a Disclosure Barring Service check on a music leader to ensure we adhere to our, and our partners' child protection policies
£80
will cover the cost of photocopying music and other resources for our workshops and rehearsals for one year
£100
will pay for a music leader to attend a faculty meeting to review student progress and plan ahead

£200
per month will support the cost of our Programme Manager sending out weekly programme updates to our students and parents throughout the year so they keep abreast of any timetable/room changes or special activities
£300
can buy a set of music charts that can be used by our Soon Come Youth Orchestra for years to come
£340
is the full cost of a development session led by an inspirational Tomorrow's Warriors music leader for up to 25 young people at Southbank Centre (all our music leaders are active professional jazz artists)
£500 
will enable us to invite a visiting international artist to deliver an inspiring interactive masterclass

£1,000
will pay for a showcasing opportunity for one of our rising star ensembles

£1,372
 will provide a fully-funded place on our programme for 1 year for a gifted and talented young musician, enabling them to access all that Tomorrow's Warriors has to offer

£2,000
will help meet the annual cost of documenting the next generation of Tomorrow's Warriors as we track and share their artistic journeys 
£3,000
will support the annual cost of transporting musicians and equipment to venues outside of London, enabling us to take up performance offers that benefit young musicians' career progression

£5,000
will pay for 1 term of weekly ensemble development sessions/rehearsals and up to 3 performances for our extraordinary Youth Ensemble

£10,000
 will pay for the production and marketing of 6 themed concerts by Warriors bands featuring the future stars of jazz
£12,225
 pays for 36 development sessions for our Female Collective benefiting up to 60 girls/young women who want to develop their skills and confidence playing jazz 
GUARANTEED MATCH FUNDING
Our current programme costs around £200,000 a year. We have
guaranteed match funding from Arts Council England (ACE)
, so if you can help us reach our target of
£100,000
, ACE will match it with a further
£100,000
, allowing us to continue our programme free of charge to all young people, regardless of their financial circumstances.
DONATE NOW
and help us get ACE to double your donation at no extra cost to you to ensure we keep the awesome talent coming through in 2019. It's a no-brainer! 
And, if you are a UK tax payer
please don't forget to GIFT AID
 your donation as this can increase your gift by 25% without costing you a penny more!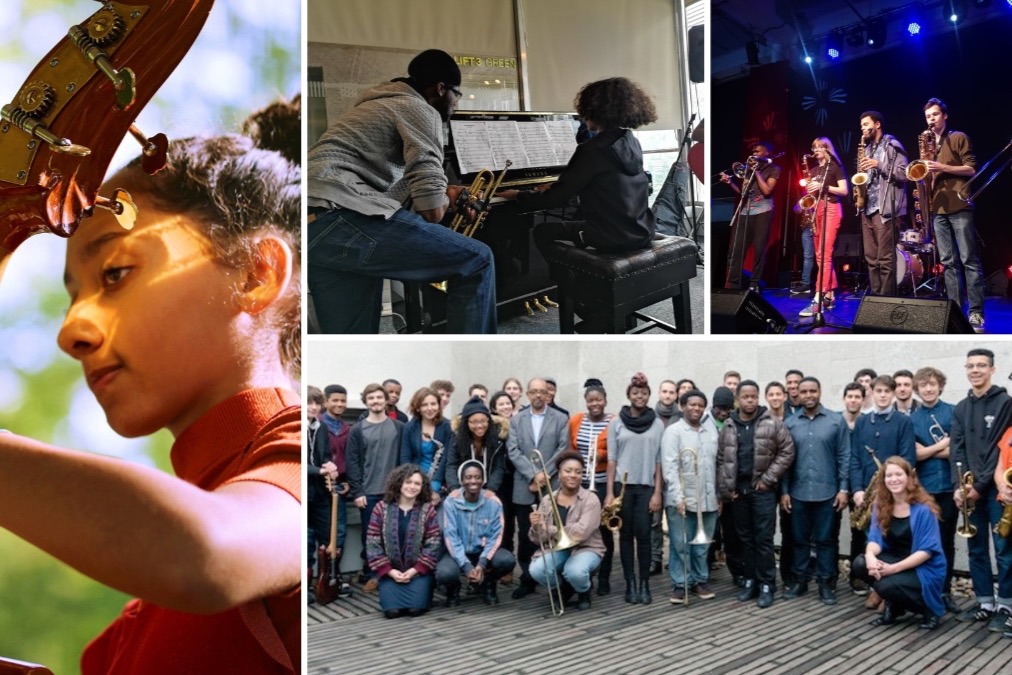 HOW ELSE CAN YOU HELP?SHARE
THIS #IAmWarrior APPEAL
with family and friends and encourage them to support the next generation of UK jazz musicians. 
BECOME A WARRIOR - JOIN OUR GOFUNDME.COM FUNDRAISING TEAM. 
Host an event! Can you throw a tea/dinner party, do a sponsored run/swim, host a quiz night or a cake sale? Anything goes so long as it raises money for the cause!
Or
SIMPLY DONATE
by clicking the button. The smallest donation really can make a difference.
Help us keep providing the next generation of young artists with the training they need to build the UK jazz scene and continue creating this incredible, exciting new music.
If you'd like to speak to us about a regular gift, drop us a line at 'donate at tomorrows warriors dot org' or
call us on [phone redacted] 2807
(we have a part-time team so may not always be available to take your call). 
And if you'd like to stay in touch and receive our monthly newsletter, sign up for our newsletter on the Tomorrow's Warriors website.
THANK YOU FOR YOUR SUPPORT...YOU'RE AMAZING! YOU ARE WARRIOR!

 WHAT OUR ALUMNI ARE SAYINGShabaka Hutchings | award-winning Saxophonist & Band Leader, Sons of Kemet, Impulse Recording Artist:
"More or less every black jazz musician who has come up in the past 20 years has been a part of it [Tomorrow's Warriors] in some way or form. It's done a lot to try to diversify the landscape."
Nubya Garcia | award-winning Saxophonist & Band Leader:
"Thank you to [founders] Gary Crosby, Janine Irons and every soul who contributes to and has contributed to the Tomorrow's Warriors Family. You are true heroes and inspirations across the whole unit, youngers and elders. Thank you for your support, your belief, your community spirit, and your inclusion of and for everyone."
Femi Koleoso | award-winning Drummer & Band Leader, Ezra Collective:
"Because of Tomorrow's Warriors, regardless of my background or economic standing I can compete with anyone and achieve my full potential."
Zara McFarlane | award-winning Vocalist/Composer, Band Leader:
"We need the music to continue. It's so exciting right now and it's taken years and years to develop it to this point. We don't want to lose it now."




Fundraising team: Tomorrow's Warriors (2)
Tomorrow's Warriors 
Organizer
Raised £98,336 from 206 donations
Harrow, Greater London, United Kingdom

Tomorrow's Warriors Trust
Registered nonprofit
Donations eligible for Gift Aid.
Learn more
Sarah Marangoni 
Team member
Raised £340 from 4 donations
#1 fundraising platform

More people start fundraisers on GoFundMe than on any other platform. Learn more

Expert advice

Contact us with your questions and we'll answer, day or night. Learn more