Support the American Dream Fund
We're facing an education crisis in America. Your donation can help at-risk students get access to quality education so they can, in turn, lift up their families and communities. This is what the American Dream Fund is all about.
---> We're humbly asking: will you join us by donating $35 to the American Dream Fund? We set a goal to raise $5,000,000 so we can help more students. The i.am Angel Foundation delivers vital educational support to over 1,200 K-12 students a year, helping them become the first in their families to graduate from college, and equipping them with STEAM (science, technology, engineering, arts, and math) skills so that they can join our technological workforce and help solve the world's most pressing challenges.  It would mean so much if you could chip in to help us reach our goal.
As 2021 begins, there are so many issues facing America. To capture the urgency for equal and fair access to education, will.i.am has written a new song, "AMERICAN DREAM" to kick off this GoFundMe campaign to help thousands of students get the quality education they deserve.

The "AMERICAN DREAM" song talks about the brutal truth, that education is a social justice issue – it's at the core of what prepares the nation's young people to get a good job, buy a home, start a business, and accumulate wealth.
Quality education puts fortunate students with access on a path to success in life, and the have-nots heading toward poverty and prison. Your donation will make a huge difference to help inner-city kids get a good education and escape the nightmare.
For at-risk kids, school is a refuge, a safe place to study equipped with computers and WIFI, and 3 free meals a day. 2020 showed the world how dire things really are when these basic things are taken away. Some of the best and brightest young minds are being set back by a double whammy - long-standing systemic issues, multiplied by a pandemic that disproportionately hurts communities of color.

Our Recent Graduates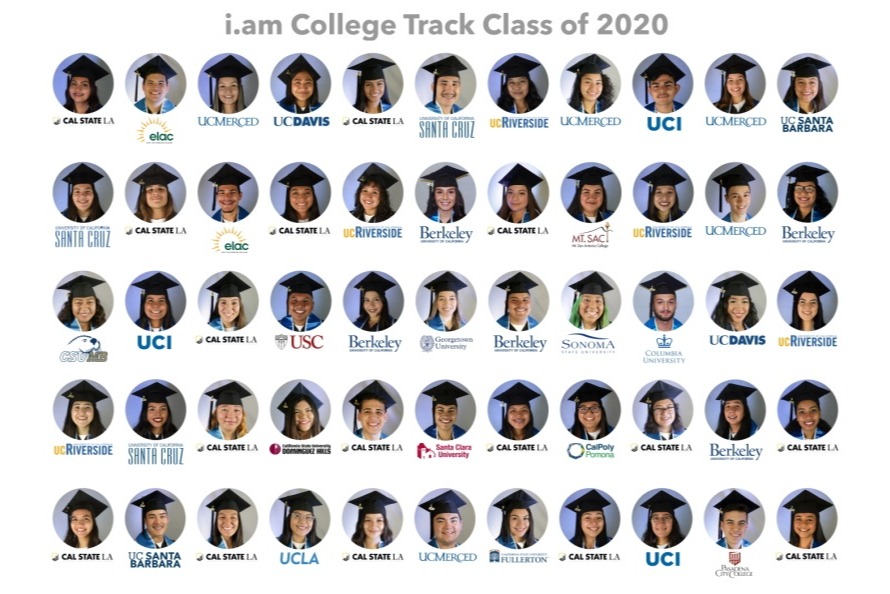 Here's what your donation will support:
$100,000 funds a year of i.am college scholarships for up to 20 students with heavy financial need. 
$50,000 funds tutoring for approximately 150 students, to prevent them from falling behind and dropping out.
$25,000 brings robotics programs to over 30 public middle and elementary schools. Help us build a pipeline for young tech talent.
$10,000 supports an after-school computer coding class for one year.
$5,000 delivers test prep workshops to 50 students.
$1,000 helps a student buy a laptop for college. 
$500 can help a college student buy textbooks.
$100 can pay for a college application fee. Many students cannot afford to apply to multiple colleges.
$50 can buy maker kits to spark STEM learning in young students.
$20 can buy school supplies for a family stretched thin by the pandemic.
Donate to the AMERICAN DREAM FUND today to transform lives and communities!
Our History
The i.am Angel Foundation was founded by will.i.am of Black Eyed Peas. The foundation raises funding for education programs focused on Science, Technology, Engineering, the Arts and Math (i.am STEAM) and college preparation programs in collaboration with Laurene Powell Jobs (i.am College Track). We also fund i.am Scholarship, which has awarded over $1,000,000 in scholarships since 2009. 
We started with 53 students in our programs nine years ago, and now we support over 1,200 students per year. 95% of our students are the first in their families to go to college. We are creating a college-going culture where there was none before and this is literally transforming lives. We want students from underserved areas to think big... and to dream big.
i.am College Track
i.am College Track is a collaboration between i.am angel Foundation and College Track, a national education nonprofit that empowers students from underserved communities to reach their dreams of a college degree.  i.am College Track provides academic support to more than 400 high school and college students per year. More than 92% of our students come from low-income families that qualify for free or reduced lunch programs and 95% will be the first in their families to apply to and attend college.
i.am Scholarship
We provide future leaders and innovators with scholarships for a world-class education. Our students have been accepted to many highly-regarded schools, including Brown University, Columbia University, Dartmouth College, Georgetown University, Stanford University, Tulane University, Wesleyan University, USC, UCLA, and UC Berkeley. To date, we have awarded more than $1 million in scholarships to students who otherwise would not have been able to pursue their goals of obtaining a college degree.
i.am STEAM
STEAM is Science, Technology, Engineering, Arts, and Math. Since 2013 we have supported coding and robotics programs for public schools in East LA, South LA, Watts, Compton and Ferguson, MO, reaching more than 500 students per year. Over the years, we've organized 14 hackathons, introducing coding and app development to hundreds of students. We've also sourced and donated more than 700 laptops to students from low-income families.
Why STEAM?
STEAM-related jobs, in addition to being more plentiful, are also better paid than many other jobs. The path to gain those qualifications is often not made available to underserved communities. Our goal is to bridge that gap by providing both high-quality education and opportunities for students to not only succeed but excel. With access to quality STEAM education, our students can one day help solve the scientific and technical questions that we face as a society. 
Diversity Matters
Our goal is to make a good education, including STEAM education, more accessible for underserved communities. The i.am Angel Foundation brings a range of STEAM programs and opportunities to underserved communities like Boyle Heights, to enable students from all backgrounds and walks of life to compete for the jobs of the future. We believe these students will be the ones that change the world.
i.am Angel Foundation is a sponsored program of the Social Impact Fund, a 501(c)(3) charitable organization