To friends, family, the gymnastics community and everyone in between, this is
Tamara's
story and my way of giving back to a family that has continued to support me over the last six years of my life.  
Life will always find a way to surprise us. In fact, it always seems to target the nicest of people when they least expect it.
Around October 2017, a life-long friend, role model, and former Canadian national teammate of mine, Tamara, was diagnosed with stage-4 melanoma cancer.  At the age of 21, just months after winning a silver medal at the 2017 World Games in women's double mini trampoline, Tamara and her mother (Tina) were blindsided.
If you are not familiar with Tamara, you should be. Over the last decade she has represented Canada at a total of 5 World Age Group Championships, 3 World Championships, and 1 World Games, collecting a total of 2 gold and 3 silver medals. As for National Championship titles, she has minimum of 8 (there's too many to keep track of). Any who, although gymnastics has and will always be a profound part of Tamara's life she is so much more than her natural athletic ability and international success. Although she's practically the Rosie MacLennan of Canadian DMT, she, like Rosie, has always embraced her renowned accomplishments with humility and pristine  sportsmanship. Take my word, Tamara was 'that' athlete. By the age of 12 we all knew she was destine for success (which she evidently achieved). 
After being forced into retirement I know for a fact that Tamara has dealt with a grave amount of loss, on more levels than I/ we can ever imagine. In a matter of 8 months Tamara has dealt with 5+ surgeries, disease progression, the changing of cancer treatments, a cancerous tumour pressing up against her spine (causing her debilitating pain), weight loss, and the obvious psychological turmoil, as well as financial hardships that accompany catastrophic diagnoses. With an incomprehensible amount of resilience, grace and selflessness, she continues forward. That is the thing about Tamara, she hasn't once asked for us to pity her circumstance, rather she has used her diagnosis to educate us all on the importance of skin protection, and supporting families who are dealing with the social, psychological, and economic repercussions of cancer.
Furthermore Tamara has unveiled to us some of her most vulnerable moments in life, openly discussing the intimate [love/hate] relationship she has with her body-mind, the Canada's healthcare system, societal ignorance, and the wonderful and not-so-wonderful people who has impacted her along the way. In today's world it is rare that we get see each other behind our social media pages, and I commend Tamara for rising above the fakeness of social media and creating a space to speak about the truth. 
Despite everything Tamara remains an unwavering friend to me and to so many others. She is so much more than an athlete, a world champion, a cancer fighter, or an inspiration; she is a teacher and an influencer. I will admit that there isn't much I can say or do to help make things better for Tamara, but I believe that, at the very least, we can pay respect to her by making decisions in our lives that reflect the values she has knowingly and unknowingly taught us over the last year.
Having gotten to know the O'Brien household over these last 8 months, the family is genuinely deserving of a break. Without getting into too much detail, I know for a fact that Tina has had to take time off work to support her daughter, and was forced to find for new work. As for Tamara... Let me tell you, she's a fucking world champion. Over the summer Tamara did her best to keep her position at Cora (an employer that has been very supportive of her), despite her cancer progression. I can't tell you enough how strong she is for tirelessly finishing her shifts amidst full-bodied fatigue, pain, and agony (to the point that she couldn't feel her legs). Tamara has since had to take a leave from work. 
As a friend, I cannot stand to see such a loving person go through such hardships, and I hope the  gymnastics community can rally together in support her. As a community, it is our responsibility to support our own. She has done so much for the sport of trampoline, and 
IT IS TIME WE SUPPORT HER MORE THAN EVER
.
To give back, this [long overdue] GoFundMe page is meant to support Tamara with all additional costs of living associated with stage-4 melanoma cancer. 
I originally had a friend design an "I Push For Tamara" sticker to place on my racing chair. It is something I have used over the last few months to remind me of Tamara, to push myself when I feel like giving up, and to express my genuine respect and admiration for her. The black cancer ribbon symbolizes melanoma awareness and doubles as a road. The pink? Well, that's just Tamara's favourite colour. So don't mistake it for breast cancer!
Over the next two months I plan on completing a number of road races (totalling 30-70km) in honour of Tamara's strength. As a quadriplegic athlete (with zero triceps functioning), road races are intimidating, especially if they have the slightest of inclines. I have specifically chosen this challenge to put to action the values Tamara has taught me. I encourage you to 'push' yourselves, too, in any way that you feel reflects Tamara's spirit (e.g., at the very least applying SPF 60 like she's drilled us to do, going vegan, quitting smoking, pursuing that degree/diploma you desire, joining the Terry Fox Run in support of cancer research, staying true to yourself or being authentic online).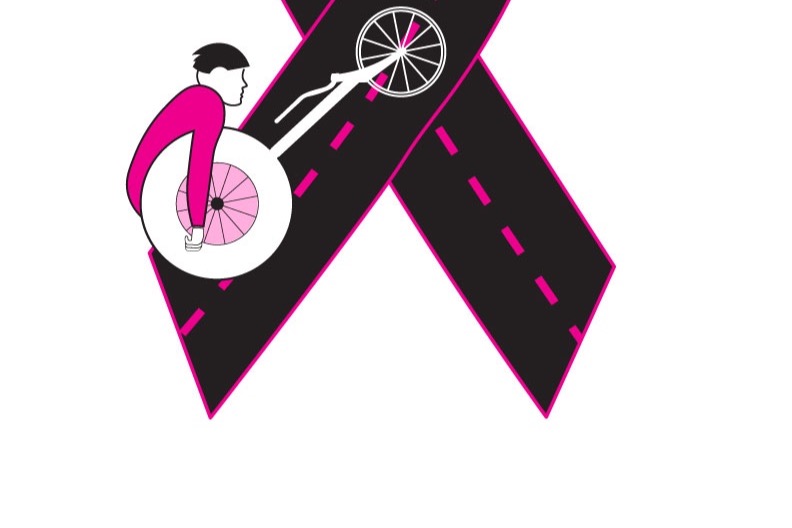 I very much hope that you will consider donating to this wonderful young woman and her mother, as they face this journey together. 100% of the proceeds will be given to Tamara. 
For some words of wisdom, be sure to follow Tamara's blog: 
https://tamarakobrien.wordpress.com
____________________________________________________________________________________________________________
Additional thank you's go out to Rosie MacLennan for getting the international gymnastics community involved and securing Canadian media coverage, as well as  Catherine Tracy (Trampoline Pundit) for taking the time to create the lovely YouTube video featured at the top of this page. I highly recommend you watch it!

Organizer and beneficiary