Aleks Horbachov: I believe I can fly
Hello! My name is Aleks*! I'm 31 years old, and a recent transplant to NYC from Ukraine. In 2016, I came to United States on a business trip and stayed for work. Throughout my life I have been engaged in philanthropy and activism, with grand plans of how I would change this world for the better. But at the beginning of 2017, I was diagnosed with squamous cell lung cancer, stage IV. This is an unusual diagnosis for my age, requires extensive treatment, and has the tendency to grow rapidly.  

I'm not a person who gives up. I fight cancer every day and I will continue to fight it! But two months ago, cancer gave me a strong blow - I fell into a coma. Thanks to a miracle and the support of loved ones, I survived to keep fighting another day. But cancer didn't give up on me either, and my hardships continued. Now I can't breathe without a special ventilator. A few days ago my doctor said that all available treatments have been exhausted. At the moment I'm staying at the Memorial Sloan Kettering hospital in New York, but my days here are limited.

Some decisions are hard to make... but what I want most right now is to return to my homeland. For each of us, home is hidden in a different place: someone has it in their closet or in a bag with many things, in houses or in cars. For me it's the city where I was born and the country where I grew up - Ukraine! Somewhere there, under cobblestone streets of Kyiv, my heart is hidden, but one cannot live without a heart for long. I miss my heart and I want to go back home. I'm not going to surrender, and will continue fighting. But in the worst case, I want to be in Ukraine. In my current condition, the only affordable transport is a specialized medical plane that can transport me with the ventilator that helps me breathe. The cost of the flight is $100,000 USD. And it is here that I appeal to you. Please help me get back home and continue my treatment there.

Thanks for reading.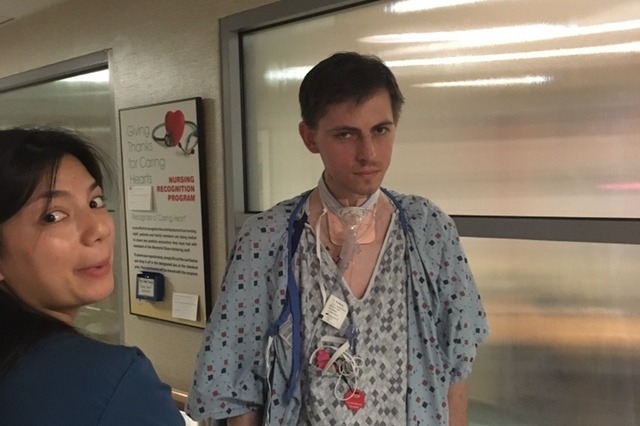 *1. I am Aleks Horbachov. 
  2. I am from Kyiv, Ukraine. 
  3. I am raising money for myself. 
  4. I am raising money for specialized medical plane which could bring me back home to Ukraine         
       where I will continue my treatment (squamous cell lung cancer, stage IV). 
  5. Since I am collecting money on my behalf, I will personally withdraw money on my own bank     
   account .
Fundraising team: Alex team (15)
Alexander Gorbachov
Organizer
Raised $25,391 from 285 donations
New York, NY
Mariya Soroka
Team member
Raised $1,585 from 17 donations
Roman Oz
Team member
Raised $1,020 from 2 donations
Maria Jegher
Team member
Raised $881 from 5 donations
Lyuba Shipovich
Team member
Raised $795 from 11 donations
See all