Hy Eisman: A Life in Comics feature documentary
If you haven't heard of cartoonist Hy Eisman, it's most likely because you were too busy being entertained by his humorous images of the longest running cartoon strip The Katzenjammer Kids and very popular cartoon, Popeye to bother looking at the credits at the bottom of the strip.  Eisman was born in 1927 and has been entertaining us with his charming storylines since entering into comics in 1950. Hy Eisman has been granted several of the cartoon industry's most respected awards as he continues to bring us laughter through his satirical drawings and continues to do so, today.  Hy Eisman is a man who has made a lifelong commitment to the arts and succeeded in an industry that has undergone transformation time and again.  Against all odds, he has overcome many hurdles as a comic artist, stemming from his years at an orphanage and extreme financial hardships from early childhood.  If you ever had the pleasure of meeting Mr. Eisman, we would sense no sign of his difficult past, and how he has battled upward into a career notorious for its many flaws and uncertainties.  Hy Eisman remains a perfect gentleman to everyone he meets, as he shares his lifetime accounts as the respected artist he has become known as.  
                                           Hy Eisman with Little Iodine
THE PRODUCTION:
The production is attempting to finish the film in time of Hy Eisman's 94th birthday in March 2021.
The donated funds are essential in making this goal. 
The production has already acquired almost 100 hours of footage featuring interviews including various greats in the comic industry, family, long time friends and colleagues.
A few more shoots are still needed to help round out the story.
The producers further need your financial help to fund the logging, scripting, editing of this footage as well as the potential rights and clearances, music, final mix, color correction, and mastering among others.
The finished film is expected to be distributed on streaming platforms like Amazon Prime, Apple i-Tunes store, and Vimeo OTT (VHX).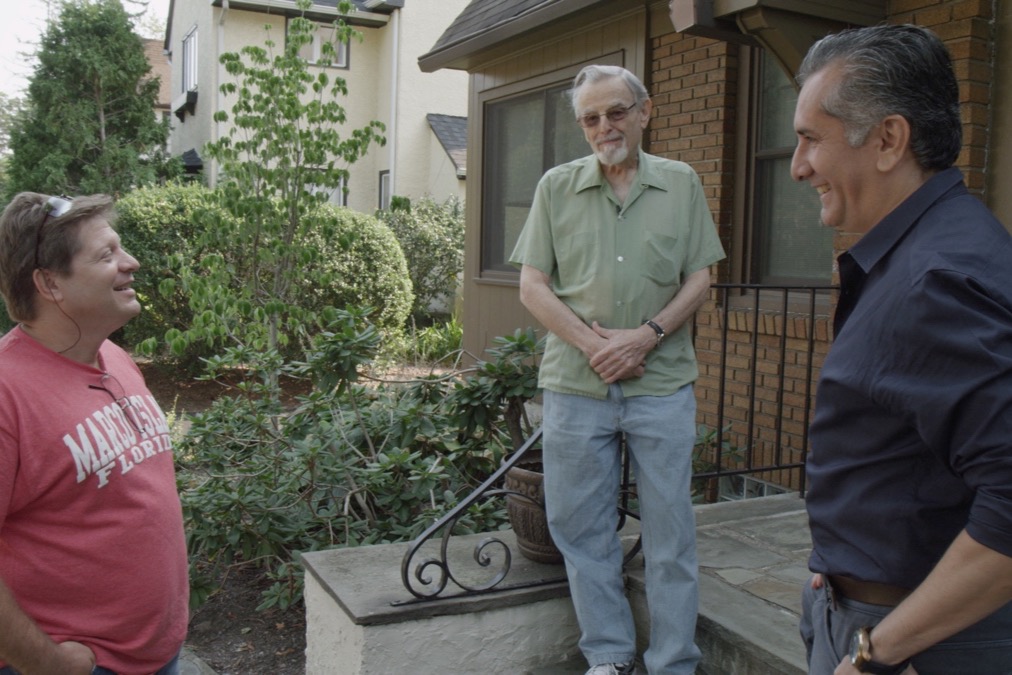 Hy Eisman with Producers Marco Cutrone and Vincent Zambrano
MESSAGE FROM C0-PRODUCER MARCO CUTRONE:

Many years ago, during my lunch break at the Kubert School, I sat in the teachers' room quietly minding my own business amid the first weeks of a new school year.  Not long into the new academic year, a positive change to my lunch breaks would occur.  I started noticing that I was listening in on conversations, which engaged many.  The discussion was on the topic of the early days of the comic industry and every instructor present had turned their focus to the senior speaker, who was seated at the head of the table.  That particular seat was not chosen by him, but given to him out of great respect by fellow instructors at the school.  That seat belonged to Hy Eisman, who captivated everyone with his knowledge of the days of old.  Mr. Eisman is one of the pioneers who helped shape the industry, in which he is still greatly involved.  
 It doesn't take long for anyone to understand they're in the presence of a man with a natural ability to captivate while speaking knowledgeably and warmheartedly about an industry that would thrive during his years as a comic artist.  I realized that there was something special about   this soft spoken, witty and well-thought-of raconteur, as he kept us all enthralled during our breaks between classes that school year.  Although he had recently been through his own personal challenges, he was still able to share his personal accounts with a twist of comical narration, bordering on hilarity.  But then, he is a humorist…
                                          Co-Producer Marco Cutrone
Hy Eisman has been a respected friend of comic legend Joe Kubert from the early days of the industry.  When it came time for Joe to consider instructors for his new cartoon school, he selected friends from his inner circle and he did not have to look very far.  For starters, he chose Irwin Hasen and Hy Eisman to be among his staff instructors of the newly formed Kubert School.  The Kubert School has now been in existence for over four decades and is going stronger than ever before, as enrollment seems to increase with each new student body of late.  There is no proof of a slowdown, not according to the masses with a desire to learn how to successfully produce cartoon images, narrative and all else entailed within a growing industry.  Please help us bring this gentleman's story to everyone interested in the nostalgia of comics as well as humanity.
Fundraising team (2)
Marco Cutrone
Organizer
Raised 540 $ from 15 donations
Denville, NJ
Vincent Zambrano
Team member
Raised 50 $ from 1 donation