Puerto Rico Hurricane Recovery Fund
We are committed to the development of resilient structures and equitable policies that will protect against a repeat of the devastating effects of 2017's historic hurricanes.


Photo Credit: Eduardo Mariota (Puerto Rico, Sept. 2017)
This initiative and fund, formally known as
The María: Puerto Rico Real-Time Recovery Fund
, has been organized in partnership with the Foundation for Puerto Rico, a 501(c)(3) corporation providing fiscal sponsorship of the fund.
This fund has been active since September 2017, raising funds to finance immediate impact and long-term solutions for the most vulnerable communities in Puerto Rico.
All donations to this fund are 100% tax deductible
.
Hurricane María was the second deadliest storm in U.S history, causing  2,975 deaths and causing $90 billion in damage on the island. 
Together with hurricane Irma, which struck three weeks earlier, Puerto Rico's infrastructure was thoroughly devastated:
100% of the power grid was taken offline, with power finally being restored to 100% of the population 10 months later
80% of the population was cut off from clean water service
80% of all crops were destroyed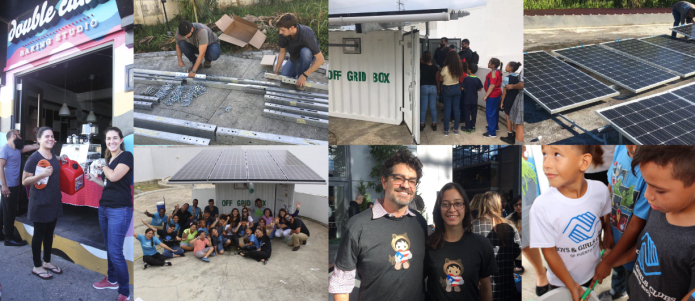 Photo Credit: Eduardo Mariota (Puerto Rico, Sept. 2017)
About ConPRmetidos:
We are an independent, non-partisan, non-profit organization founded in San Juan, Puerto Rico in 2012, that is committed to Puerto Rico's renewal. 
We believe that Puerto Ricans can build a global model of community-driven success.  Please help us #PowerUpPR.
About Foundation for Puerto Rico:
Foundation for Puerto Rico is a 501(c)(3) non-profit organization with (Tax ID 66-0776227) whose mission is to transform Puerto Rico into a global destination by driving economic and social development through sustainable strategies.
What do we do with donations received?
Power As A Service: 

We are committed to powering up community-level infrastructures that foster economic development and empower social impact.
#PowerUpPRCommunity Leadership:
 We are committed to supporting local, social-impact organizations who are best able to assess their community's needs, can marshal community support, and will protect the interests of the vulnerable and marginalized.
#LeadersAndDoersLong-term Renewal:
 We are committed to improving the lives of our fellow citizens by helping to build stable, productive, self-sufficient communities.
 #BuildItRight


---
*ConPRmetidos is committed to the accountability of your donation and will publish annual, audited reports as funds are converted into impact. 
#Transparency
You can keep track with our work via
regular updates
posted to our website and on 
Facebook
.
¡Gracias!

Organizer and beneficiary
Isabel Rullán
Organizer
San Juan, PR