Hurricane Dorian Support for Crews Inn at Ocracoke
Back porch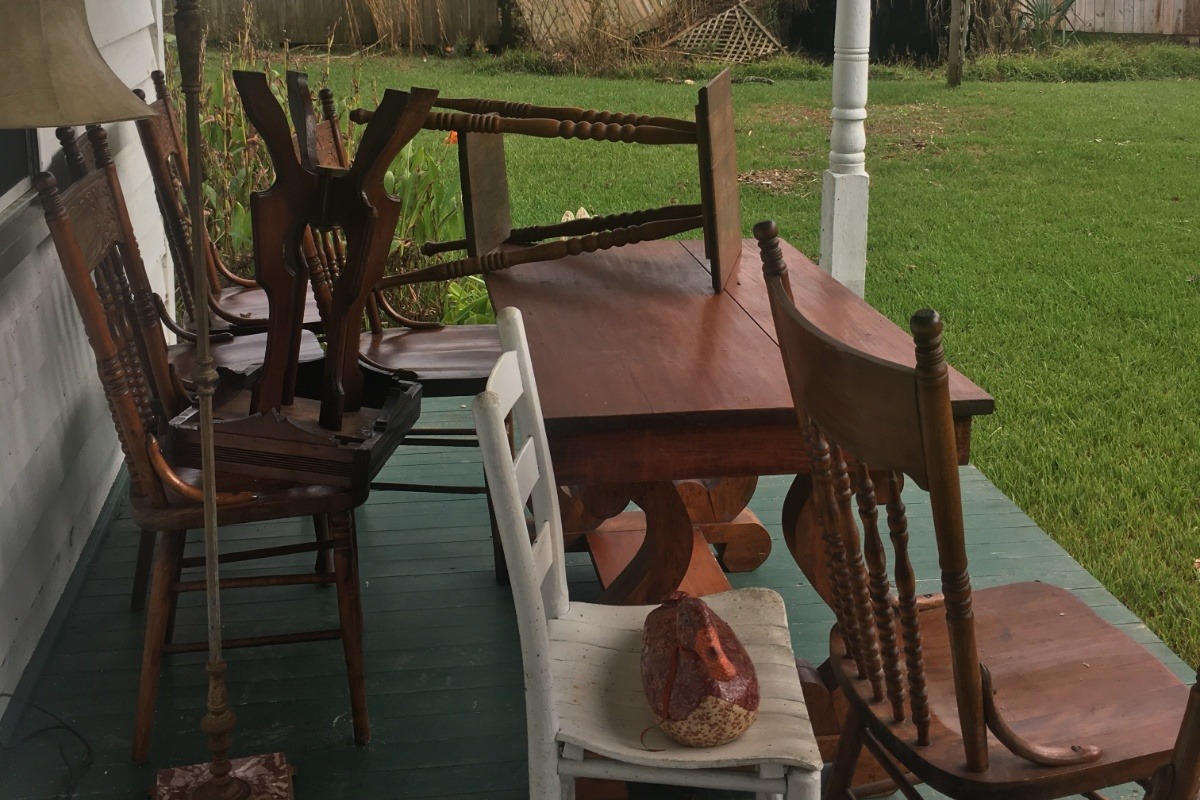 Back yard
You can see the high water mark on this wall from the flooding inside. 
The floor in the parlor here is buckling. 
My front yard
I'm sure many of you have seen footage on news outlets and/or photos on social media of the catastrophic flooding that Hurricane Dorian caused in my hometown and community, Ocracoke Island, NC. While I've never sought out help in the past with hurricane damages, due to the severity of losses caused by Hurricane Dorian and the overwhelming number of friends who have reached out asking how they could offer support, I have allowed a friend to help me set up a safe way for donating money.
The house I currently live in is the one that I grew up in here on the island. My mom was born inside this house and lived here until she died at the age of 77. This home, built in the 1800s, has experienced its share of flooding over the years due to hurricanes, but Hurricane Dorian brought floodwater over 4 ft high into the first floor, making it the worst I have seen in my lifetime. 
I also own and manage
Crews Inn Bed and Breakfast
  that neighbors my personal home. This is my source of income. It, too, is over a hundred years old and also experienced tremendous flooding. An estimated 90% of cars on the island were destroyed due to the flooding as well, including mine. Once power is restored, I will be unable to use outlets due to the damage caused by the flooding. It will therefore be awhile—likely many months—before I have full power usage in either place. While I have flood insurance on my personal home, I do not have it for Crews Inn. 
In both places, I will need to completely strip and gut the wooden boards on the first floors, lay new flooring, redo all electrical wiring, replace all sheetrock and then will need new furnishings (beds, mattresses, sofas, tables, etc.) and appliances. I will also need to purchase a car at some point. 
In the immediate future, I am hoping to obtain a generator, power cords, and power strips in order to start the rebuilding process. From there, I will need to begin disassembling parts of my homes and purchasing building materials, specifically lumber.  
I am humbled. I feel weary when I look at the physical undertaking before me, and unsure of where even to begin. During this time, I have felt shocked and submerged, and now a different tide--a rising tide of friendship, love, and community--is surging eastward toward all Ocracokers. I am immensely grateful for your donation consideration, and any donation amount is appreciated.
My hope is to help restore Crews Inn back to the beautiful bed and breakfast for you and your loved ones to visit soon.