My name is Billy Wood.  This is my story.
On October 24, 2014 at the age of 48, I had a stroke.  In the blink of an eye, I lost the ability to move one side of my body and my ability to speak.  
I am no stranger to loss and adversity.  I worked on the 92nd floor of the World Trade Center.  On September 11, 2001 the first plane to hit the buildings went right through my office.  I was one of the lucky ones since I was still on the street outside of the building. If it had been only a few minutes later, I would have been in the elevator and I most likely would not have been one of the only three people from my company, Carr Futures, to survive.  Even though my only source of income and my secure future were both taken away on that day, I never took any money from the 9/11 fund. 
After all of that loss to myself and to our nation, I did not know what to do or where to go.  I worked odd jobs including construction.  I suffered an injury, a torn ACL, and was unable to work construction. I once again found myself without a source of income.   
I decided that I needed a change of pace and I enrolled in school to become an aircraft mechanic.  I received my airframe and powerplant certification (A&P) and began working contract jobs. Due to its uncertainty, contracting is not an easy life.  The work isn't always steady, it calls for long hours, and you have to move around a lot.  Contract jobs took me all over the United States including Alaska, South Carolina, New Jersey, Texas, Oklahoma, and Pennsylvania.  
While working in South Carolina, I met my soul mate.  Her name was Melissa and she was a smart, beautiful, feisty, big-hearted girl who loved being from Texas.  She had no problem traveling with me to all of the places that contracting would take me. She was as sweet as she was feisty and she supported me even though moving so often was difficult. 
Then the second tragedy of my life struck.  In February 2013, my uncle, who was my godfather and was also like a father to me, passed away unexpectedly.  I traveled to New York be with my family and to attend the funeral.   Soon after that, I was laid off (the nature of contract work) and Melissa and I moved to New Jersey for a new job.   We were only there for 5 months before I was laid off again.  Luckily, we were able to move back to South Carolina.  I was working as an aircraft inspector and things were good for us there.
Then another tragedy struck.  My mother had a stroke.  I had to travel to Florida to be with her in what turned out to be the last days of her life.  She passed away on October 3, 2013 and my family was heartbroken.  To add insult to injury, I was fired by my company while I taking care of my mother. So I found myself out of work once again.
Melissa and I went to her home state of Texas for a short time and then we found work in Oklahoma.  We got engaged while were there and we were happy, but shortly after we moved another horrible tragedy struck.  On February 18, 2014, at the young age of 38, Melissa died.  I lost the love of my life and my world was rocked.  I had lost my uncle, my mother and my fiancé in the span of one year.  I succumbed to the grief and I had to leave my job.
I started to pick up the pieces and found work in Florida.  The work was hard, but the long days helped to keep my mind off all of my loss.  Then, another tragedy struck my family.  My older brother, Bobby, had a stroke.  I traveled to New Jersey to be with him and offer any help that I could.  The good news is that Bobby made a miraculous recovery and today he is fine.  I thank God every day for that.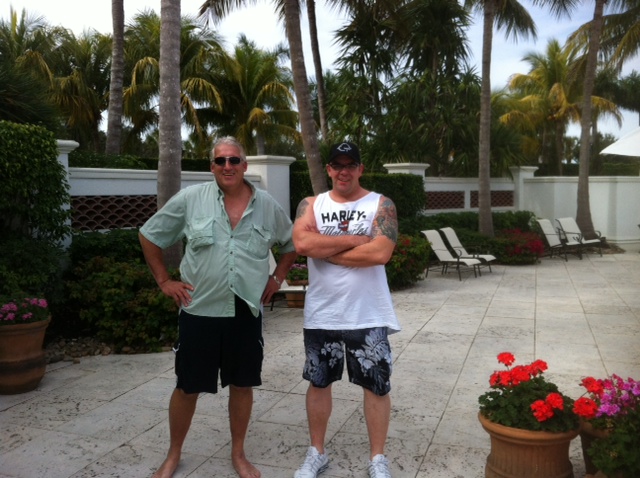 My contract in Florida was over and I moved to Pennsylvania in September 2014 for yet another job.  I was keeping my head down and working as much as I could to pay off all of the debt that I had incurred through all of the layoffs and the moves of the past several years.  
On October 24th, 2014 my own tragedy struck and I had a stroke.  I was in the hospital until November 5, 2014 and I am currently in a rehab facility slowly trying to regain my speech and my movement.  It's a long process and it may be years before I can work again.
 Through all of this strife, I have always been able to make my own way in the world.  This time is different and I am very unsure of my future.  I am doing well in rehab, but the doctors are unable to tell me when I will be able to walk and talk again, let alone work.  I am in danger of losing the few things that I have left in this world, so I am asking for any help that you may be able to give.  I have never been in this situation and it pains me to even have to ask, but anything at all will help to offset the astronomical medical bills that I am facing.  
I am strong, determined, and resilient and my story is not over.  Through the grace of God and the support of all of you, I will come back even stronger than I was before.
Your Bapa's Bitches And Crew 
Organizer
#1 fundraising platform

More people start fundraisers on GoFundMe than on any other platform. Learn more

GoFundMe Guarantee

In the rare case something isn't right, we will work with you to determine if misuse occurred. Learn more

Expert advice, 24/7

Contact us with your questions and we'll answer, day or night. Learn more