Hunter S. Thompson Hometown Statue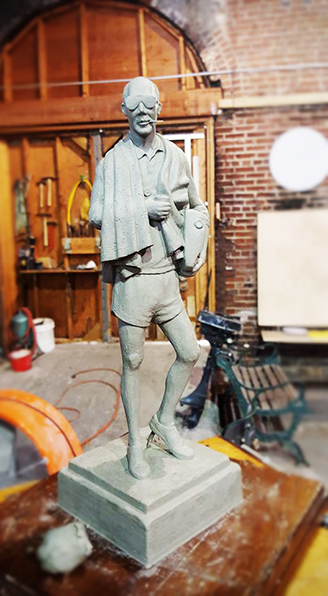 Calling all fans of Hunter S. Thompson and Gonzo Journalism!!!! For three decades Hunter brought us some of the most iconic literature and redefined what media is today. As part of an initiative between local community organizers and businessmen, GonzoFest Louisville and the city of Louisville we are calling on YOU for the first big push towards raising the funds necessary for each stage of this life-size bronze statue of Hunter S. Thompson: creation, placement and maintenance for generations to come.
Bronze is not a cheap medium, and we will need your help, but this beautiful metal will last forever for all the world to see. 
The statue was commissioned as the result of a series of suggestions written by Kentucky poet Ron Whitehead to Louisville mayor Greg Fischer of ways that Louisville could honor Hunter S. Thompson- the Man, the Myth and the Legacy.
"The statue of author and Gonzo journalist Hunter S. Thompson distills the life and popular identity of the man to the writer's young visionary self," says sculpture Matt Weir. "In particular, I have determined Hunter's iconic campaign defeat for Sheriff of Pitkin County, Colorado as the visual fulcrum on which to depict and balance Hunter's complex and contentious identity." 
Weir, a master sculptor, was commissioned to create the statue.
As Hunter's artist counterpart, Ralph Steadman, observed, "To watch Hunter, as he was then, is to watch the flesh and bones of a very real naive American pioneer full of uncertainty and yet the sense of wrong that was being forced onto the people."
The statue represents Hunter with an American flag draped over his shoulders. He is depicted with his typewriter under his arm and recorder at his side. The design also contextualizes Hunter S. Thompson in a heroic statuary composition, wherein the bronze is mounted on top of two, stair or bench like, tiers of granite on which visitors are encouraged to visit and relax. Furthermore, wrapping around the top tier of the granite pedestal, a quote of Hunter's will be engraved into the stone.
Ladies and Gentlemen, readers, activists, scholars, journalists and vagrants: Hunter S. Thompson gave us a National Treasure! Join us as we pay tribute to the Godfather of Gonzo Journalism, and participate in his legacy, and the immortalization of Prophet of the Mortality of the American Dream. 
This is a chance for HUNTER'S FANS EVERYWHERE to be part of GONZO HISTORY! Make your mark in this incredible and exciting venture.
Take a moment to look through the perks (
www.imgur.com/a/QM7nB
) and make a contribution or just give what you can. Take a look at our Instagram, twitter, Facebook, and other websites. Please share, like, and help us spread the word. Gonzo is in YOUR hands! Write! Create! Live Free! Donate!
Keep Louisville Gonzo!

Organizer