Please help Yen lau get back to Mexico & heal Lyme
Please can you Help YEN LAU get back to Mexico to heal lyme. 
How did a bite cause my whole world to collapse, Twice?!
Please help me get my life back. 

Here is my updated story 2021, I hope you can donate, any amount  would honestly give me a chance to continue treatment at Bio Advanced Medical clinic in Mexico.  
I have now discovered there is spirochetes in my root canals teeth four of them  ,
that has hindered my recovery and stopped my treatments from being successful. My four front teeth with five cavitation surgery  must be removed of bacteria infections before Lyme treatment can continue.
The power of social media could literally save my life. I am asking for help to get me the treatments I desperately need.
Please share this for me. 
 This is estimate of the cost  


Ive been on this journey for almost  four years. Four years. I almost can not believe that , and now this is my life. 
First I was bitten by a tick in July 2017 and contracted lyme.  I never reached full recovery, left half functioning, riding the rollercoaster of the disease as it fluctuates with  good days and then extreme  lows.
I tried to live some kind of life battling 40+ symptoms. After two years of suffering in June 2019 , I flew to Crete on a healing retreat. I was able to meet my hero, Takis. I was able to reach one of my many goals. It was an amazing achievement.


I always wanted to visit Takis' Dog Sanctuary but after this disease I didn't know if it would ever happen. I had been following Takis for years on Facebook, his story, his heart and journey on giving his life to dogs resonated with me. 

I would laugh and cry and feel all his posts. To me he was a god to dogs and doing gods work and I just wanted to thank him in person. It was so personal to me, in the worst days of my life fighting this horrid disease , feeling I had nothing to live for,  ma small little fur baby changed my life in a million ways, made me smile and laugh in the worst painful days. 

My beloved YOSHi, a little dachshund puppy came into my life and saved me, he gave me a reason to fight even harder. I've had family and long term friends all give up on me when I wasn't making any progress and they left me one by one and shattered my heart. The ups and down and complexity and looking well leads to a lot of misunderstanding of lyme. My YOSHi has mended my heart and gave me the love I craved and needed.

I visited the sanctuary, I hugged the dogs and I felt like I was in heaven I was so happy and smiling from ear to ear taking selfie's with Takis. 
Sadly the next day I woke up with a tick on my arm. Once again I was infected with lyme, I flew back to Scotland and went straight to hospital to remove the tick.

Takis always asks me why would you come that far, it's crazy! I still don't regret visiting the sanctuary. To see the dogs and to see them happy and loved. I'll not live my life avoiding places. Especially my dreams. I hope to heal and once I do my next goal will be to be a volunteer at Takis sanctuary and give back and help animals that need love and support like I once did. 



To be Fighting for my life for many years in a country that does not have a cure for chronic Lyme is unbearable.  The suffering i go through is truly unimaginable. I am not sure I have the strength to go through this emotionally or physically again, to just live a quarter life, merely existing and waiting for a good moment to live a few hours once every few days. If I am honest, after the second bite,

I felt that suicide was my only way out. It is truly a hopeless position to be left in.



Every minute Of everyday regardless of how I psychically appear i am still sick and in pain. When the symptoms give me a break I get to experience glimpses of life, and then payback with symptoms that are so severe and so intense, it is too cruel, all because I had a moment of living. On and on this will go, UNTIL I can get treatment. 

My go fund allowed me to fly to Mexico 
To Dr Calzada in Tijuana in October 2019. I got all treatments . 
I then rebooked for March 2020 and due to covid travel was cancelled. 
The treatments I got were , stem cells, ozone therapy, IV chelation, colon hydrotherapy, platelet rich plasma injections and Bio magnetics. 

There is no such treatment available in the U.K.  Patients visit the clinic 4 times, the first year and then several more the following years as ongoing treatment is a necessity to eradicate the disease.The clinic has a great success rate. 


The treatments costs £3500 per visit. 

This cost is a fraction of the price for the same treatment available in other countries. The money I have received has funded treatment as well as flights and accommodation. Hotel accommodation given with a patient discount can range from 1k -2K a week depending on the season. 
Flights from UK to San Diego range between £1000-£1500. 

When lockdown happened in March 2020, I wasn't able to get treatment that I desperately needed. I took matters into my own hands and I worked with online functional doctors. I researched everything I possibly could. I had to place trust in these doctors to try and provide the support and treatment that could help me heal.

Sadly after this treatment I felt worse. I was told that this may happen but I wasn't prepared, I was once again bedridden for 5 months and this ruined my long term relationship. Now I am solo and doing this all on my own. I need to be brave, especially for my Yoshi.
After speaking with my doctor, they suggested that I wasn't improving due to my four front teeth having root canals (meaning the nerve endings are removed, no oxygen or blood supply and it's a perfect breading ground for the spirochetes (lyme) to be).  
This was confirmed  with DNA Connexions, a test that cost £1000. I was also tested for Babesia Divergens, it was positive. Babesia divergens is a European co-infection to lyme, it's a Malaria type parasite bacteria infection. 


I feel so defeated,  to be always be receiving such terrible diagnosis with no treatment plan. 

A biological dentist told me that when he saw my chart he questioned how i am still alive. That my body has too much infection. I cried for days to hear this. 

My journey began at 30 years old, my prime time. I feel robbed of the last four years. I refuse to allow it to take anymore years. To now be 34 years old and a young single female to be removing my front four teeth and not allowed to have implants due to a compromised immune system is beyond daunting. It is  definitely not a procedure I want to have to do. I am filled with dread but hope also that this is the last piece of the puzzle, once the the bacterial is removed. I hope this can give my immune system a chance to fight back. 

Travelling when chronically ill is going to be extremely gruelling on my body, it will be pushed to the limits as ahead of me lies a long 28hour  journey. 

Going from Scotland to London then to Chicago to San Diego, then I need to travel across the border to Mexico. The scariest part is also travelling during covid 19. My weakened immune system can not handle any more infections. 

I will be in a foreign country thousands of miles away from home. Trying to recover in a hotel. The quarantine laws In Scotland Is ten days in a hotel when arrived back at the airport. I will need also need extended time in hotels in Mexico to allow recover time for teeth extractions and surgery. 

This will be at extra cost this time round due to having to quarantine in hotels.

I can not afford the dental treatment and the accommodation. the previous go fund me doesn't cover. I am weary to share this t a time that the world is suffering with the pandemic. My heart bleeds for us all and I hope everyone gets the help and support they deserve and need.

 My dental treatment plan is 4 extractions 5 cavitation surgery, needing PCR, platelet ozone to clean out the infections and bacterial site and rebuilding a zirconium bridge 
Costing around 8k. 

This will take a few weeks to recover in the hotel and after I have recovered, I then will be going to get lyme treatment.
Mexico is not a holiday , not by any means.  Each day will be spent having intrusive and extensive treatments. 

I will then be left to recover in unfamiliar surroundings and then try to get myself to the clinic the following day. As frightening as this may be, nothing could be worse than left living daily with this amount of suffering. 
Being brave and having high hopes, I scheduled an appointment with the dentist 
I pray I make it there on March 18th 
And raise enough money to get the dental surgery done. 
I will document my journey and share updates and show where the funds go, my treatments and the bills. 

I honestly have exhausted every avenue for recovery. I spent all my life savings on numerous doctors and on so many different protocols. Now financially I am stuck, on  disability and unable to work.

I have never asked for anything in my whole life. I have always been fiercely independent and proud that everything I have. My previous go fund , and the funds I have been given I used for my first treatment and to be told I need the teeth extracted after I have had all this treatment is gutting to hear. 

I feel like I could have kicked myself. Once again I Have to plead and ask for help, but I have no other choice. 

There is no room for pride. 
I learned the day I lost my health I lost everything. I NEED help and I'm here to ask for it. 

It gives me so much hope in my heart to know that majority of their patients have fully recovered after visiting this clinic and now live full, happy and healthy lives. 

This is my dream, my only wish. 

Thank you for reading my journey and story. Lots of light and love, 


Yen

If you have the time to read, this is my full story. It is detailed, even if you can't read it all, please just share my story and donate. 

Every penny will truly help me heal. 

_____________________________________________







2 years ago I went camping in Loch Lomond in 2017, and was bitten by a tick.

Back then I had never heard of Lyme and was  totally unaware that a bite could cause this much destruction.

There is nothing on earth that could prepare any human being for what was going to happen. 6 weeks later my whole life was torn apart,  vanished overnight. 

I went from having such an amazing adventurous life, a happy, optimistic and bubbly character that loved and lived life to the fullest, working full time as a business manager/makeup artist.

Then all of a sudden my whole world collapsed in front of my eyes and all I could do was watch and endure the psychical  torture. I was left completely bedridden for months and in need of a wheel chair for my bad days. 
I have received many different diagnoses. After having the run around, visiting over numerous doctors.  After enduring so much suffering I stepped out of my comfort zone and plucked up the courage to go on a spiritual retreat in Crete. In the hope it would heal the traumatising wounds that Lyme had haunted & scarred me with. Shockingly, it broke me even more. 

The second infected tick bite has chronically suppressed my immune system even further affecting my organs.

Leaving me dependent on heart medications, Parkinson medication, steroids, thyroid medication, immune modulators , pain killers, inflammatory drugs and so many more symptom suppressing drugs that can't cure my illness. Sometimes the medications stabilizes my symptoms, making my body able to survive but still not able to fully function. 

In the past years I have not been able to work, not once able to run or jog, go on a night out , dance, exercise, drive my car far, haven't touched a drop of alcohol. 

To just be me and just live without the worry of the aftermath. 

At my early and worst stages. I was not able to get out of bed, hardly able to walk, talk without slurring all my words with constant brain fog and forgetting what I was saying mid-sentence.

At 30 years old, having to be bathed by my little sister, as I was too weak...the only thing I could do was sob in the tub.

I had to use a bed pan as I couldn't get to a bathroom. I ate in bed as my whole life was in bed. Laying still, I would feel the whole room spinning. I dealt with a 24/7, unbearable migraines/headaches, sickness and nausea. I lost all my gains, weighed only 7 stones at my most fragile state. I was dizzy every minute of the day feeling like I was being poisoned. It's so hard to explain in words as I have never known pain like this could ever exist, with no end in sight.

The relentless suffering and symptoms attacking daily, it is inhumane.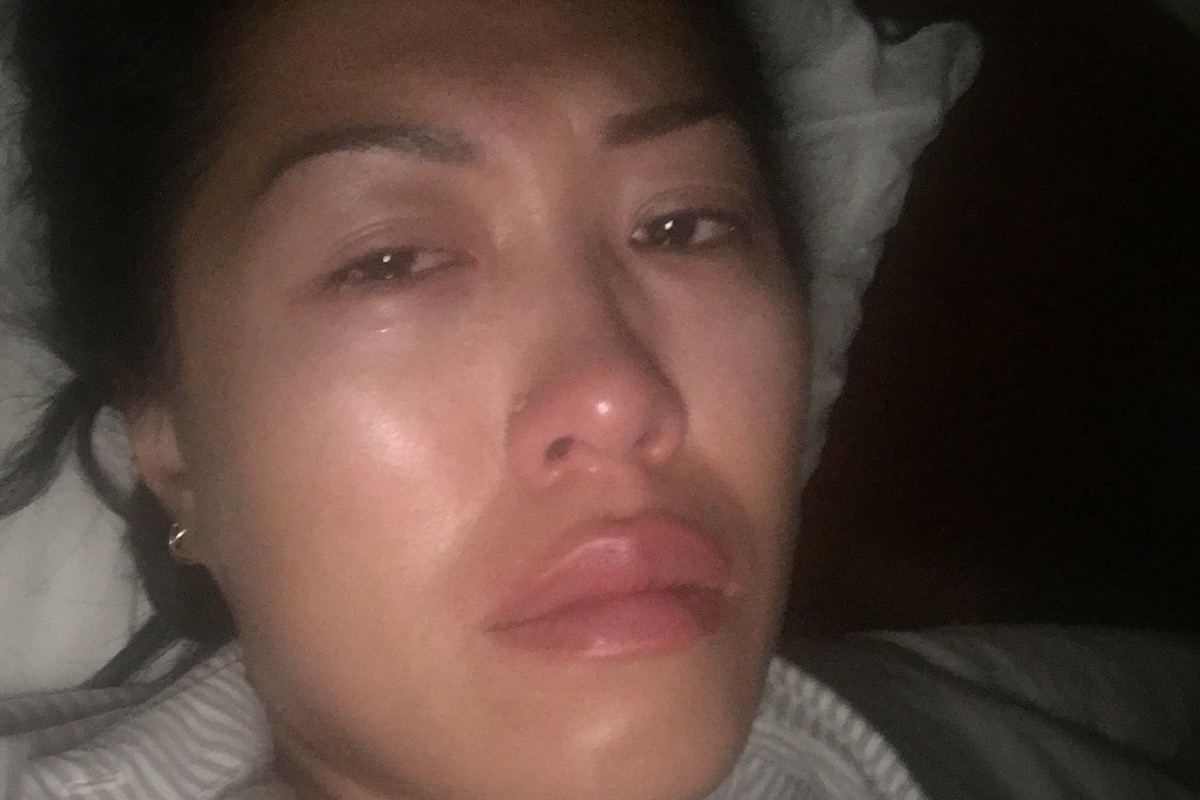 My entire body aches, deep into my bones. It has left me trapped in a darkened room completely disconnected from the world. 

A prisoner in my own body trapped, inside a active motivated mind. 

Chronic Lyme disease is like being stuck in a burning building whilst on fire with no way out. Millions effected share this same analogy. 

So I read and researched relentlessly and read many self help cure books, took many supplements, followed many different protocols, herbal,  antibiotics, detoxed, binders, changed my diet numerous times.

I've paid to work with functional doctors, private infectious disease professors, numerous endocrinologist, neurologists, rheumatologist, physiotherapist, bio chemist, herbalist, naturopaths and nutritionalist. 

After Having the best  week  of my chronic illness life, on a spiritual retreat, meditating daily,  working on self love and self care. 

I was feeling semi normal.. it was amazing, I was smiling from ear to ear, I felt like the luckiest girl in the world, I thought this is my second chance at life... on the last day of the retreat I looked down and there it was again a tick stuck on my right arm. A bullseye EM rash appeared and even then I tried to remain calm and positive until the symptoms came back and knocked me down. 

Recently more and more coverage is coming out in the media and the news about the epidemic of chronic lyme.  There is a documentary available to watch on you tube:

BBC1 Scotland Disclosure Lyme disease uk.

When first bitten it can be treated with anti bios. However, I didn't discover I have lyme until a year later. 

When it becomes chronic and the bacteria has eroded deep in to my tissues, organs and brain taking control over my body. The worst part of being sick daily, is having doctors tell you there is no cure.

There are really no words to explain the devastation and emptiness l feel. 

I do get good days and get back out In to the world I miss so much. Those are my victory days as I battle through symptoms but at a lower pain level. Those are the best days! Seeing an glimmer of my former self. 


I make the most of it,  smiling and I am so so happy. Embracing the simple joys of life. I wish I had those days everyday. Now I just live day by day, being present in the moment.

Despite my challenges I remained positive and try my best everyday to live and be the girl I am and not become my illness. 

Sadly I do get judged for my good days.

As invisible illnesses are so misunderstood.

The confusion of been seen out leaves room for disbelief. This part is heartbreaking, as these days are the days I'm winning the war with my own body. 

But that isn't enough to sustain a life, few good days here and there. 

Living on a time restraint, only able to be out for a few hours before I crash. Watching everyone around me progress with their lives and careers, whilst life just stands still for me. 

This disease has robbed me of life and left me living a life out within my control.

It is beyond devastating .

I am still in disbelief that my life turned out this way. I lost my career, my independence, my home, the majority of my friends and even some family. 

The isolation is mind numbing. 

I'm left with a broken body, left fighting to function everyday. I desperately need treatment so I can try get back into the world I miss so much, or even for a better quality of life. I would be so so grateful.

All I want to do is live.


Living stuck in a human torture chamber and being stuck in a constant battle but looking well is the scariest, loneliest and most helpless feeling I could ever try to explain. 

I want to be cured and not managed by an army of medication.


Please help me, I Just want to live. 





Organizer
Yen Lau 
Organizer
Baillieston, Scotland, United Kingdom
#1 fundraising platform

More people start fundraisers on GoFundMe than on any other platform. Learn more

GoFundMe Guarantee

In the rare case something isn't right, we will work with you to determine if misuse occurred. Learn more

Expert advice, 24/7

Contact us with your questions and we'll answer, day or night. Learn more