Cat Rescue Needs Donations
The Last Chance Cat Ranch is  not-for-profit cat rescue that is a no-kill organization.  We are located in Lethbridge, Alberta.  We were officially incorporated as a Registered Society in Alberta on January 9th, 2006.  We offer tax receipts for any donation over 20.00.
Our mission is to save homeless cats and kittens from death. To provide necessary veterinary care to rescued cats. To find forever homes for abandoned and stray cats.  To assist with re-homing when a pet owner experiences a life altering change which forces them to have to let go of their beloved pet.  
2017 was a catastrophic year for all rescues.  There was an explosion of kittens.  Although we advocate strongly for spay and neuter, we haven't seen much of an upswing which results in unwanted pregnancies, births and deaths.  2018 has not seen improvement.  It is a harsh and nasty reality that many cats live the most horrible of lives.
Our current vet bill sits in the 20,000 dollar range.  We have experienced not only having to spay and neuter 70 plus kittens, but have some cats with horrible injuries, like broken pelvises from being thrown from a vehicle, cat's hit by a car,  a little girl swung by their tail so hard that it severed the nerve to little Hannah's  bladder resulting in her having to have her bladder expressed manually three times a day and her tail amputated completely.    We had a cat come in who had been attacked by a coyote and managed to escape.  We treated him for his wounds and then worked with him to have him gain trust.  He is a loving cat and had come out of his shell a lot.  We have dozens of stories we could share.  Below are some pictures with comments.
We fund raise constantly.  Bottle drives, craft fairs, bake sales.  It is never enough.  Our vet bills are astronomical.  A result of difficult cases and not just a few.  Our food bill alone is well over 2 grand per month.   We have more than 100 cats and kittens in our care waiting for a home, or to heal enough to go to their furever home.  We are at a point where we aren't really keeping our head above water.  Yet the calls keep coming.  The need keeps increasing.  We cannot do what we do without the public's support.  We need your money, as cheeky as that sounds.  It's not enough to be sorry, we need you to send us money, or food.  You can always private message us about what kind of food we are in need of.  
I cannot stress enough how much we need your help.  How much we value and appreciate your help.  We do not ask for money lightly.  And it should be noted that we receive absolutely no funding from any agency or government.  We fund raise for every nickel.  And not one single penny goes to anything else but the rescue.  We are 100% volunteer run, no one is paid, not even the founder of the rescue.
Please consider donating. We NEED your help.  As stated, donations over 20.00 will receive a tax receipt at the end of the year.  Please be sure and supply your address at time of donation.
Please visit our website.  thelastchancecatranch.com
Some stories to share:
Oracle came in virtually dead, they couldn't even get an iv line into her she was so dehydrated.  She was severely malnourished. The vets finally managed to get an IV in, and her life was saved.  She was later found to be pregnant and had her kittens a few weeks later.  Poor girl, was likely her 10th plus litter.  She will have no more.  She also came in with her 6 month old kitten, Gemini, who had severe upper respiratory infection and may lose her eye yet.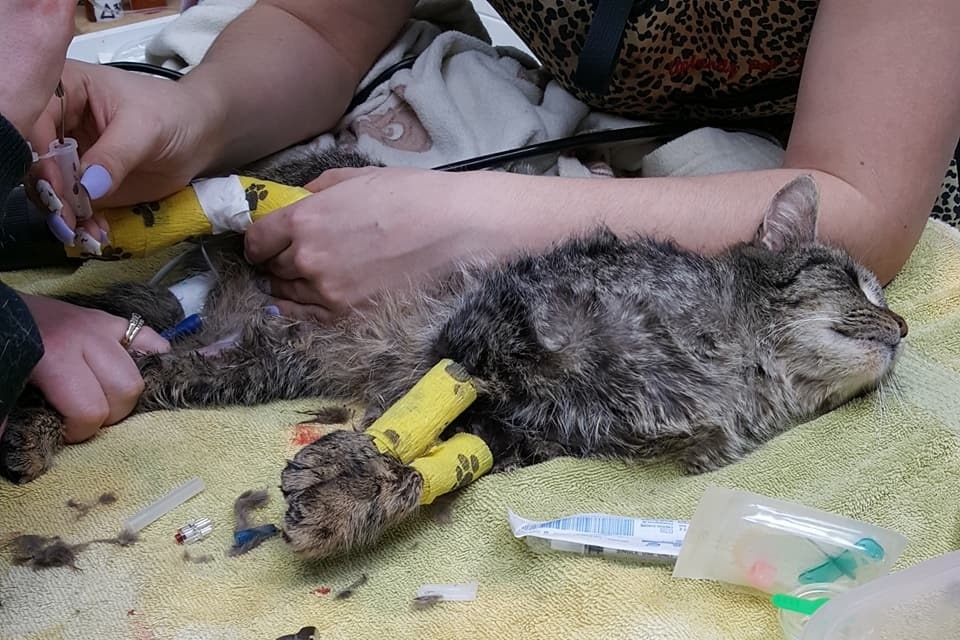 Oracle and Gemini (notice her eye)
Kristoff had a serious upper respiratory infection.  He lost his eye to it.  He had surgery to remove it, then scratched his stitches out and had another surgery to repair it (pic below).  The stitches let go and he had yet another surgery.  Very costly and painful, poor guy.
Gingey was found frozen, laying on the highway.  A wonderful lady stopped to collect him as she thought he was dead.  He was alive, but frozen ears, paws, tail, nose and rectum.  The temp outside was -35 degrees.  Not much longer out there and he would have died.  He has made a full recovery, albeit missing some pieces, and had been adopted.
 Taylin was found filthy dirty, starving and in evident distress.  Turned out she had possibly aborted her kittens and had pyrometra which is an life threatening infection in her uterus.  She likely only had a couple more hours of life left when she came to us and taken into emergency vet care.  She recovered fully and has been adopted.  

Organizer
Laurie Olmsted
Organizer
Lethbridge, AB