House Fire and Legal Help/Recovery
http://khon2.com/2018/01/08/firefighters-called-to-3-alarm-fire-in-mililani/
https://youtu.be/NsOvohj9Ta0
I was wrongfully restricted from being in my house.  I was robbed by the person who I had removed from my house that I had attempted to help out of the kindness of my heart (as my Grandmother raised me to do and had done her whole life).  I've been living out of my car and finally an old friend opened up his house to me temporarily.  My house was destroyed in the process of this individual moving their things and some of my items out of the house.
The law has not offered much support towards me in dealing with this vindictive individual who has been causing me much anguish and stress over the past 3 months.  The legal system wouldn't allow me to return to my home the day of the fire and deferred my hearing to fight to return to my house for another 9 days.  Now I need help with recovering what was lost and obtaining an attorney going into court as this has exhausted all of my funds.  Anything helps and I wouldn't be asking for help normally.  But given the magnitude of this situation I'm currently facing and the false allegations that have been made against me.
I need all the prayer and support I can get as I'm currently being tested unlike any time I've been tested in my life.  Thank you in advance for anything you can offer as I won't be able to return to try and do recovery possibly until after the 17th when I return to court.  I need to obtain my lawyer on Tuesday in hopes of getting a fair trial against an individual who has no regard for who she hurts.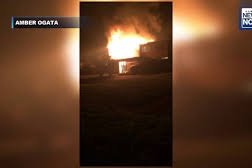 Organizer
Anthony David Dees
Organizer
Mililani, HI