Trinity Tabernacle hosts Hope Day
Hope Day Saturday June 4th 2016
What is Hope Day? 
Hope Day is a movement of like-minded believers who have joined together to transform their communities. Hope day is being hosted at many churches in NYC and LI. 
What Hope Day seeks? 
Hope Day seeks to build long lasting relationships between the church and the community.
Why is Hope Day important? 
We envision the people of the community of Marlboro experiencing the tangible hope of Jesus Christ. Our mission is to empower our church, reach out to the community, engage, serve and transform lives.
Who are we? 
We are Trinity Tabernacle of Gravesend. We are combining the efforts of the church and organizations around the area to come together and help our community. 
What is happening on Hope Day? 
We will be providing a Kids Zone where children will be able to enjoy an afternoon of fun along with their parents. We will be serving lunch and distributing groceries to the attendees. We will have choirs performing. We will also have a DJ. We will be providing many more activities for the community. 
How you can help? 
You can help in any way you can. You can volunteer your time or your services. The main reason for this GoFundMe campaign is to receive financial contributions. We are a church that believes that we need to look out for each other. This means do what you can to help those who are in need. We want to spread the gospel to as many individuals as we can possibly reach.
We know that not everyone can afford to give large donations but if you can afford even
$1 
we will appreciate it. For those donors who donate in excess of
$100 
we will display your name on our event pamphlet. You can keep your donations anonymous if you wish.


Your donation is greatly appreciated. If you require documentation for tax purposes we will gladly provide it. Please request it.

If you would like to become a corporate sponsor:

GOLD SPONSOR ($3,000+)

With your GOLD sponsorship:
-Your organization's name will be listed on the sponsor board at the main event
-Your organization's logo will be printed on all volunteer t-shirts
-You will be recognized on the hopedayny.org website with a link to your website
SILVER SPONSOR ($1,500-$3,000)

With your SILVER Sponsorship:
-Your organization's logo will be printed on all volunteer t-shirts
-You will be recognized on the hopedayny.org website with a link to your website
BRONZE SPONSOR ($750-$1,500)

With your BRONZE Sponsorship:
-You will be recognized on the hopedayny.org website with a link to your website
You can find us at the following link:
https://www.facebook.com/hopedayattrinitytabernacleofgravesend/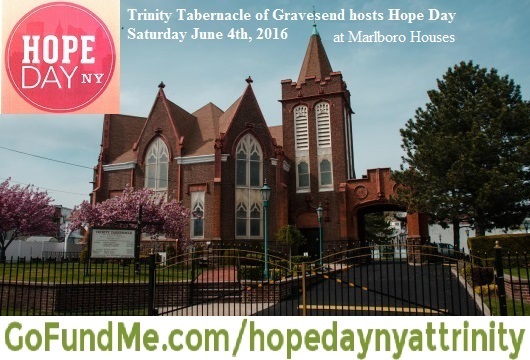 Organizer and beneficiary