Hope for Neglected Children
Hope for Neglected Children
works with a non-profit organization that runs three on-site group homes for children who can no longer be cared for by their parents. The organization is called "Nosso Lar," located in Brasilia, Brazil, where it currently serves around 30 children. "Nosso Lar," which means "Our Home" in Portuguese,  is an all-volunteer-run organization that has been serving the needs of abandoned children for over forty years. Before coming to Nosso Lar, the children were often depressed and malnourished. In their new home in  Nosso Lar,  the children receive medical treatment, physiological counseling, healthy meals, and personal care.
Our goal is to raise money for this organization, so we can make these children's lives brighter and better. We are  raising money for what Nosso Lar needs most. The children need new sheets and blankets for their beds, new clothes (ages 4 to 10), toilet articles (shampoo, soap, and lotion) and toys for the children. 
We are hoping to raise 3,000 dollars. Our aim is to be able to give the supplies to the children at Nosso Lar by the summer of 2018. Every donation is greatly appreciated and will make a huge difference in the children's lives! A donation of 100 dollars provides one child with a set of sheets, a blanket, two new outfits, socks, underwear, and a bottle of shampoo and conditioner.
If you would like to find out more, here's a link to my website: 
https://hncbrazil.wixsite.com/hncbrazil
!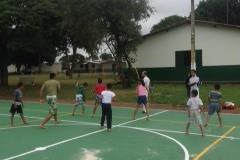 Become the first supporter
Your donation matters
Organizer and beneficiary
Emma Bomfim
Organizer
Potomac, MD
Hope for Neglected Children
Beneficiary