**HALLEE'S NEED HAS BECOME MORE URGENT, as the program is now pressing her for a start date though she has not reached her fundraising goal. ANY IMMEDIATE HELP is needed and so very appreciated. Thank you.
PLEASE SHARE WITH FRIENDS AND FAMILY ON SOCIAL MEDIA. THANK YOU!
My friend Hallee, who I love so much, needs our help now more than ever. She is currently suffering from a very rare, debilitating form of OCD, which effects only about 1% of the population. Now she has the opportunity to get the help she needs -- but only if she can raise the funds to pay for it. 
_________________________
In 2009, Hallee's Senior year of College at Vanderbilt University lasted only a week after she moved into her dorm and was unable to function.
It seemed to happen out of nowhere, but she could not get her mind off of moving things -- even a millimeter -- because they felt out of place to her. It got so bad that she was unable to sleep and had to move back home to Pennsylvania with her parents in order to seek help. It took her 9 years but she finally earned her degree in Engineering (one of a minority of women in the program).
After going to a psychiatrist she was diagnosed with Obsessive Compulsive Disorder (OCD), a chronic, long-lasting mental disorder in which a person has uncontrollable reoccurring thoughts (obsessions) and behaviors (compulsion). People with OCD feel the need to take actions over and over. She tried an intensive outpatient program, which seemed to work until her symptoms become much worse. 
Hallee's particular case of OCD, which has been medically diagnosed as "severe," manifests in a way in which she is terrified of forgetting information. For instance, a piece of mail that most of us would look at briefly before opening causes Hallee to spend exceedingly long periods of time analyzing ("Do I need this address? Am I going to forget it?") Sometimes she can have 40 obsessive thoughts that she compulsively acts on 50 times. Until Hallee acts on these obsessions, she deals with many of the same symptoms that occur during a panic attack (heart racing, palms sweating, headache, extreme anxiety, etc.) Needless to say this affects not only Hallee, but everyone in her life.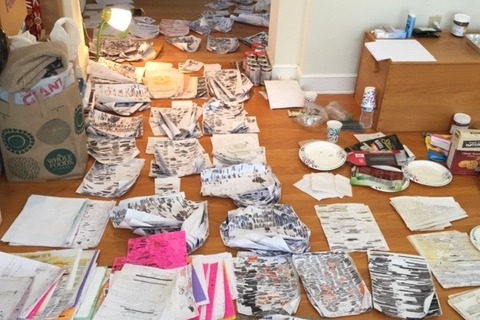 Hallee's OCD causes her to write lists for everything in an effort "not to forget information." It has become so severe that within the last few months alone, she has written a total of 528 pages worth of lists and goes through a pen every day. Her OCD prevents her from simple things such as leaving home, using a phone, going on a computer, and even showering. 
Despite trying SSRIs, SNRIs, antipsychotic medications, ketamine, and some other inpatient treatments in 2012 and 2015, Hallee's OCD is worse than ever and only getting more severe. 
She was feeling utterly hopeless when she learned about the Houston OCD Program, an inpatient treatment program in Houston, TX -- one of only a few programs in the country that can help people like Hallee.
Unlike her previous attempts at residential inpatient programs, Hallee truly believes that treatment can work this time, since the program only accepts a total of 13 patients (much smaller and more personal attention than her previous program, which had about 40 patients), real-life weekly outings and exposure to the real world to work on and improve Exposure Response Prevention (ERP), the only proven treatment for OCD. ERP forces those with OCD to face the horrible feelings that come from not acting on an obsession.  And finally, a newly opened intensive out-patient therapy center in Philadelphia will be there to help her transition back into normal life once she completes the program. 
This opportunity is an amazing one that could finally change Hallee's life for the better. The only problem is that this residential treatment for OCD is not covered by insurance -- it is extremely expensive and Hallee will be billed every two weeks for her time there. All told, her 10-week residential treatment costs $57,000 out of pocket. After thousands of dollars already spent on treatment, Hallee's parents are unable to pay that amount of money. 
UPDATE: HALLEE HAS BEEN ACCEPTED TO THE PROGRAM! She could be accepted into the program as soon as next week and will need to be able to pay ASAP. 
Hallee dreams of taking back control over her mind, getting a job, having a social life, and getting married some day. She wants her life back. 
Every dollar is so greatly appreciated. Thank you.

Fundraising team: Hope for Hallee (3)
Blair Mel 
Organizer
Raised $1,075 from 6 donations
Cheltenham, PA
Iris W 
Team member
Raised $5,155 from 21 donations