A Memorial Plaque Honoring Matthew Shepard
Matthew Shepard Memorial Plaque Dedication to be held on Monday evening, December 2, 2019


Tuesday, November 5, 2019 - Friends, we wish you to be among the first to learn that the Matthew Shepard Foundation will host a ceremony at the Washington National Cathedral on the evening of Monday, December 2, 2019. This event will dedicate the plaque recognizing Matthew Shepard's final resting place, while blessing the peaceful and welcoming sanctuary offered by the  Washington National Cathedral. Your generosity made the creation of the plaque possible, and this ceremony is through the generous support of Bloomberg Philanthropies. This occasion also honors Matthew Shepard's birthday which is December 1.
Details and updates on this occasion may be found at
www.cathedral.org/matthewshepard
  and if you are able, please know you are very welcome to join us as guests.
This special event also will be made public, and there is no cost to attending. Therefore, given the likely interest, the Cathedral may limit the total number of registrations possible, and we encourage you to register as soon as you can do so and make plans to join us on December 2 in Washington, D.C.
Thank you again!

www.cathedral.org/matthewshepard 


Thank You For Helping Honor the Life of Matthew Shepard


Friday, November 30, 2018 – Friends, we have successfully reached our milestone, and secured gifts from over 380 friends, allies and advocates around the world. We've especially been touched by the many modest and meaningful gifts that come from the heart.
We all share one aim, and that is to remember and reflect on the life of Matthew Shepard. Thanks to your generosity, the Cathedral will now begin the process of working with the Shepards to design, approve and install the historic plaque in 2019, although we do not yet have any dates certain. We will do all we can to keep everyone informed of the progress of course and in the years ahead, we will encourage you to pay a personal visit to the Washington National Cathedral and to this sacred site.
We hope you will remember Matthew Shepard on his birthday tomorrow, Saturday, December 1, as we do year round. And if you wish to support the tireless work of Judy and Dennis Shepard, please consider future gifts to the Matthew Shepard Foundation (see www.matthewshepard.org). As promised, we will plan to update everyone on the progress of this unique memorial, and begin by listing all donors to the Memorial Project on the Foundation website, to allow us to express our deep gratitude again.
We also warmly suggest you consider gifts to the Washington National Cathedral and its mission of social justice. This majestic and spiritual site is the resting place for Matthew Shepard in perpetuity, and its needs are vital. While visiting in honor of Matthew Shepard, you may also wish to see the memorable sculptures of civil rights icons Rosa Parks and Eleanor Roosevelt, among many treasures within their doors. Please visit
https://give2wnc.org/donate/
to learn more.
Bob Witeck and Jon Barrett
THE CAMPAIGN IS COMPLETE

Please help us plan and place the historic Matthew Shepard Memorial Bronze
October 26, 2018 was a singularly memorable day not only for the family and friends of Matthew Shepard, but for millions of Americans and people around the world. It was a day of grace, solace and above all, remembering the meaning of Matthew Shepard's life as he was laid to rest in the holy protection of the Washington National Cathedral in Washington, D.C.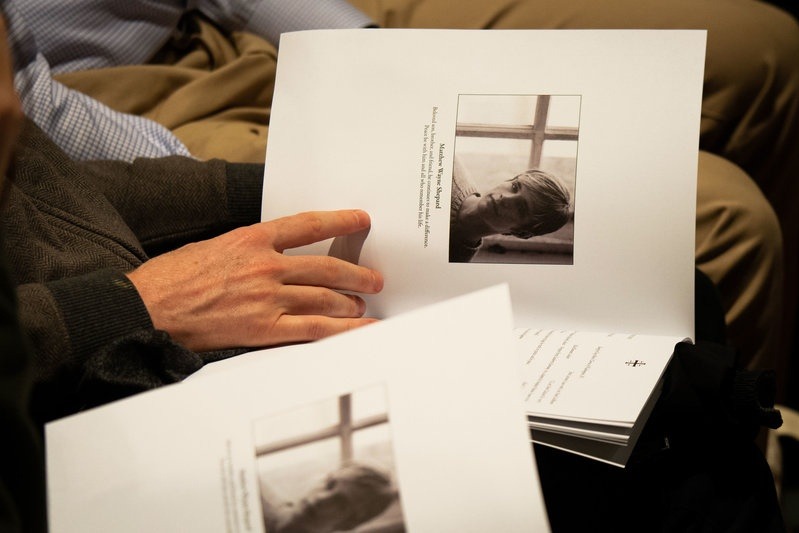 For a glimpse of that special day,
please visit this video from the AP
  that remembers the poignant service and the eloquent homily delivered by Bishop Gene Robinson. 
Today, Matthew Shepard rests in a small, gated crypt along with other notable Americans, including Helen Keller and her teacher, Annie Sullivan. While the crypt itself is not open to visitors, an adjacent chapel named for St. Joseph of Arimathea provides a welcome spot for reflection, solidarity, and prayer. Visitors to the chapel have, for years, stopped to honor Keller, whose resting place is beautifully marked with a dignified bronze plaque in both script and braille. We now have the opportunity to add a second historic bronze plaque to the chapel—honoring Matthew Shepard. For decades to come, this will be a reverent site that resonates with meaning and memory for all, including LGBTQ Americans.
Will you help us remember and mark Matthew Shepard's final resting place at the Cathedral?
Your contribution, however much you wish to give, is entirely tax-exempt. Our goal is to raise $30,000 so we can create and install this one-of-a-kind artistic memorial bronze adjacent to the Cathedral crypt, and to warmly welcome visitors in perpetuity. Funds received, above costs, will be appropriately dedicated to the Cathedral's mission of social justice for all people, and to the loving work of the Matthew Shepard Foundation as well.
All donors, who choose to be named, will be honored and recognized by the Matthew Shepard Foundation on its website. In addition, individuals who wish to donate $1,000 or greater amounts will receive a personally signed copy of Bishop Robinson's homily at the memorial service.
Please Join Us Today.
Thank you,
Bob Witeck and Jon Barrett
Organizer
Washington National Cathedral (Washington National Cathedral; Cathedral Church of Saint Peter and Saint Paul in the City and Diocese of Washington)
Registered nonprofit
Donations are typically 100% tax deductible in the US.