Community Curation in Happiness Lab
Artist 
Jaime Kriksciun
 has installed an original wall sculpture that aligns with the collaborative beehive motif of
The Happiness Lab at The Grove
.  Arts Interstices is running an experiment in Community Curation to see how well this piece fits long-term for this particular space,  located at 756 Chapel Street in New Haven.  
If fully funded, the work will grow beyond its current borders, to expand across more walls of The Happiness Lab.  Close to the mark, and it will remain in its current place as a permanent fixure belonging to the world's first coffee shop and coworking space dedicated to happiness.  Less than 80% funding and the work will be resized accordingly, perhaps on a different wall.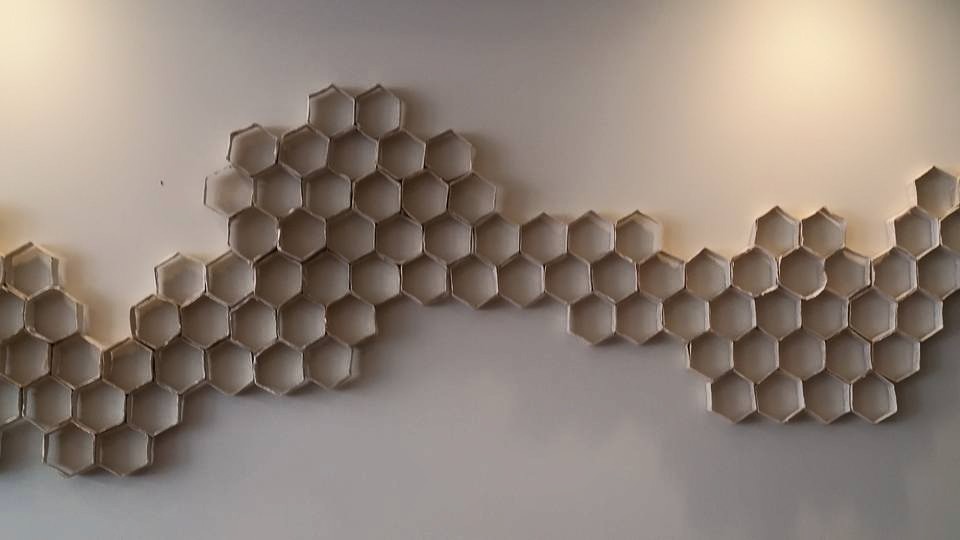 The work's molecular structure lends itself well to various configurations, with the capacity to shrink or expand in a proportionate reflection of the community's choice and wishes.  
Your contribution of $50 would support a block of six units.  $25 would support 3 units. $15 would support two units, and $10 would support one.  Every amount counts and matters. 
Contribute in the campaign's first 30 days to have your name (or the name of someone who makes you happy!) inscribed on a wooden plaque to be affixed to the wall beside the piece.  
Special thanks to Vishal Patel and Onyeka Obiocha for their enthusiastic encouragement. The rationale for this experiment is that art can enhance public places only in as much as the community notices and appreciates it. We all invite you to look, like, wonder and contribute to the honeycomb as a permanent part of The Happiness Lab.
Organizer