Save our home! House of Mercy
***********************************************************
UPDATE: AS OF MAY 4, 2017
Our lease expired in June 2016 .
The House of Mercy Pro-Life Inc. relocated to a temporary shelter in the nearby City of Potrero Ca. There, we continue with the work of God's mercy until we gather the required 25% ($50,000) down payment for the purchase of a permanent home.
The amount of all contributions including this Go Fund campaign now totals $25,000 approx. A huge THANK YOU to all of you who have contributed to this campaign of mercy, love, and faith.
There are 3 bedroom homes in the cities of Hemet, San Jacinto, and Perris CA, listed for sale as low as $230,000. There are smaller homes at $200,000. We are people of faith and we will continue to pray for one of these homes.
Please help us to continue with our mission, for it is in giving that we receive. Remember your contributions may be tax deductible; The House of Mercy is a CA registered non-profit charitable organization. A written receipt for all contributions on this page will be issued upon request.
If you would like more detailed information about The House of Mercy Pro Life Inc. please visit our NOW UP AND RUNNING web site at www.houseofmercyprolife.com or contact us directly by email or telephone. See website for more information. Thank You. May God Bless you All. 
**********************************************************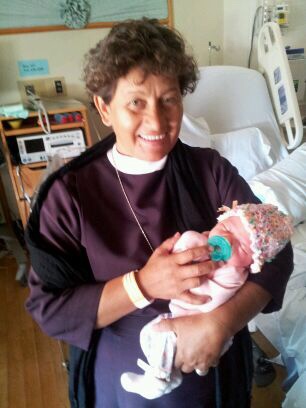 Thank you for viewing this campaign. 
House of Mercy Pro-Life, Inc. is a non-profit, 501C approved organization, founded in 2003 in Rialto, CA. It's mission is to help women in pregnancy crisis, women suffering from domestic violence and their children. The organization provides help, support and compassion to those in need.
This campain was created because  the organization is facing a challenge at this time. In order to continue servicing the Lord, we need a home!!
Our lease is due to expire in June 2016. The current legal owner of the house may not renew the lease. The Original owner passed to a better place this year. He was very generous in charging us a reduced rent. We would like to approach the trustee of his trust to submit an offer to purchase the home. for that we need the amount of $90,000 representing approximately 25% down payment
-Please help us to continue with the work of the Lord. For it is in giving that we receive. The women and Children we help at the House of Mercy Pro Life need the loving protection of God's angels.......YOU!!! 
HOM sustains itself with donations and volunteers help.  It is for this reason that community support is essential for its existence and to continue making a difference for those who have no voice by giving God's Message of Love. Your donations of food, household items, toiletries, and/or monetary contributions are much needed and appreciated.
Other ways to get involved:
Fundraise and donate to the charity through yard sales, bake sales, collecting baby essentials or setting up school fundraisers. Please visit our website (
www.houseofmercyprolife.com
) and contact a representative for more information.   
women in pregnancy crisis, abandoned children, children in need, pregnant women, shelter the homeless, feed the hungry, volunteer, non-profit, charity, faith,
Above is a picture of
Leticia Marquez
, one of the founders of House of Mercy Pro-Life. The organization is run by the Daughters of Divine Mercy,  who care for the resident's shelter and embark upon a vigorous program of spiritual and emotional growth for the residents.
For more information please visit the website. Send us your questions as the website is still a work in progress. Thank you and may God Bless you!
www.houseofmercyprolife.com
Organizer and beneficiary
Hector Ruiz
Organizer
Phoenix, AZ
Irma L. Mercado
Beneficiary