*Scroll down for English*CO2 Ausgleich // Hockey-Wald

Letztes Jahr hat sich mit der FIH Pro League für uns - die Damen-Nationalmannschaft - und die ganze Hockeywelt einiges verändert. Das neue Format, eine Welt- Liga, verlangte von uns unter anderem eine Weltreise, von Deutschland über Australien und Neuseeland nach Argentinien, jeweils für ein Spiel. Die FIH hat bereits darauf reagiert und das Format angepasst, sodass wir nur noch halb so viel reisen wie 2019, dennoch ist unser Fußabdruck noch zu groß. Leider bringt da auch der Kaffee im wiederverwendbaren To-Go Becher nichts mehr, um das auszugleichen.
Der durchschnittliche CO2-Verbrauch des Menschen ist generell zurzeit deutlich zu hoch. Und dann kommen wir noch mit unserem überdurchschnittlichen Flugverhalten….
Wir sind uns unseres CO2 Ausstoßes und unserer Verantwortung für unseren Planeten bewusst und möchten daher jetzt handeln: daher eröffnen wir einen Danas- Hockey-Wald! Mithilfe der
Grootbos Foundation
pflanzen wir bei unserem anstehenden Lehrgang in Südafrika jede Menge Bäume, die fleißig CO2 binden werden.
Dieser Wald wird dann natürlich auch für andere Nationen, Hockeyspielern, Fans und Supportern zum Bepflanzen bereit stehen. Wolltest du auch schon länger mal an deinem "Fussabdruck arbeiten"? Dann schließe dich uns an und
pflanze deinen Baum im Hockey-Wald!25€ kostet ein Baum
- dafür stellen wir sicher, dass eure Bäume in unserem Hockey-Wald gepflanzt werden und senden ein Zertifikat mit den Koordinaten der Bäume. Alle Bäume, die vor dem 31.01.2020 gespendet werden, werden vermutlich sogar von uns höchstpersönlich gepflanzt! :-)
Es steht ein weiteres wildes Reisejahr für uns und den ganzen Hockeysport bevor. Und uns ist bewusst, dass wir rein rechnerisch mit den Bäumen kaum hinterher kommen. Doch wollen wir uns davon nicht aufhalten lassen, einen Anfang zu machen. Mit der Hoffnung, dass sich viele andere Nationen, Sportler und Unterstützer uns anschließen und wir so einen Beitrag zum Klimaschutz leisten können.
Unser Ziel ist es im Olympischen Jahr für 20200€ Bäume zu pflanzen... Also let's go!
1 Baum = 25€.
(Bitte nur genau 25€ oder ein Vielfaches von 25 spenden. :-)
Wie ist dein CO2-Fussabdruck?
Beispiel:
Durchschnittlicher CO2-Ausstoß im Jahr pro Person (in D) = 8,6t =
ca. 8 Bäume = 200€
Hin- & Rückflug Hamburg - Mallorca =
ca. 1 Baum = 25€
Carbon Footprint Rechner
Achtung:
Ab 200€ bekommt ihr eine Spendenbescheinigung (bitte melden), bei Beträgen unter 200€ reicht eine Kopie der Überweisung für die Steuererklärung.
CO2 Offsets // Hockey Forest
Last year the FIH Pro League changed a lot for us - the German women's national team - and the whole hockey world. The new format, a world league, required us to travel the world from Germany via Australia and New Zealand to Argentina, each for one game. The FIH have already reacted and changed the format for this year so our travel is halved by playing 2 matches at each venue, but our carbon footprint is still too high.
Even the average CO2 consumption of humans is currently far too high.
We are aware of our CO2 emissions and our responsibility for our planet and therefore want to act now:
We are planting a Hockey Forest! With the help of the
Grootbos Foundation
we will be planting trees during our next camp in South Africa to offset CO2 emissions.
This forest will of course also be available for other nations, hockey players, fans and supporters. So if you want to do something about your carbon footprint -
join us and plant your tree in the hockey forest!Each tree costs 25€
. We make sure that your trees are planted in our hockey forest and send a certificate with the coordinates of the trees. All trees that are donated before January 31, 2020 will probably even be planted by us personally! :-)
We are aware that we can hardly offset our entire CO2 emissions with this forest, but we also don't want to let this stop us from starting. We hope that many other nations, athletes and supporters will join us and that we can make a contribution to climate protection.
Our goal is to plant trees for 20200€ in the Olympic year... So let's go!!
1 tree = 25€.
(Please only donate exactly 25€ or multiples of 25! :-)
What is your carbon footprint?
Example:
Average annual CO2 emissions per person (in Germany) = 8.6t = approx.
8 trees = 200€
Return flight Germany - Spain = approx.
1 tree = 25€
Carbon Footprint Calculator
Note: Die Spenden werden wir über Alster Grootbos Hockey Projekt e.V. zur Grootbos Foundation in Südafrika transferieren.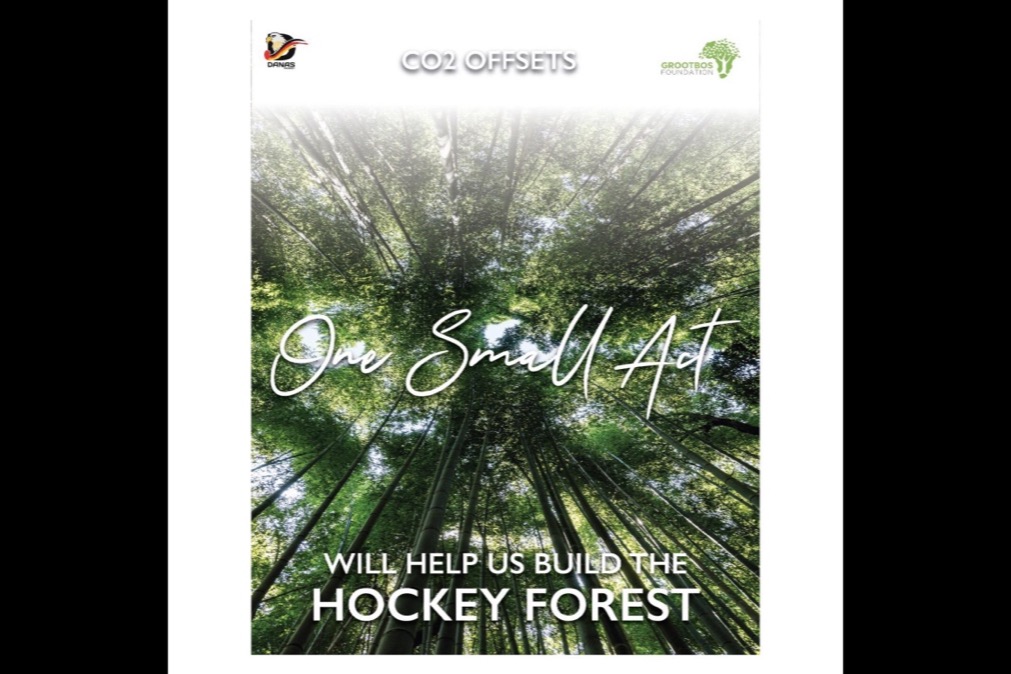 Fundraising team: Die Danas (5)
Janne Müller-Wieland 
Organizer
Raised €6,490 from 59 donations
Hamburg
Nike Lorenz 
Team member
Raised €1,710 from 17 donations
Anne Schröder 
Team member
Raised €630 from 8 donations