Hiking the PCT for Girl Empowerment
NOTE
: This campaign is a continuation of my YouCaring fundraiser, where over 60 supporters donated $6,000 between March and July of 2018. YouCaring was purchased by GoFundMe, so I had to create a new fundraising page here.
***
My name is Janel, 
and I am hiking the Pacific Crest Trail from Mexico to Canada to fundraise for three amazing women-run nonprofits that are bringing young women into nature to build confidence, creativity and community.

What would our communities be like if we encouraged our girls to be more daring? How would it change their perceptions of their bodies and their right to express their opinions? How would they respond to inequality, sexual harassment and ecological destruction? What would they create?
Why This Matters to Me
In 2016, thanks to the generous support of hundreds of
crowdfunding supporters
 , I embarked on a solo pilgrimage of the 2,200-mile Appalachian Trail from Georgia to Maine. Thru-hiking the AT was the biggest challenge I had ever undertaken. During my journey, I learned to listen to my instincts. I learned when to push myself and when to give myself permission to rest. I learned how to grapple with fear. I gained the confidence to know that I can do anything I put my mind to. 

This year, by hiking 2,650 miles from Mexico to Canada, I want to give back by helping underprivileged girls to embark on their own personal transformation journeys—whether that means hiking or climbing, creating art, building a garden, committing to a dance practice, or writing every day. My goal is to raise $10,000 for girl empowerment organizations over the course of my 6-month hike, beginning with my first steps north on the PCT on March 25th and ending when I finish the trail in Canada in September. 
100% of the funds we raise will be split evenly between these three inspiring nonprofits:
GirlVentures
  - facilitating outdoor adventures for middle- and high schoolers to build confidence and strengthen bonds.
Gaia Girls Passages
  - providing nature-based mentoring through rite of passage ceremonies.
The Girls Empowerment Workshop
  - educating and inspiring teens to find their voice and cultivate self-respect.

What Will Your Donation Do?1. GirlVentures
"This year, GirlVentures is launching our first-ever subsidized expedition specifically tailored for girls of color. Our highly trained instructors, many of whom come from similar backgrounds to the girls participating in this course, will lead a group of 10 high school girls of color on a 5-day intro camping and climbing course in Pinnacles National Park, 130 miles south of San Francisco. Conservation, empowerment, social justice, community and culture are themes of the program curriculum. Your funding will eliminate financial barriers to the outdoors for low-income youth and make transformative experiences in nature possible for girls from all communities. It will also help us re-stock our gear library, including climbing harnesses, backpacks, and tents; provide nutritious meals and snacks for our expeditions; transport participants to and from course areas throughout Northern California; and purchase National and State Park permits and camping reservations."
2. Gaia Girls Passages
"In the fall, we spearheaded our first free public school program at Hoover Elementary for girls of color. We are honored to work with Wanda Stewart, activist and school garden teacher at Hoover Elementary, whose mission is to reconnect people of color to the earth through gardening and nature-based education. Diversity is a priority for Gaia Girls, and we hope to continue providing this and other programs to girls of color in low-income urban neighborhoods. Your donations will help us cover the costs of the Hoover program such as purchasing supplies and paying the salaries of our Aunties (staff members dedicated to reconnecting young girls to the earth and to each other)."
3. The Girls Empowerment Workshop
"Our mission is to educate, empower and inspire teens, as well as to provide wilderness experiences for some who have never even stepped foot on a dirt hiking trail. In our free 10-week workshops, we provide education on several topics, some very heavy, such as sexual assault, depression and suicide. It costs between $250-500 per student to bring girls into the wilderness, where they are free from the pressures of beauty standards and sexism and instead experience the power of nature, self-reliance and mentorship. All of our workshops are provided free of charge, so your donations will cover everything from teacher stipends to scholarships for our wilderness experiences."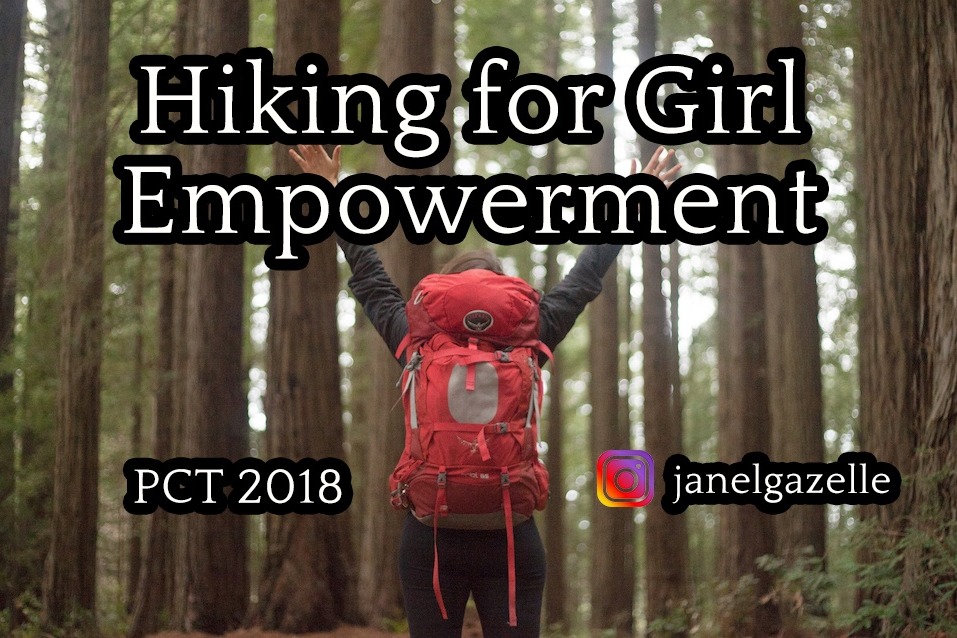 Thank you for your support. Together, we can make a difference in the lives of many young women.
Learn more about me and follow my Pacific Crest Trail journey:
JanelHealy.com
YouTube
Instagram
Facebook
Organizer
Janel Healy
Organizer
San Francisco, CA